Declutter Bath Toys: 15 Minute Mission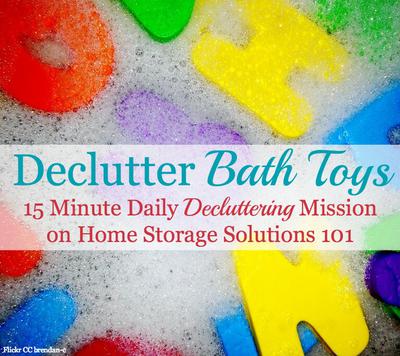 Your mission for the day is to declutter bath toys.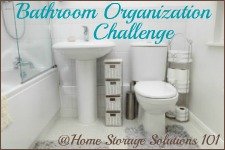 I've designed this mission to be done while working on the
Bathroom Organization Challenge
here on the site, which is part of the 52 Week Organized Home Challenge.
Of course, you could also do this mission when working on the
Organize Kids' Toys & Gams Challenge
which is also one of the weekly challenges.
Doing this mission is simple. First, throw away any bath toys that are completely gross. You know which ones I'm talking about -- the yucky squirt ones that get mold and mildew in them. Uggghh.
(Normally I would suggest donating or selling items that you don't want anymore, but if they're yucky the trash is a much better place for them. Remember, you
never want to donate trash
!)
(Please note, if they're not that gross yes, and you want to try to salvage them, you can use these
tips for cleaning bath toys
which can be found in the article on the sister site, Stain Removal 101.)
Next, if you still have quite
a few bath toys left after culling the gross ones only keep a reasonable amount for your child to play with. Do they really need as many as you've currently got?
You can choose what you feel is a reasonable amount, but I'll say it isn't that many! (You can see how many readers below have kept as an example for yourself.)
And finally, for those parents with children too old for bath toys now -- why do you still have them?
I am bad for keeping things my children have outgrown for too long, so I understand, but if the kids no longer play with them, out they should go!
Below I've gathered photos from readers who've already done this mission, to get you inspired and show you how simple it can be.
There's also the mission image above to the left, showing a reader, Jenny's results, when she did this mission. She said, "Done. Just kept the foam letters. Yes we have LOTS but my twin boys love to spell long words. Now stored in a vegetable crate, over a plastic box. Hopefully I can get them to put them in the crate before getting out of the bath!"
In addition, at the bottom of the page you'll find the link to the article here on the site with tips for organizing and storing the few bath toys you do end up keeping!

Top photo courtesy of Brendan C
Join in and write your own page! It's easy to do. How? Simply click here to return to bathroom clutter.
Right Now Our Bath Toys Are Just At Bottom Of Tub: Not Good!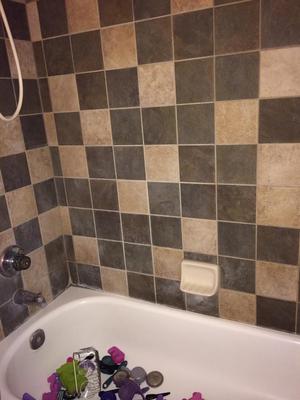 A reader, Mandi, sent in the above photo of her kids' bath toys. She said "In my kids' bath the toys just live at the bottom of the tub mostly.

Our showers are all matte tile on the walls so nothing with a suction cup works. I'm still searching for a solution for my kids toys since the Boon frog I wanted to get won't work. Any ideas?"

Thanks for sharing your picture Mandi. I totally hear you with the suction cups! They are very difficult to get to stick to certain surfaces.

First, let me suggest that you declutter some of those toys. That in itself will make it more manageable.

Then, see below for the link to my article about bath toy storage ideas. I totally think bathroom Command hooks are far superior to suction cups though. They stick sooooo much easier.


The photo above was sent in by a reader, Robin, who got rid of a bunch of her
bathroom clutter in her bathroom closet
. She said, "It's not perfect but a whole bag of products and old kids bath toys are garbage!"
Woo hoo Robin, you did great!
Join in and write your own page! It's easy to do. How? Simply click here to return to bathroom clutter.
I Purged A Whole Bunch: Here's What's Left
by Paula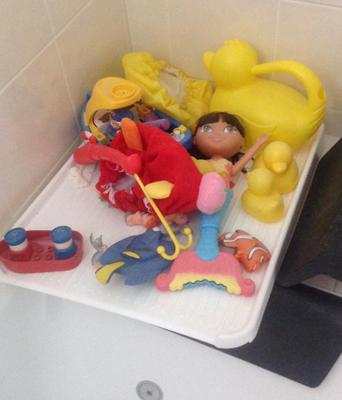 Paula says:
I have one child. I purged a whole heap of old toys, then got a sink top dish drainer to store them.
It's good because it keeps the toys out of the bath but also allows them to drain, and easy to keep clean and tidy.
Taylor says: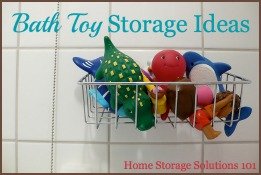 Great job Paula! It's great to get rid of excess, and only keep what is still used and appreciated.
Once you've got less of these bath toys, next you need to figure out a good way to store and organize them. You've done that, it seems.
But for those looking for ideas here's my
article on bath toy storage and organization ideas
with lots of photos shared by readers with how they do it, and what works for them.
Are You Ready To Declutter Your Home?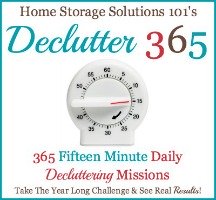 I hope this mission has inspired you to declutter your kids' bath toys.
When you begin to declutter the feeling you get is contagious, so if you're loving the results you're getting I would encourage you to keep going.
I've got a whole series of
15 minute decluttering missions
(eventually 365 of them!) that you can do.
Just pick and choose the ones you want to do, that will make a big impact in your home. But if you want someone else to tell you the order you can also grab the
15 minute daily decluttering mission calendars
and follow along as we all get our homes clutter free together!
In addition, check out these
tips for how to get rid of baby clutter
from all around your home.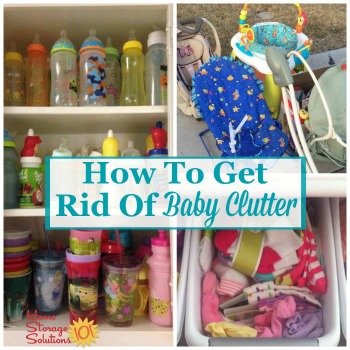 Some links on this page are affiliate links, meaning that if you purchase a product through them I receive a small commission which helps me provide this information to you for free, plus support my family. My integrity and your satisfaction are very important to me so I only recommend products I would purchase myself, and that I believe would benefit you. To learn more please see my disclosure statement.
Related Pages You May Enjoy
Getting Clutter Free 15 Minutes At A Time Hall Of Fame
Getting Rid Of Bathroom Clutter Hall Of Fame
Go From How To Declutter Bath Toys To Home Page