How To Declutter Hair Accessories For Adults & Kids
Today's mission is to declutter hair accessories for adults and kids, including hair clips, ties, headbands, barrettes and more. Below are instructions for how to do it.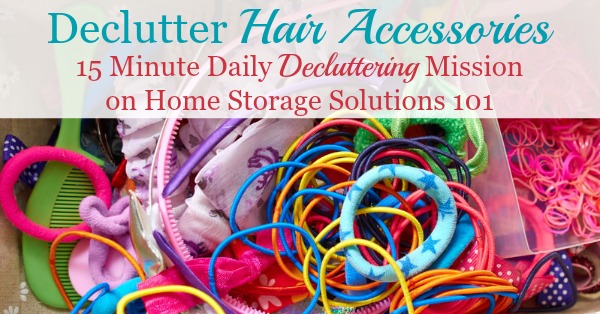 This mission is designed to be done while we're focused on the Organize Jewelry & Accessories Challenge here on the site, which is one of the 52 Week Organized Home Challenges.
Of course, depending on where you and your kids keep their hair styling accessories, it may also fit into another challenge such as the Organize Bedroom Challenge, or the Bathroom Organization Challenge.
I encourage you to do this mission once for yourself, and also then do it again for your kids' hair stuff, unless you keep everything together.
For some people this mission won't take very long at all, just the 15 minutes or so that is suggested. If that's you, great! What are you waiting for?
On the other hand, if you've got a lot of bows, barrettes, headbands, hair ties, etc. then 15 minutes total may seem like way too little time to work through the hair accessories clutter.
If that's the case for you, no problem. Then, instead, focus on working on this mission 15 minutes at a time until it's complete, either all in one day, or spaced out over several days, whichever works for you and your schedule.
What Types Of Hair Accessories You Should Focus On For This Mission
For this mission you should focus on items you (or your children) wear in your hair to keep it styled, out of your face, or to accessorize with your outfits.
This includes items like headbands, hair pins, hair jewelry, hair bands, hair clips, barrettes, hair combgs, hair bows, hair fascinators, hair ties, scrunchies, hair grips, ponytail holders, hair clasps, bobby pins, hair sticks and head wraps.
Please note that in a previous Declutter 365 mission, focused on the bathroom, I asked you to declutter hair styling tools and supplies, such as hairbrushes, combs, hair dryers, curling irons, etc.
How To Declutter These Accessories
When working on this mission, the first step of the process is to gather all of your hair accessories into one place. This can mean hunting for stray ponytail holders and barrettes that have been left throughout the house, as well as gathering together any storage areas where you've got these items, such as in a bathroom drawer or dresser drawer.
Once you've got all of the hair clips and other accessories together it's easy to see how many you have, and better assess how many you really need to keep.
Get rid of the following types of things, which are often the easiest types of decisions to make:
Anything broken or damaged (there's no point in keeping broken clips, or hair ties that have snapped or are about to break)
Anything you or your child have outgrown (such as baby bows, toddler headbands which don't fit onto a child's head anymore, etc.)
Items which you no longer like, because of changed tastes in style or color
Hair accessories that didn't actually hold your hair properly, or work to style your hair in the manner you had imagined they would
Just getting rid of those will get rid of quite a bit of your hair stuff, which will keep it from feeling like all these things are overtaking your bathroom or bedroom, like Michelle, a Declutter 365 participant, felt when she sent in this photo. She'd asked, "Help! My tiny bathroom is getting overtaken by my 7 year old's headbands!"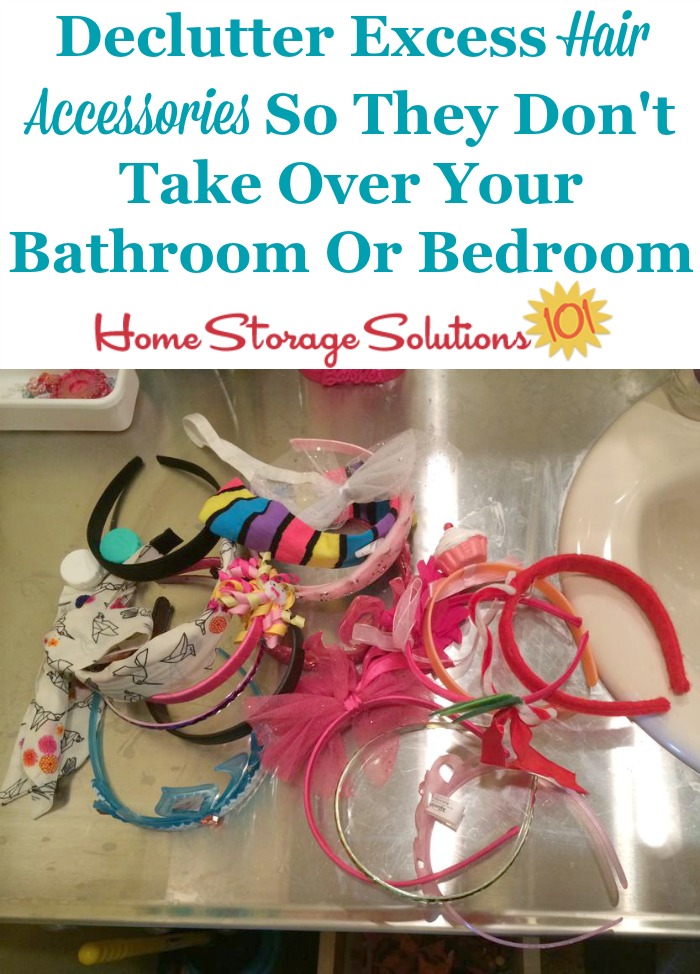 After you've gotten rid of these types of items, which are easier to make decisions about, next, the harder steps of the decluttering process need to take place.
Categorize like items with like, such as placing all your barrettes together, clips, headbands, ponytail holders, etc. Even if you don't get rid of anything else beside what I listed above, sorting the items this will will get whatever space you've placed them in more organized, and will make it easier for you to find what you want in the future, instead of having to dig around to grab something from amongst a big messy pile.
When you see everything in one category all together you can make a determination of how many of each type of hair accessory you really need to keep. The number you decide to keep can be based on practical concerns about (1) the amount of space you've got to store these items (such as everything needs to fit inside a drawer, for example), or (2) based on the knowledge of how much you can realistically use an item within a period of time (such as knowing how many hair ties you seem to run through, with loss, breakage, etc. within six months for example).
Once you've decided how many of these items you can realistically keep from each category keep choosing the best ones to keep, until you've reached the number you've chosen as your ideal, and then get rid of the rest.
If it takes you a really long time to sort through all of these hair bows and ribbons, it most likely meant you had too much of it to begin with, so decluttering will make your routine for getting ready in the morning each day easier.
Before & After Photos From Reader Who Did This Mission
It can be helpful to see how others have worked through this mission, to get you inspired to do the same.
One Declutter 365 participant, Lauren, sent in these before and after photos when she cleaned out her child's hair drawer. Unfortunately, she explained, that her daughter had started throwing other things in the bathroom drawer beside her hair bows, such as material to make slime, and that stuff had gotten on some of the bows, which had to be then thrown out.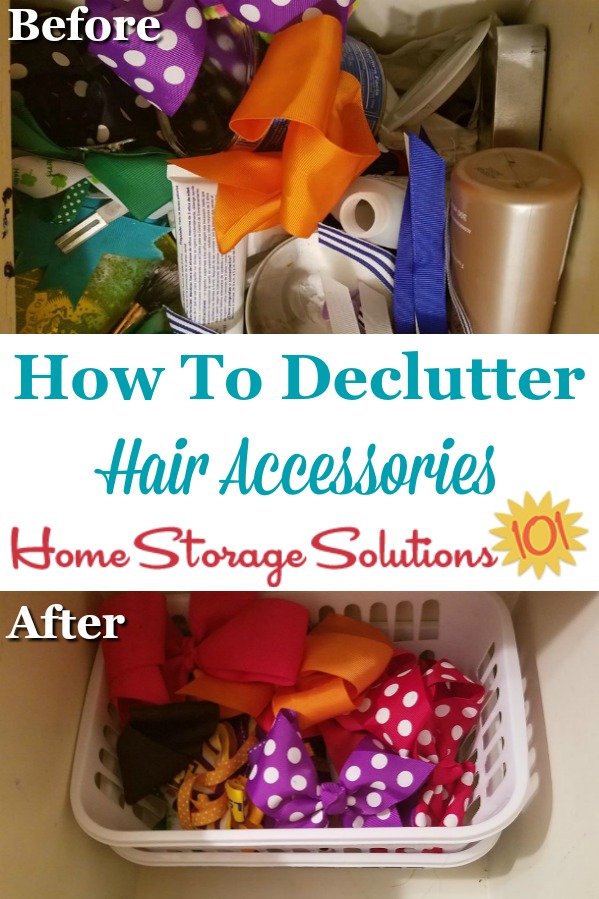 I know it can be frustrating, Lauren, to realize things got ruined, but discovering it and fixing the problem was better than not realizing at all, and now the drawer and its contents look great!
Want To Do More Decluttering Missions? Get Started With Declutter 365 Today!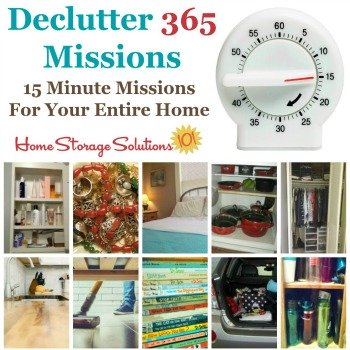 Once you declutter one type of item in your home I bet you'll want to declutter some more. After all, decluttering gives you a great reward for even a small investment of time and energy.
The Declutter 365 system is designed to help you declutter, over the course of a year, your entire house, with just 15 minutes of decluttering each day!
Hundreds of thousands of people use this proven system to get rid of their clutter, and bring peace and calm back to their homes.
Declutter 365 works to guide you to clear the clutter without overwhelm, focusing on just one small area at a time, and without making a huge mess in the process, so you see consistent forward progress without all that "messy middle" that makes it even harder to function in your home than before you started.
In addition to building a daily decluttering habit, the Declutter 365 program, along with the accompanying 52 Week Organized Home Challenge, teaches you the skills, habits, routines, and mindsets necessary to maintain the clutter free and organized state of your home from now on, so it'll never be as messy and cluttered as it is right now, ever again.
If you haven't already, make sure to get your copy of this year's Declutter 365 annual calendar here (it's FREE!), find today's date, and do 15 minutes of decluttering on the day's mission. Then, repeat again tomorrow, and again and again. Over the course of the next year, if you do this 15 minutes per day, you'll declutter your whole house!