Declutter Dining Room Table: 15 Minute Mission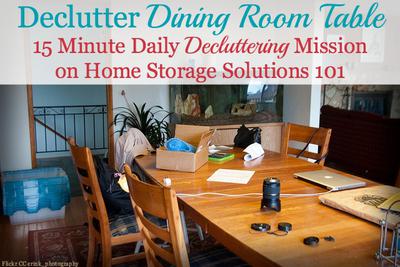 Today's decluttering mission is to declutter and clear off your dining room table.
This mission is designed to be done while working on the
Organizing Dining Room Challenge
here on the site, as part of the 52 Week Organized Home Challenge.
The idea in this mission is to clear off the clutter, as well as to begin to develop the habits necessary to keep the surface clear most of the time from now on, so any future decluttering sessions wouldn't take very long at all.
Your dining room table is a
flat surface
and so it has a tendency to get covered with things we just lay down, or projects we or a family member are working on.
These things also tend to linger because if you've got both a dining room table and kitchen table (I know not everyone does) you don't have to eat at your dining room table frequently, which means there isn't much of an incentive sometimes to clear it off.
But today's the day! Put away what doesn't belong and make the surface at least mostly clear. If you don't have a dining room table just
do the same thing for your kitchen table
. Ready, set, go!
This can make such a dramatic difference in the overall look of the room, so I'd love to see pictures from anyone who does today's mission (either before or after pics, or both).
Also, if you've already got a clear table, awesome, I'd love to see it too! Let's cheer each other on with this mission!
Below are pictures of these tables that readers have sent in, some of them decluttered and others that still need a bit of work, all for inspiration for you!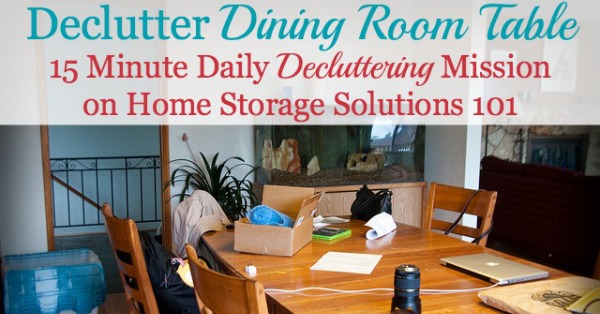 Top photo courtesy of Erin Kohlenberg, and before and after photos from a reader,
Jenn
Join in and write your own page! It's easy to do. How? Simply click here to return to get rid of clutter.
A Cluttered Table: Reality!
by Portia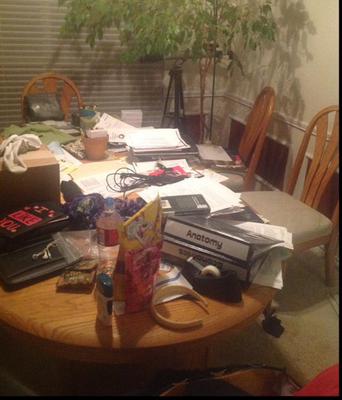 Portia sent in this picture of the way her dining room table looks, right now. She said, sarcastically, "I can't imagine someone thinking clutter is a problem. :( "

I get that Portia, I really do! It can seem really overwhelming to get and keep this flat surface cleared off. The thing is, it really doesn't take as long as you might imagine.

Scroll down to see some examples of how readers cleared off this surface quickly, and what a visual impact it made to hopefully get you inspired!
Join in and write your own page! It's easy to do. How? Simply click here to return to get rid of clutter.
It Doesn't Take That Long To Clear It: Results After 10 Minutes
by Shannon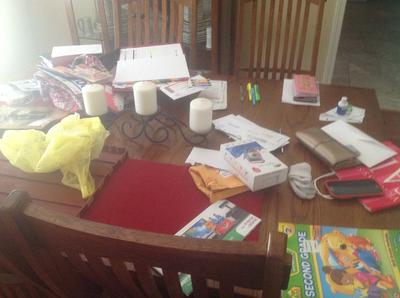 Before
Shannon sent in these two photos, the first is the before, and the second is the after.

She explained that it only took her 10 minutes to accomplish this! How awesome is that?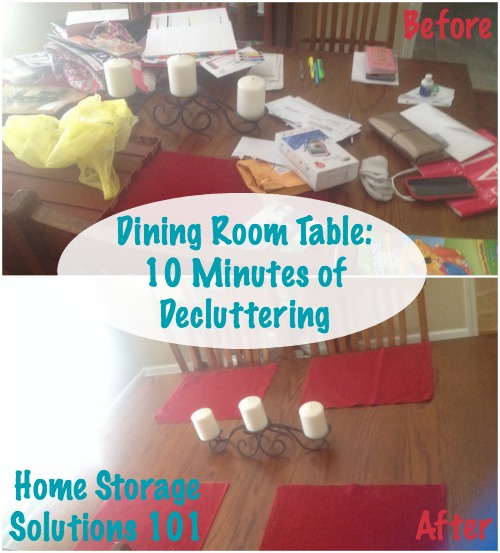 Join in and write your own page! It's easy to do. How? Simply click here to return to get rid of clutter.
Does All The Clutter On Your Table Actually Have A Home Somewhere Else?
by Jennifer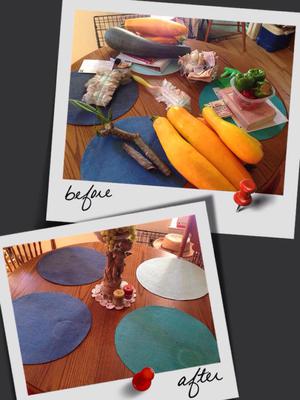 Jennifer sent in this photo, and said, "My before and after. Now to deal with all the squash!"

She makes a good point. The idea when doing this mission is to actually deal with the clutter that has accumulated on your table, not just shift it somewhere else.

Otherwise you won't actually be accomplishing much, in the long run.

See what types of items you've got on your table and if they have a home, put them there. Easy peasy.

However, if you begin to find while decluttering that some of the items you've got on the table don't have a home you may have identified a key reason that your table is getting cluttered in the first place. Nobody knows where else to put it!

So, to maintain a clear table most of the time you will need to eventually find homes for all the items that, over and over, seem to accumulate on your table.

Not necessarily fun, but it will often fix the root cause of your problem if you do this.
Join in and write your own page! It's easy to do. How? Simply click here to return to get rid of clutter.
Keep Something Pretty On Your Table To Discourage Placing Clutter On It
by Donna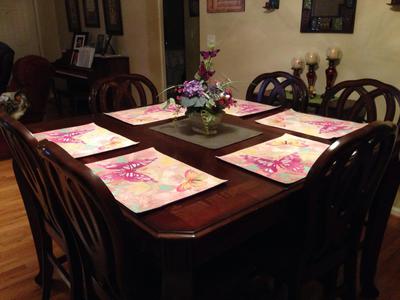 Donna said, "I keep my table decorated with a flower arrangement and placemats. I think that helps because it is not seen as a place to 'dump things.' It's a pretty space and I want to keep it that way."

I think that can be a good strategy Donna. Completely flat surfaces just call to people to lay things down on them, but putting something pretty there can discourage that.

On the other hand, be careful with this strategy because you don't want your decorative items to themselves become clutter.

It's a fine line, but it definitely is a strategy that can work for some people!
Join in and write your own page! It's easy to do. How? Simply click here to return to get rid of clutter.
Sometimes You Need A Little Outside Push But Why?
by Amanda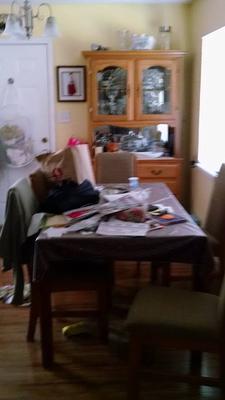 Before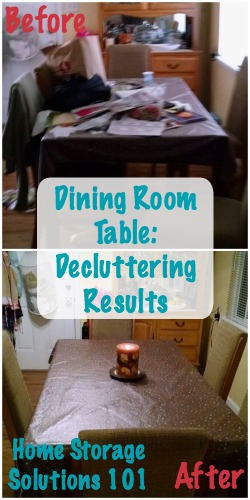 Amanda provided these before and after pictures of her dining room table.
Like many of us she needed a bit of an outside push, with relatives visiting, to finally get it done. In fact, she'd let it linger for about two weeks she guessed all cluttered up before clearing it off.
The thing is, since it doesn't take that long, why do we wait for our homes to look good for others? Let's try to treat our own immediate family just as nicely, and do it so not only guests can enjoy the flat surface but so we can too!
Join in and write your own page! It's easy to do. How? Simply click here to return to get rid of clutter.
We Did It! And So Can You!
by Dianna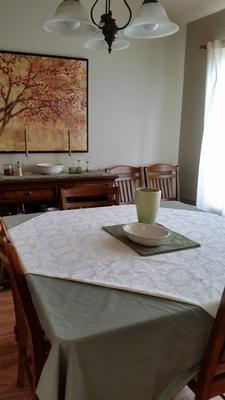 Dianna sent in this picture, and all she said was, "We did it!"

I'm so proud of you Dianna, it looks absolutely wonderful.

And I hope seeing these photos has made you realize you can do it too!


Are You Ready To Declutter Your Home?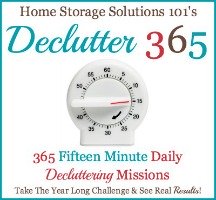 I hope seeing these pictures has inspired you to declutter your dining room table.
When you begin to declutter the feeling you get is contagious, so if you're loving the results you're getting I would encourage you to keep going.
I've got a whole series of
15 minute decluttering missions
(eventually 365 of them!) that you can do.
Just pick and choose the ones you want to do, that will make a big impact in your home. But if you want someone else to tell you the order you can also grab the
15 minute daily decluttering mission calendars
and follow along as we all get our homes clutter free together!
After you do this mission, and get in the habit of routinely decluttering this space, you won't have to say this anymore!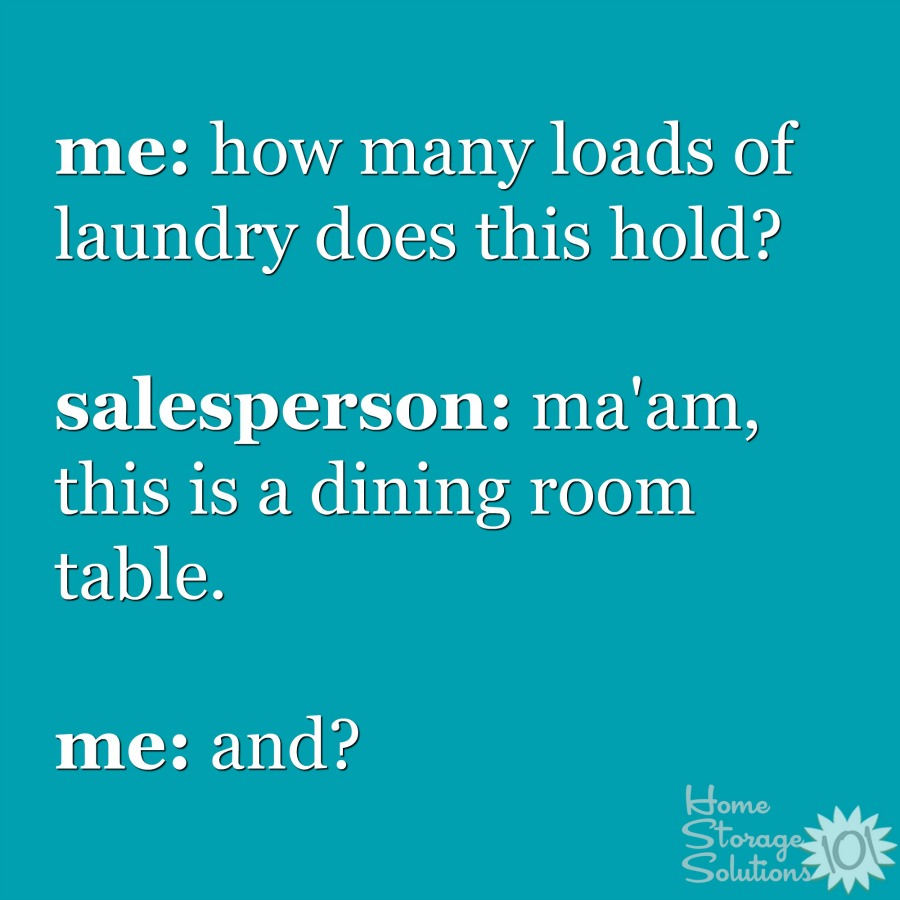 Related Pages You May Enjoy
Getting Clutter Free 15 Minutes At A Time Hall Of Fame
Get Rid Of Clutter Hall Of Fame
Go From How To Declutter Dining Room Table To Home Page