Declutter Kitchen Table: Hall Of Fame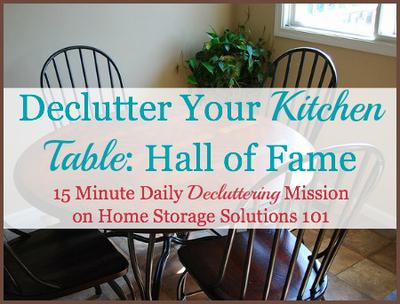 One of the early decluttering missions of each year is to declutter your kitchen table, and then get in the habit of keeping it that way.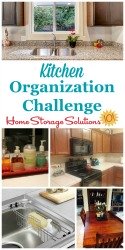 This mission is designed to be done, at least initially, as we work through the
Kitchen Organization Challenge
here on the site, which is the first of the 52 Week Organized Home Challenges.
I say the initial time you do it will be as part of that week's challenge, but this is the type of mission that will need to be done, daily.
The first time you do it, it may take more than 15 minutes, because it's possible that a lot of clutter has accumulated onto this surface.
However, I guarantee as it becomes a habit, and is done consistently, it will take far less than 15 minutes each time it's done!
And once your table is consistently cleared off, I guarantee that this will go a long way toward making your whole kitchen feel more organized and pleasant to be in.
(Please note that I have another mission, as part of the Declutter 365 missions, to
declutter the dining room table
, so you can do that mission later. Today, just focus on the kitchen table!)
Lots Of Activities Happen Here, Not Just Eating:
If you're like most people LOTS of stuff happens at your kitchen table, not just eating. There is homework, bill paying, chatting with a cup of coffee, etc.
But you can't do these things (at least easily) when you've got clutter and junk piled high on the table.
You have to move things to the side to eat, or stick your elbow in crumbs as you write something, or can't find the salt and pepper shakers amongst all the paper piles.
Common Types Of Clutter On Kitchen Tables
Every home is different, but here are some of the most common types of items you should clear from your kitchen table daily.
Dirty dishes (these should be cleared off and washed, as part of the daily cleaning tasks for your kitchen)


Paper, such as mail, bills, and school papers (check out the Paper Organization Section of the site for more information on dealing with paper clutter in its many forms


Toys and games (kids should have as one of their chores to remove and put away these items at set intervals, such as before each meal)


Craft projects or other tasks where you need to spread out materials on a flat surface


Items people put down as they walk in the door (check out the Entryway Organization Challenge for more tips on

dealing with these items)


Catch all, because tables, like any flat surface, are an inviting place to lay things down
How Often Should You Clear The Kitchen Table?
Ideally, your table should be generally free of clutter at least at one point of the day, daily.
If you do deal with the clutter on the table on a daily basis there will not be time for it to accumulate and become overwhelming. Therefore, although the first time you clear off the table may take longer, if you do it at least daily it really will begin to be a quick task.
I actually find it best to clear off the table after each meal (obviously), and then again as part of my end of the day routine when I'm cleaning up the kitchen for the evening.
You can clear off the table as part of your
daily tidy up routine
. Find out more about this vital routine, that helps you maintain clear flat surfaces and keep things from getting re-cluttered at the link.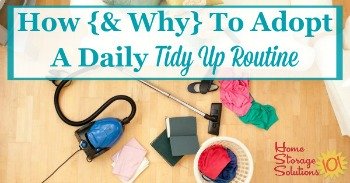 Your Table Doesn't Have To Be Bare To Be Clutter Free
While you should clear off most of the table daily, that doesn't mean the table needs to be completely bare.
By all means put a pretty vase of flowers, a bowl of fruit, etc. on the table and keep it there.
Just make sure those types of decorative items don't take up so much room other functions cannot occur.
Further, things like placemats, salt and pepper shakers, a napkin holder, etc. also may have permanent residence on a still decluttered table.
In fact, some people purposefully add decorative, but still functional items to their table, such as placemats, to keep themselves from re-accumulating clutter since the surface isn't empty. It's up to your personality to know if that will work for you, or not.
The Biggest Part Of This Decluttering Challenge: Making It A Habit
Clearing your table of clutter one day of the year is great, but it won't make a permanent impact in your kitchen unless you do it daily.
I've already shared that I try to clear off my kitchen each evening, before bed.
Do it whenever you need to that makes sense for you, but making it a habit is so very important!
Below I've gathered pictures from readers who've done this decluttering mission, including several before and after photos.
I encourage each of you to
join the daily decluttering missions here
, and do one 15 minute mission each day to get your home clutter free slowly, and consistently, throughout the year.
Top photo courtesy of b0jangles, and before and after collage photos from a reader, Barbara
Join in and write your own page! It's easy to do. How? Simply click here to return to kitchen clutter.
Bry's Cleared Off Kitchen Table
by Bry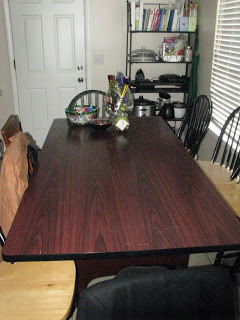 Thanks to Bry from Team Collard who shared her cleared off table picture.

In addition, below is a photo sent in by another reader, Ellie.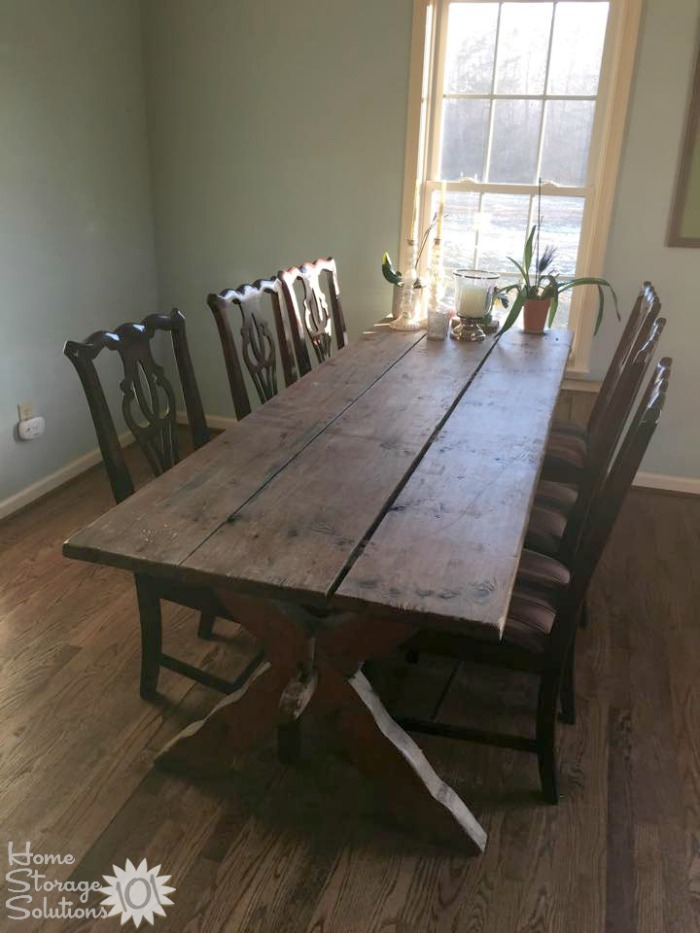 Ellie said, "I finally did it!!! The mail and catalogs were the reason my kitchen table was unusable. But I FINALLY did it!!! Two projects in one!"
I suggest for all paper clutter, that along with checking out the Paper Organization Series listed above, that you declutter, shred, or file your paper piles 15 minutes at a time. It's a frequent mission as we deal with paper clutter during the Declutter 365 missions. Here's the article about
decluttering paper piles 15 minutes at a time
.
Join in and write your own page! It's easy to do. How? Simply click here to return to kitchen clutter.
Nice Clean Table & Kitchen
by Jan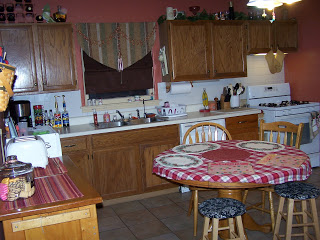 Jan from The Crafty Mermaid's Grotto shared her after picture.

It looks great with the tablecloth and placemats already added, ready for the family to eat together.

Here's another set of before and after photos, these ones from a reader, Tracey, who also added placemats to her recently cleared off table.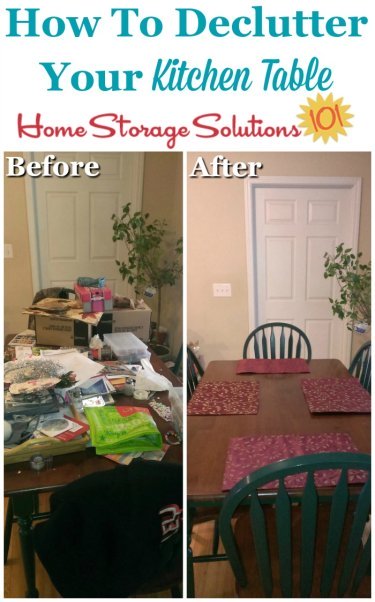 Tracey said of the before photo, "Our table is a catch all. Right now craft supplies from a school project, mail, junk, boxes of Christmas stuff..... It'll take me a lot more than 15 minutes!! Lol maybe I'll have an after picture later today! Wish me luck!"
She must have had some luck, or really some persistence, because she did send in the after photo later that day, and said, "OMG!!!! I did it! Finished before the kids got home! I feel VERY accomplished!!"
Join in and write your own page! It's easy to do. How? Simply click here to return to kitchen clutter.
My Table's Clear Because I Pile My Junk Somewhere Else!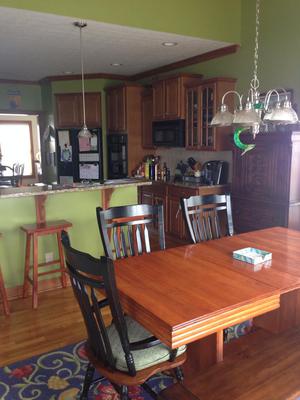 Heather sent in this photo, and said, "My kitchen table is good but my bar catches all!"

That's a really common issue Heather. A similar issue is shifting items off of one flat surface to clear it, but then just moving them elsewhere, without really putting them away.

This can feel really frustrating for people when doing these missions, and I hear you!

Ideally, as you remove things from your kitchen table, or island or bar area, or wherever you've got your catch all space, you should be getting rid of things, donating, recycling, or putting them away elsewhere.

However, depending on how cluttered your kitchen or the rest of your house is, there may not be room right now for you to properly store these items elsewhere.

If you encounter this problem, don't despair! Instead, know the answer to the problem is that you're going to have to do a couple of layers of decluttering in your kitchen, over many days.

Each day you declutter a new area of the kitchen, or your home, you'll be removing items from your home and slowly, but surely, that will free up more storage space and places for you to put these items.

You will also find though, when you deal with catch all types of spaces, that with time what once was important enough to lay down on the table, for example, is now old enough that it's just trash.

So the first thing to do is look for such obvious wins, like trash, items that go in another space, or duplicates of things where you can get rid of at least some of them, to begin the process of clearing these surfaces! It will happen, I promise, it just doesn't happen overnight!

Here's another set of before and after photos from a reader, Jennifer, who found that just a few minutes of work that she was dreading, really did pay off.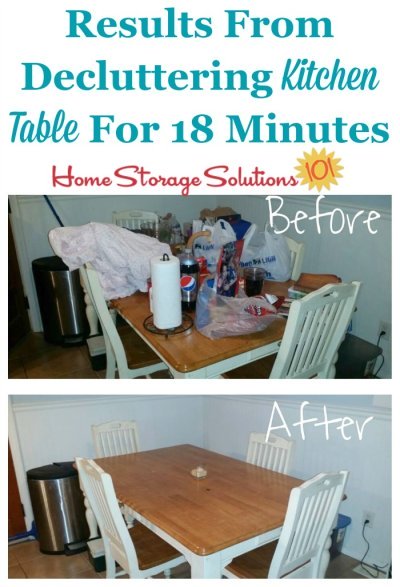 Jennifer said, "Thank you for the kick in the pants to get something done in 18 minutes that I kept dreading to do for weeks!"
Instead of just shifting things from one place to the next, try to deal with just a few of those things each day, finding them a storage spot in your home, or getting rid of a few of them, and it will soon improve!
Join in and write your own page! It's easy to do. How? Simply click here to return to kitchen clutter.
Needs To Be Cleaned Off Or It Drives Me Nuts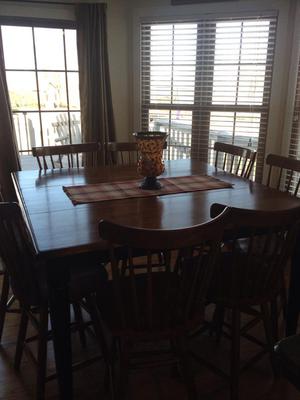 Jamie sent in the photo above, and she said, "With 6 children and 3 adults in this house I had to have a clean table or it drives me nuts.

First thing to get cleaned after kids go to school is the kitchen. I would go crazy otherwise."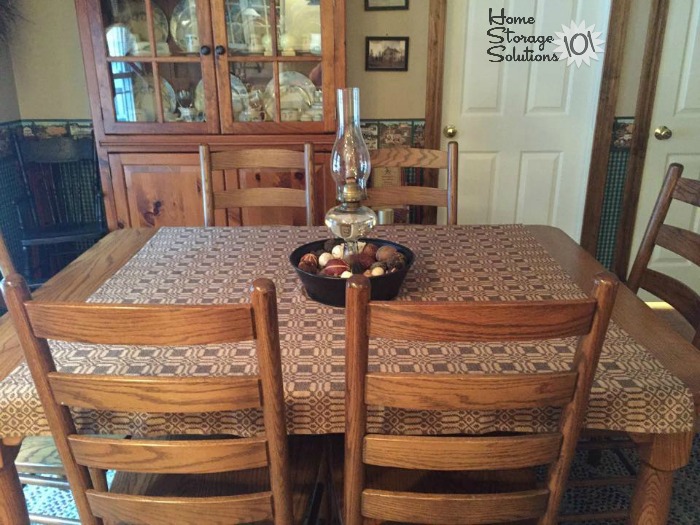 In addition, above is a picture from another reader, Linda. She said, "Decluttered kitchen table. It has been this way for 3 days! So far so good!"
Join in and write your own page! It's easy to do. How? Simply click here to return to kitchen clutter.
Uncluttered & Decorated Table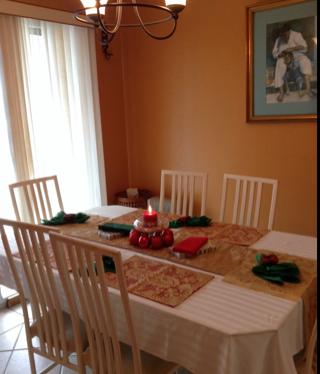 Samantha sent in this photo, and she said, "Nothing better be left on my kitchen/dining table after homework, eating or just kicking it with friends. LOL.

This is the Christmas time look of my table. Most times it is uncluttered like this."

In addition, here's a photo from a reader, Gayla, who finished this mission.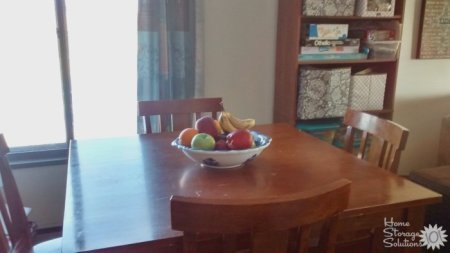 Join in and write your own page! It's easy to do. How? Simply click here to return to kitchen clutter.
When The Kitchen Is Clean Everything Feels Better!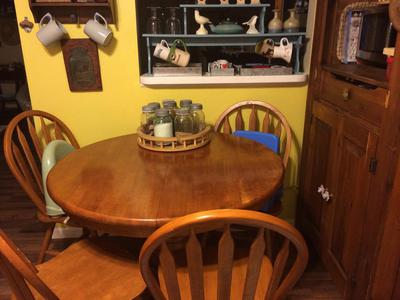 Zoe sent in the photo above, and she said, "Here's my dining table.

I keep a lazy Suzan on the table with healthy snacks for the kiddos to munch on whenever they want. It keeps them from digging around cupboards and the fridge.

And the only mess is on the table - easy clean.

When the kitchen is clean, everything feels (and smells) better!"

Here's another photo from another reader, Lisa.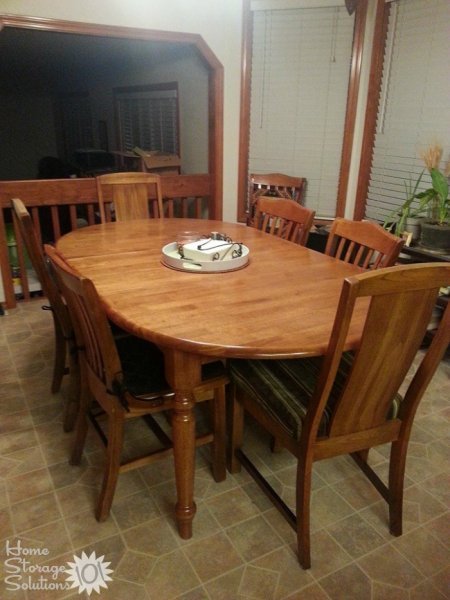 Lisa said, "My before is embarrassing because we ran out of the house late this morning and the kids left their breakfast dishes but that's reality around here. Took about 15 min because I switched out Christmas decor in center with normal and got out the furniture polish, too. Feels good to finally do one mission successfully! Now to stay on top of it!"
Join in and write your own page! It's easy to do. How? Simply click here to return to kitchen clutter.
Clearing Kitchen Table Of Clutter: Before & After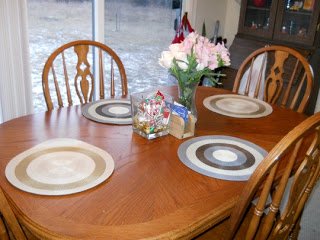 After
Tina from Dancing in The Fire shared her before and after pictures when she did this mission, both shown above.

She said: "My pretty dining table. Somehow this and the bar have become our natural dumping grounds. I am working hard at finding organized alternatives!"

Here's another before and after set of photos, sent in by a reader, Laurie.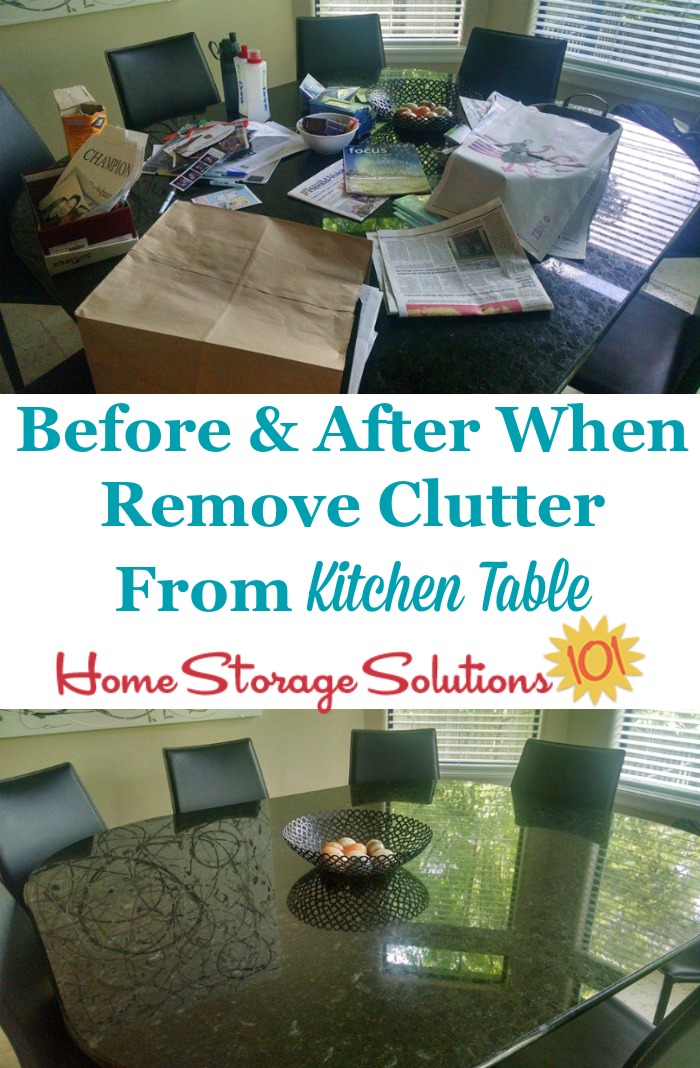 Want To Do More Decluttering Missions? Get Started With Declutter 365 Today!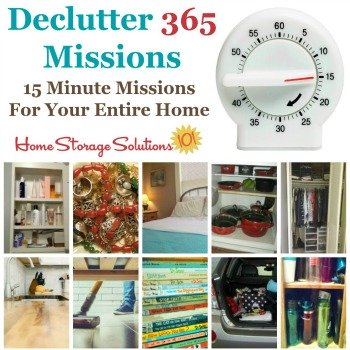 Once you declutter one type of item in your home I bet you'll want to declutter some more. After all, decluttering gives you a great reward for even a small investment of time and energy.
The Declutter 365 system is designed to help you declutter, over the course of a year, your entire house, with just 15 minutes of decluttering each day!
Hundreds of thousands of people use this proven system to get rid of their clutter, and bring peace and calm back to their homes.
Declutter 365 works to guide you to clear the clutter without overwhelm, focusing on just one small area at a time, and without making a huge mess in the process, so you see consistent forward progress without all that "messy middle" that makes it even harder to function in your home than before you started.
In addition to building a daily decluttering habit, the Declutter 365 program, along with the accompanying 52 Week Organized Home Challenge, teaches you the skills, habits, routines, and mindsets necessary to maintain the clutter free and organized state of your home from now on, so it'll never be as messy and cluttered as it is right now, ever again.
If you haven't already, make sure to get your copy of this year's Declutter 365 annual calendar here (it's FREE!), find today's date, and do 15 minutes of decluttering on the day's mission. Then, repeat again tomorrow, and again and again. Over the course of the next year, if you do this 15 minutes per day, you'll declutter your whole house!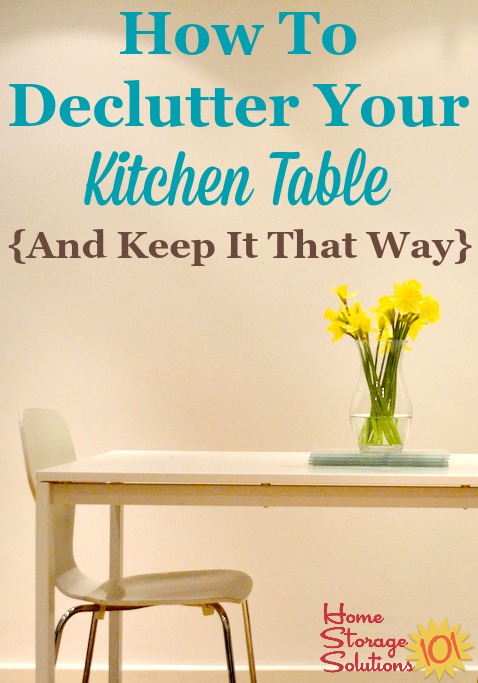 Bottom photo courtesy of Richard_of_England
Related Pages You May Enjoy
Getting Clutter Free 15 Minutes At A Time Hall Of Fame
Free Printable January Declutter Calendar
Go From How To Declutter Your Kitchen Table & Make It A Habit To Home Page