Declutter Kitchen Table: Hall Of Fame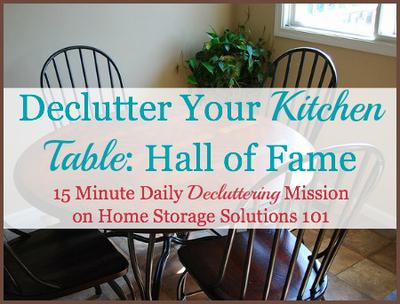 One of the early decluttering missions of each year is to declutter your kitchen table, and then get in the habit of keeping it that way.
This may, or may not, be a big deal for you. But I guarantee that taking the few minutes daily to keep your table clear will go a long way toward making your whole kitchen feel more organized and pleasant to be in.
Lots Of Activities Happen Here, Not Just Eating:
If you're like most people LOTS of stuff happens at your kitchen table, not just eating. There is homework, bill paying, chatting with a cup of coffee, etc.
But you can't do these things (at least easily) when you've got clutter and junk piled high on the table.
You have to move things to the side to eat, or stick your elbow in crumbs as you write something, or can't find the salt and pepper shakers amongst all the paper piles.
What Should Be Cleared Daily?
Ideally, your table should be generally free of clutter at least at one point of the day, daily.
I find it best to clear off the table after each meal (obviously), and then again as part of my end of the day routine when I'm cleaning up the kitchen for the evening.
That means, at least in our house, moving the piles of mail, homework papers that have been returned, library books, newspapers and coupon inserts, etc. (As you might have noticed we
suffer from paper clutter mainly on our table.)
For others this may be moving crafts or other projects off, or something else entirely.
Don't keep this stuff there all the time, or you can't use this surface for its primary purpose -- eating with your family.
Your Table Doesn't Have To Be Bare To Be Clutter Free
On the other hand, your table doesn't have to be completely bare.
By all means put a pretty vase of flowers, a bowl of fruit, etc. on the table and keep it there.
Just make sure those types of decorative items don't take up so much room other functions cannot occur.
Further, things like placemats, salt and pepper shakers, a napkin holder, etc. also may have permanent residence on a still decluttered table.
The Biggest Part Of This Decluttering Challenge: Making It A Habit
Clearing your table of clutter one day of the year is great, but it won't make a permanent impact in your kitchen unless you do it daily.
I've already shared that I try to clear off my kitchen each evening, before bed.
Do it whenever you need to that makes sense for you, but making it a habit is so very important!
Below I've gathered pictures from readers who've done this decluttering mission.
I encourage each of you to
join the daily decluttering missions here
, and do one 15 minute mission each day to get your home clutter free slowly, and consistently, throughout the year.

Top photo courtesy of b0jangles
Clearing Kitchen Table Of Clutter: Before & After
by Tina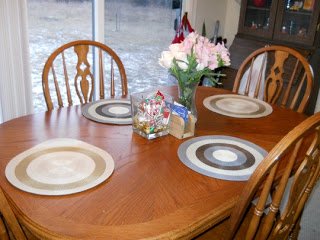 After
Tina from Dancing in The Fire shared her before and after pictures when she did this mission.

She said: "My pretty dining table. Somehow this and the bar have become our natural dumping grounds. I am working hard at finding organized alternatives!"


Taylor says:
Wow, look at the difference! That looks wonderful Tina. Congrats on doing such a good job.
Are You Inspired To Get Organized This Year?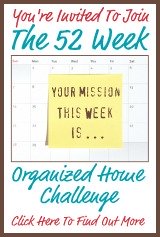 I hope this has helped inspire you to get more organized this year.
This decluttering mission is part of
Week #1 of the challenges, all about kitchen counter organization
.
It is just the first of the
52 Week Organized Home Challenge
that helps you get your whole house organized over the course of the year. I hope you'll join us!
Plus, once you've done this easy mission make sure to
send me your pictures here
and I'll add them to the page!

Bottom photo courtesy of Richard_of_England
Related Pages You May Enjoy
Getting Clutter Free 15 Minutes At A Time Hall Of Fame
Free Printable January Declutter Calendar
Declutter Dining Room Table: Mission
Go From Mission: Declutter Kitchen Table To Home Page