How To Declutter Reusable Shopping Bags & Grocery Totes
Today's mission is to declutter reusable shopping bags and grocery totes from your home, at least to the extent you've got an excess supply.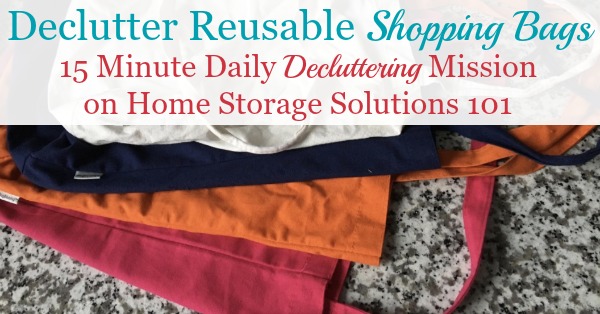 This mission is designed to be done while we work on the Organize Your Home Recycling Center & Trash Challenge here on the site, which is part of the 52 Week Organized Home Challenge, although you can do this task whenever you need to in your own home.
Another mission we're doing today is to declutter excess plastic grocery bags from our home, and as part of that mission I have told people, consistently, throughout the years, to also switch to reusable bags at least for the majority of their purchases.
I still think switching to reusable instead of disposable bags is sound advice, which is good for the environment, and also will keep us from accumulating excess plastic bag clutter in our homes.
However, as sometimes happen when we change the way we do things, we trade in one type of clutter for another, and that has certainly been the case, sometimes, with reusable grocery and shopping bags.
The whole point of reusable bags is that you can reuse them, so you only need a certain amount, and above that amount all you've got is clutter.
But it seems like lots of people, like companies and marketers, give away these reusable bags all the time, and therefore many of us keep accumulating more and more of them.
To the extent that you have more bags than you typically use when going on a shopping trip or to the grocery store, it's time to get rid of the excess bags, so you aren't wasting valuable storage space holding on to them.
Types Of Bags To Get Rid Of And Keep
Prime types of bags to get rid of are those that have holes, have broken handles, or are very weak so they don't hold much weight.
You also want to get rid of any bags that you don't like, for whatever reason, such as they're too small, or aren't comfortable to carry, or you don't like the way they look.
Once you've gotten rid of the easy to get rid of bags, it's time to think a bit more about which bags will make the cut, versus purged from your home.
Sort the bags by category, depending on the use of the bags. For example, some bags may be for carrying food and groceries (including insulated bags), while others are for toting books back and forth from the library, or used as a diaper bag, or whatever else you use them for. Make sure to keep enough bags for use in each category of activity, choosing the best of the best.
Sorting by category of bags is exactly what a reader, Robin, did in the images above and to the right, where she showed before and after pictures of her doing this decluttering task. Robin noticed that the corner of bags in her basement had piled up quite a bit, so she sorted by type and ended up getting rid of 12 bags!
From each category keep the sturdiest, prettiest bags that you've got that you enjoy using.
I also suggest, if you've got a lot of bags to sort through, to keep the easily washable ones, and get rid of the ones that can't be washed, or require special laborious methods for washing or drying.
Washing your bags regularly, especially the bags where you carry food such as produce and raw meats, is essential, to keep you and your family from getting food borne illnesses, so the bags that are easily washed will make this required task easier for you to do.
Idea For How To Get Rid Of Excess Bags
Once you've decided which bags to get rid of from your home, a simple way to get rid of them (at least the ones that aren't torn or ripped) is to fill them with other items that you've decided to declutter, and use the bag as your container for dropping the items off at a donation center or consignment shop.
That way you can get rid of more clutter and the bags, at the same time!
Reader Photos Of Decluttered Reusable Grocery & Shopping Bags
Here's some photos sent in by readers who've already done this mission, showing their results. My hope is that these photos will show you how quick and easy this task is, and the great results that can be achieved, so you'll be inspire to do the task for yourself.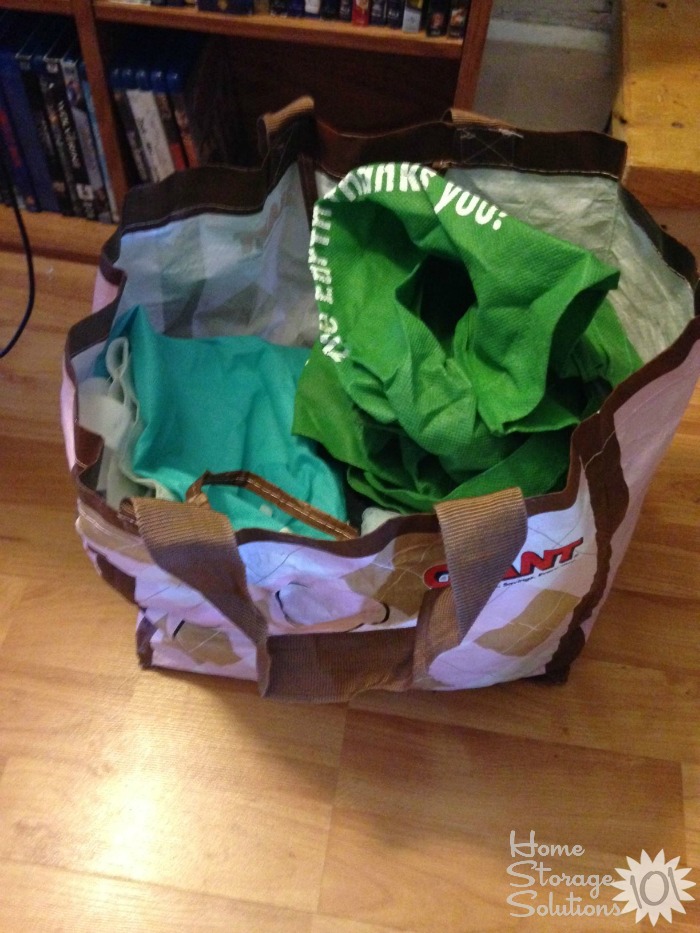 The photo above was sent in by a reader, Brandy, who said this was "the ripped ones with holes I decluttered."
In addition, below is a collage of photos sent in by another reader, Anita.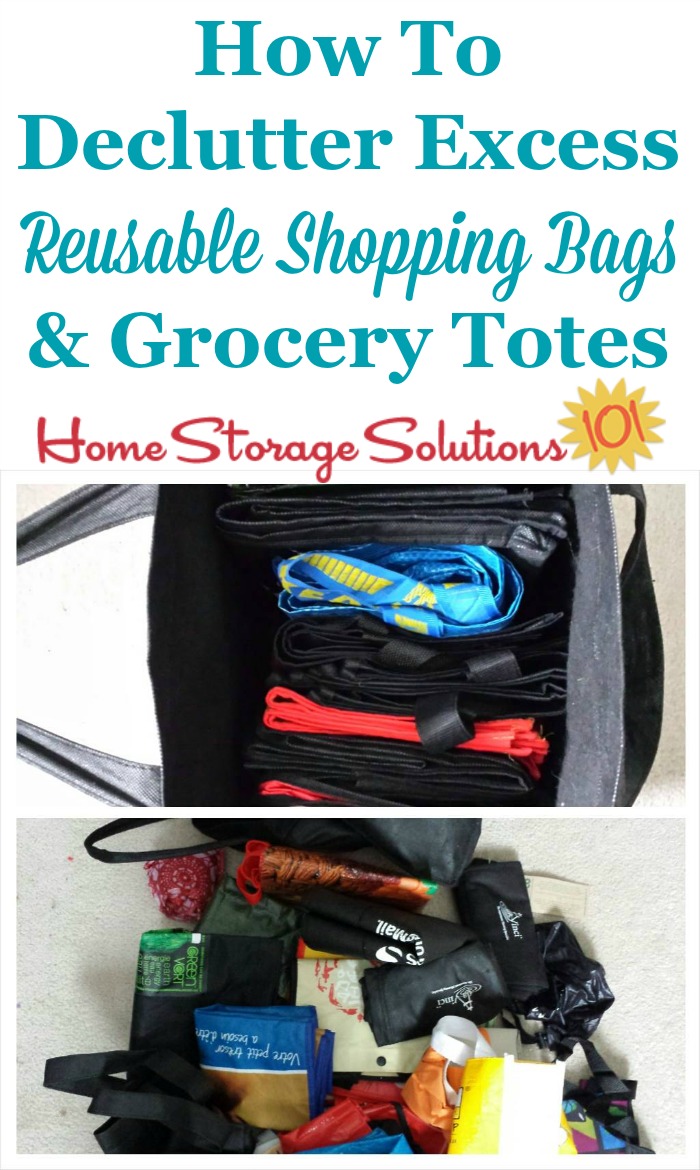 Anita said, "The only reuseable bags I have purchased are the huge Costco ones. Love those. So many companies give them away I have ended up with too many. I just finished decluttering. 1 bag sorted by size. 1 bag to get rid of."
Want To Do More Decluttering Missions? Get Started With Declutter 365 Today!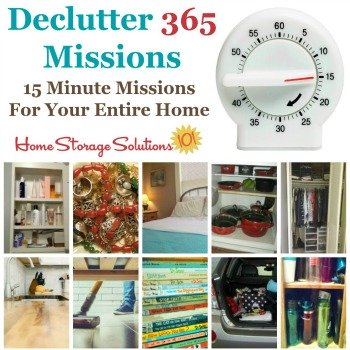 Once you declutter one type of item in your home I bet you'll want to declutter some more. After all, decluttering gives you a great reward for even a small investment of time and energy.
The Declutter 365 system is designed to help you declutter, over the course of a year, your entire house, with just 15 minutes of decluttering each day!
Hundreds of thousands of people use this proven system to get rid of their clutter, and bring peace and calm back to their homes.
Declutter 365 works to guide you to clear the clutter without overwhelm, focusing on just one small area at a time, and without making a huge mess in the process, so you see consistent forward progress without all that "messy middle" that makes it even harder to function in your home than before you started.
In addition to building a daily decluttering habit, the Declutter 365 program, along with the accompanying 52 Week Organized Home Challenge, teaches you the skills, habits, routines, and mindsets necessary to maintain the clutter free and organized state of your home from now on, so it'll never be as messy and cluttered as it is right now, ever again.
If you haven't already, make sure to get your copy of this year's Declutter 365 annual calendar here (it's FREE!), find today's date, and do 15 minutes of decluttering on the day's mission. Then, repeat again tomorrow, and again and again. Over the course of the next year, if you do this 15 minutes per day, you'll declutter your whole house!

Top image courtesy of Augbunny Canvas Shopping Tote Bags on Amazon.com
Some links on this page are affiliate links, meaning that if you purchase a product through them I receive a small commission which helps me provide this information to you for free, plus support my family. My integrity and your satisfaction are very important to me so I only recommend products I would purchase myself, and that I believe would benefit you. To learn more please see my disclosure statement.