Declutter & Recycle Plastic Grocery Bags: 15 Minute Mission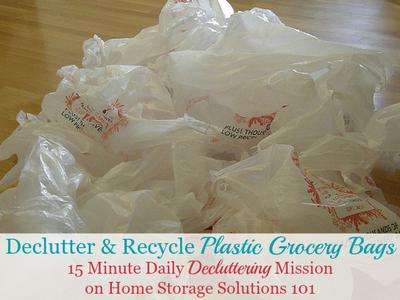 Today's mission is to declutter and recycle plastic grocery bags, as well as winnow it down to a more reasonable amount of paper bags if you have too many.
Most likely though your biggest problem is too many of those pesky plastic bags that you get at almost every store, including the grocery.
It is very easy to gather way more of these bags than we can ever use, and they can easily accumulate in your home.
That's what happened to a reader, LeeAnne, who shared the top picture in the collage on the right with me. She said, "Mine are slopped up under the kitchen sink. Don't be jealous."
Now, ideally, you'll also eventually begin to transition to use less of these plastic bags and instead to more often use reusable shopping bags (although you can accumulate too many of these as well, and if you do here's the article for
how to declutter reusable shopping bags
).
But I'm not telling you today to get rid of every single one of the plastic bags you currently have in your home.
After all, there are lots of uses around your home for these little bags, and you might as well have some of them for use as needed.
I just think you should most likely have less then you currently do, especially if you continue bringing them in each week when you go to the store. You're obviously not reusing them as quickly as they're accumulating if you have a huge amount.
In addition, I want to make it very clear that when I say you should declutter these excess plastic bags you've got floating around in your home that I don't mean you should throw them in the trash.
Often it is quite easy to recycle plastic bags, so there really is no reason to fill a landfill with them.
Below I've shared my extremely simple tip for recycling plastic bags without much effort on your part, at all!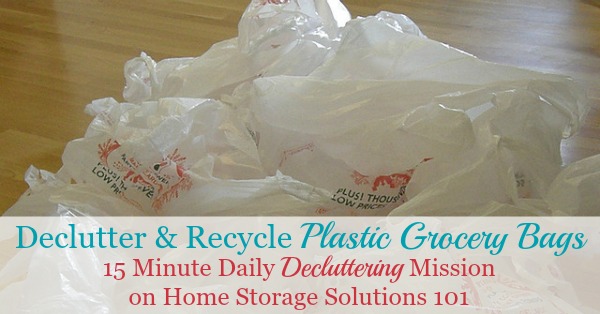 Top photo is courtesy of Dan4th Nicholas, and bottom image in collage courtesy of a reader, Gayle
Join in and write your own page! It's easy to do. How? Simply click here to return to kitchen clutter.
Look At The Results When Readers Did This Mission!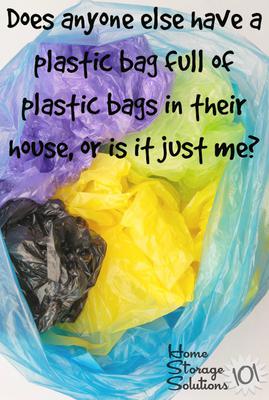 I thought this saying above was funny, but the reason is that it's often true! We keep shoving more plastic bags into more plastic bags.
But these readers have already done this mission, and look at all the bags that are leaving their house!
This photo below is from a reader, Sherry, who said: "I finally got rid of those grocery bags! They took up my passenger seat!! I only use 4 reusable bags now each trip."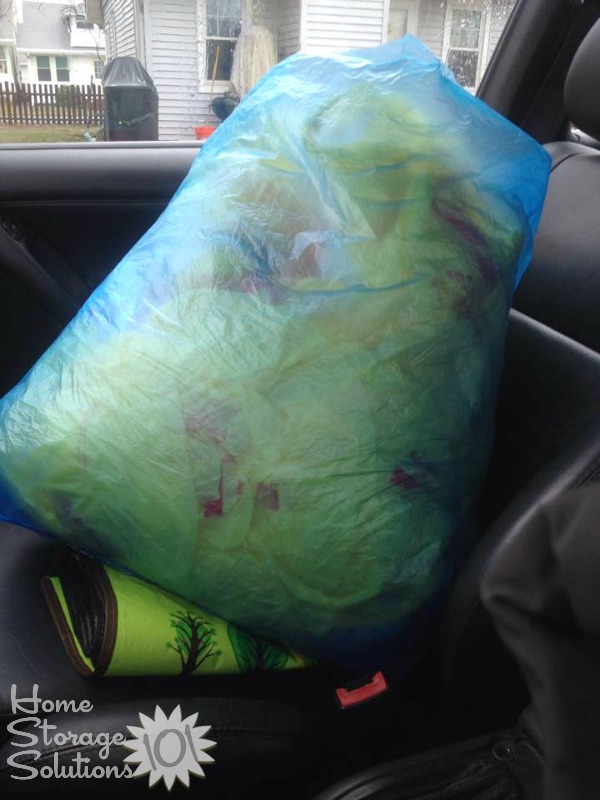 In addition, here's another photo from Ellen, who said, "I got rid of this many plastic and paper bags from one cupboard, and kept only five of each kind. My sister said it was like clowns from a clown car."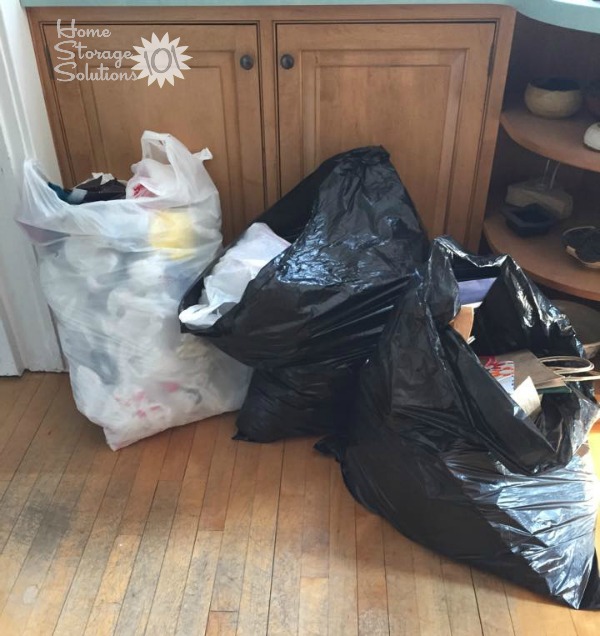 Join in and write your own page! It's easy to do. How? Simply click here to return to kitchen clutter.
Where & How To Recycle Plastic Bags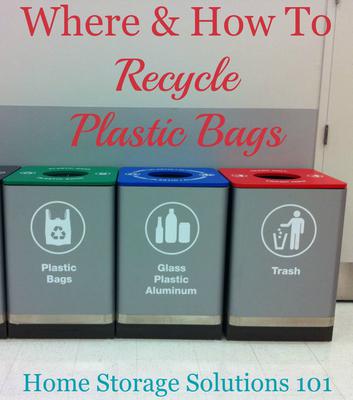 So I mentioned above that it is easy to recycle plastic bags, and it really is. And because it is so easy, and because these bags do not readily biodegrade and would be in a landfill almost indefinitely it is important when decluttering to recycle them, instead of just trashing them.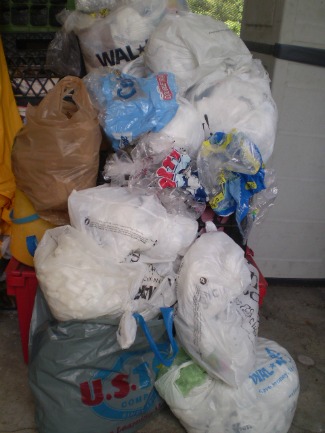 The picture on the left shows a large amount of plastic bags, and plastic film wrap (which is similar) that is ready to be recycled.
Generally these bags are either a #2 or #4 plastic, which is recyclable.
Often the easiest place to drop them off for recycling is at the store you actually received these bags from, such as Target (where I took the picture above) and Walmart.
Typically these drop off locations are close to the front of the store, and they will take plastic bags from their own store and from competitors.
So all you really need to do to get these out of your home is gather them up, typically just stuffing a bunch of the bags inside one of the bags itself, and then put it in your car trunk. Next time you're at the store just drop them off as you go into the store. Easy peasy!
If you have other places that you recycle these bags tell me where you do it in the comments, for even more ideas for everyone.
Are You Ready To Declutter Your Home?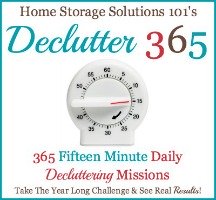 I hope this has inspired you to get rid of your excess plastic shopping bags.
When you begin to declutter the feeling you get is contagious, so if you're loving the results you're getting I would encourage you to keep going.
I've got a whole series of
15 minute decluttering missions
(eventually 365 of them!) that you can do.
Just pick and choose the ones you want to do, that will make a big impact in your home. But if you want someone else to tell you the order you can also grab the
15 minute daily decluttering mission calendars
and follow along as we all get our homes clutter free together!
Plus, if you do choose to keep some of your plastic bags to reuse in some way, here are ways to
make your own plastic bag holder
using containers you probably already have in your home right now!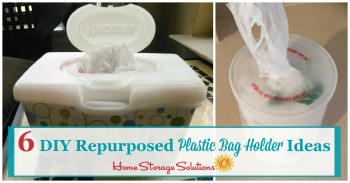 In addition, here's ideas for repurposing grocery and shopping bags around your home: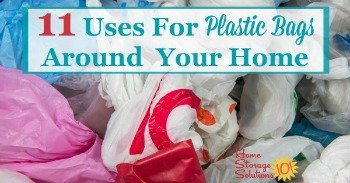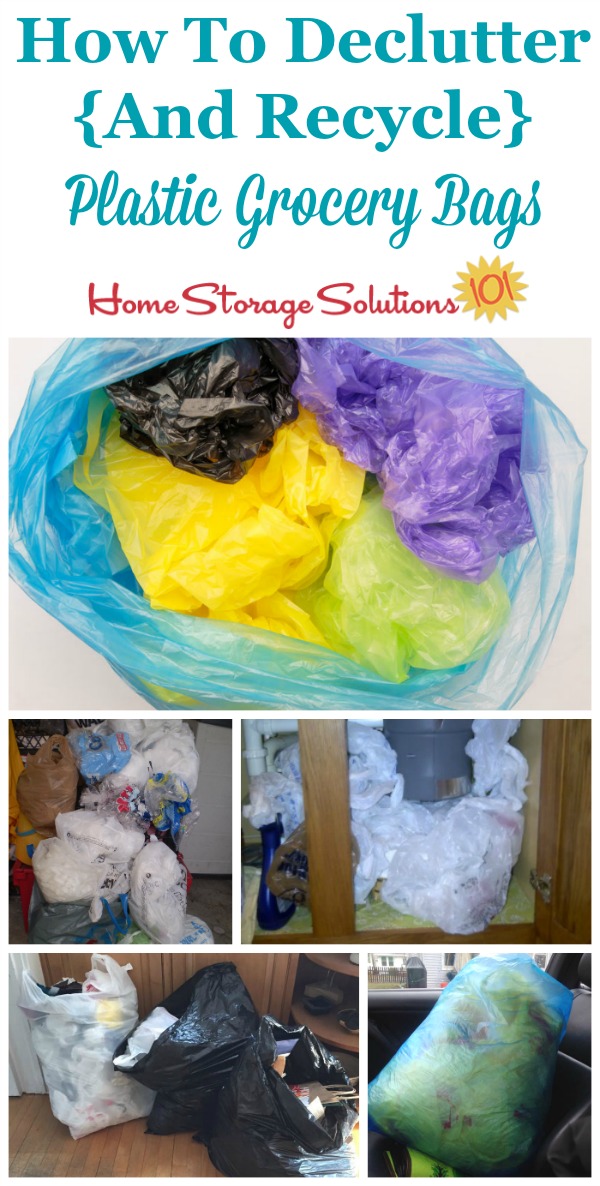 Second picture courtesy of EvelynGiggles
Related Pages You May Enjoy
Getting Rid Of Kitchen Clutter Hall Of Fame
Go From Declutter & Recycle Plastic Grocery Bags Mission To Home Page