How To Make Your Home Inventory Video Or Photos

Today's mission (as well as tomorrow's) is to make your home inventory video or take your photos of items within your home.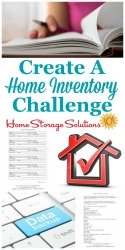 This mission is designed to be done during the week that we're working on
making a home inventory
, which is one of the challenges in the 52 Week Organized Home Challenges here on the site.
I encourage you, if you haven't already, to read that challenge article (linked above) to get the full picture of the steps in this challenge, because this is just one of those steps.
My approach to making a home inventory is to keep the process from being overwhelming and to make it as simple as possible, without sacrificing your ability to actually make a claim with your insurance, if necessary.
Today I want you to begin the process of making a video, or taking photos, to document the items you've got in your home that you would want to show to an insurance company, as proof that you had owned them and their condition, to get them replaced if they were stolen, or somehow destroyed.
Grab Your Smart Phone & Get Started
Decide whether you want to take video or photos (or a mixture of both), make sure you've got relatively good light and the house is relatively neat and tidy, and then begin the process.
Using your camera or video equipment go systematically, room by room, throughout your home documenting your possessions.
Make sure to open drawers, closet doors, look inside storage containers, etc. as you go room by room. That's why having everything neat and tidy before you begin is helpful!
Narrate Your Video Or Take Notes Simultaneously
If you use a video camera try to narrate as you go along, telling what the various items in each room are, and any other important facts about them such as when you purchased it, how much it cost, its condition, etc. (You'll back this information up with
saved receipts and warranty information
, to the extent you have it, but showing actual condition with a video
can be important evidence in itself.)
When showing a grouping of items, such as all of your pants, or the number of DVDs you've got, or pots and pans, you don't need to give precise numbers. However, you've got to give a clear indication of the scope of the amount of items of that type you own.
That could be, for example, showing the full drawer of shorts and pants, and carefully showing the stacks, or showing a shot of all the DVDs as a group, and narrating an estimate of their numbers by counting how many are on one shelf, and multiplying that by the number of shelves, etc.
You do NOT need to give precise numbers for things that aren't big ticket items, but instead generally give a feel for approximately how many of certain things you've got.
Specific Instructions For Big Ticket Items
The things that you want to spend more time inventorying and documenting with your videos or photos are the things that cost the most money, and that the insurance company will spend more time deciding how to reimburse you for, such as appliances, electronics, etc.
This is where making sure you show serial numbers is important, by either writing them down or photographing or making a video with them. In a video you can also read the serial number out loud.
It is also important for bigger ticket items to show the condition they're in, especially for newer items. Show how clean and well kept they are, and that they work properly.
If you choose to take photos instead of videos you'll do something similar with your camera, but take even more extensive notes with your home inventory forms, since you can't narrate your thoughts out loud with photos.
You can use these
home inventory forms
, available here on the site, to help you fill out this information, if you wish.
Use The Home Inventory Checklist So You Don't Forget To Document Anything
To make sure you don't forget to document anything important run through the
home inventory checklist here on the site
to help jog your memory about all the rooms and types of items you should document.
Here are the available home inventory forms you can use:
Are You Ready To Make Your Home Inventory Photos Or Video Now?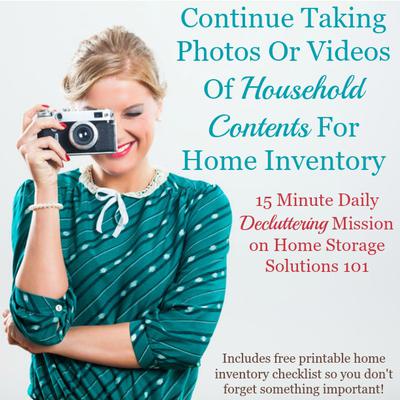 I hope this quick explanation of how to make a video or photo home inventory has helped you realize how simple the task really can be.
There is a reason, though, that I have this whole challenge about making a home inventory at the end of the year -- it's much simpler to make a home inventory once you've decluttered the majority of your home.
That means if you're overwhelmed by the task, it may really be because you know you have a lot of clutter that needs to go first, before you're ready to take this task on.
That's OK! This whole site is designed to help you with this exact issue!
Want To Do More Decluttering Missions? Get Started With Declutter 365 Today!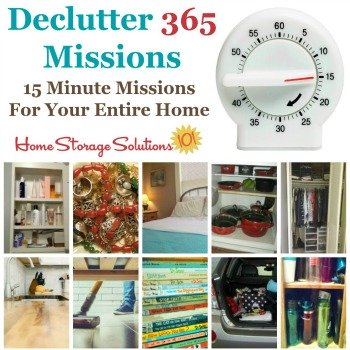 Once you declutter one type of item in your home I bet you'll want to declutter some more. After all, decluttering gives you a great reward for even a small investment of time and energy.
The Declutter 365 system is designed to help you declutter, over the course of a year, your entire house, with just 15 minutes of decluttering each day!
Hundreds of thousands of people use this proven system to get rid of their clutter, and bring peace and calm back to their homes.
Declutter 365 works to guide you to clear the clutter without overwhelm, focusing on just one small area at a time, and without making a huge mess in the process, so you see consistent forward progress without all that "messy middle" that makes it even harder to function in your home than before you started.
In addition to building a daily decluttering habit, the Declutter 365 program, along with the accompanying 52 Week Organized Home Challenge, teaches you the skills, habits, routines, and mindsets necessary to maintain the clutter free and organized state of your home from now on, so it'll never be as messy and cluttered as it is right now, ever again.
If you haven't already, make sure to get your copy of this year's Declutter 365 annual calendar here (it's FREE!), find today's date, and do 15 minutes of decluttering on the day's mission. Then, repeat again tomorrow, and again and again. Over the course of the next year, if you do this 15 minutes per day, you'll declutter your whole house!

Related Pages You May Enjoy
Getting Clutter Free 15 Minutes At A Time Hall Of Fame
Join The 52 Week Organized Home Challenge
Go From How To Make Your Home Inventory Video Or Photos To Home Page