How To Organize Warranties & Manuals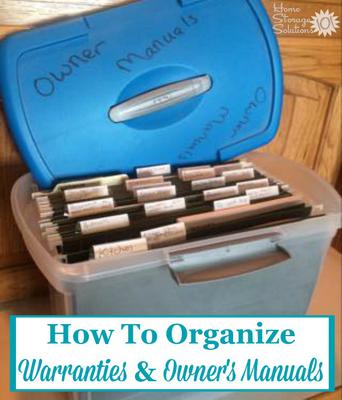 Today's mission is to organize warranties and user manuals that you've got in your home, so when you have a question about how a piece of equipment works, or need to diagnose an issue with an appliance, or something breaks down and needs to be fixed by the manufacturer you can find the right documents and information.
This mission is designed to be done when working on the
Organize Passwords, Warranties & Manuals Challenge
here on the site, which is one of the 52 Week Organized Home Challenges.
It is also a follow up to yesterday's mission where we
decluttered manuals and warranties
that were old or no longer useful from our filing system to reduce the total paper clutter in our homes.
Once you only have current warranties and manuals in your paper piles it is time to organize them.
How To Organize Warranties
You can keep warranties separate from your user's manuals in files within your
home filing system
, or you can attach them, and the receipt which acts as proof of purchase, to the user's manual it goes with, using a stapler.
I personally suggest keeping all of these documents together, by stapling them to the front of the manual, just because it makes it easier to find them all at once when needed.
How To Organize Manuals
There are two main ways to organize owner's manuals if you keep the paper version, and another way to organize them digitally, and you can choose the method that works best for you.
How To File Manuals
The first way to organize paper manuals is to add them to your home filing system. To do this you merely create a file for them in your file drawer or box called "user manuals" or "owner's manuals" or something similar.
What often happens with these manuals though, is that there are a lot of them that accumulate with time, and if you throw them all into a general file it can be
hard to find the one you want when you need it (although periodically decluttering the ones you no longer need is helpful in minimizing this problem).
Therefore, I suggest creating subfolders within this main owner's manual folder, to help you organize your manuals more efficiently.
Here are some suggested categories for these subfolders:
appliances


cameras


computers and software


electronics


kitchen


phones; and


other household
Adding the manuals into the subfolders will make it easier to find the one you need more easily within your filing system.
Make A Manual Binder
The second way you can organize manuals is to create a binder that holds them. Instead of punching holes into these manuals, all of which seem to be varying sizes, I suggest instead using pocket folders or sheet protectors to place the manuals in.
You can use tabs with similar categories to those suggested above for the filing system to subcategorize the manuals within the binders, if that's necessary, or, depending on how many manuals you've got, you could instead create separate binders for various manual categories.
The advantage of keeping all kitchen user manuals in a binder by themselves is that, for example, you can keep the binder somewhere in the kitchen. Then it is convenient, when you need to reference the information, to have it close at hand. If you use a filing system you may need to go to another area of the house to access the manuals, which is not near the actual equipment.
How To Digitally Organize Manuals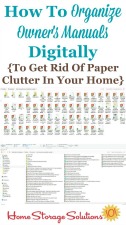 Finally, you can organize manuals digitally, and get rid of the paper manuals all together. I discussed how to do this, in more detail, in
yesterday's mission article here
.
I've got photos below submitted by readers who've already done this organizational mission, showing off how they organized their manuals and warranties. Make sure to scroll down and see them to get ideas and inspiration, and once you do the mission for yourself be sure to
submit your photos here
. The best photos will be featured here on the site.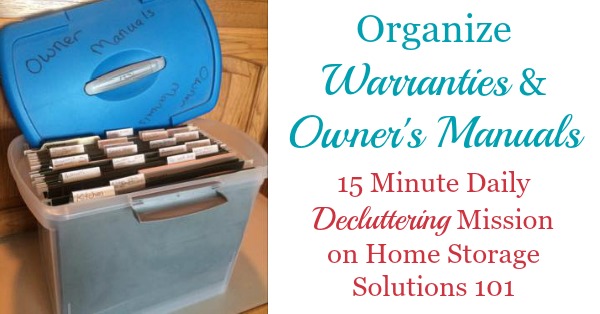 Organizing Owner's Manuals In Filing System
You can either add them to the other files in your file drawer or box, or you could file them in their own file box, like a reader, Linda, did. She explained about her photos, to the right, that she sent in, "Here's my owner's manual file. I had a Sterilite portable file box and I converted it over to putting all owner's manuals in.
I make a copy of the receipt of purchase and staple it in the cover page of the manual. As something is discarded I pull out the manual. Garage sale, I pull the manual out for the item being sold and that's given to the new owner. I get more in sales for items at a garage sale when owner's manuals are included, it reassures the new buyer the item was in fact well taken care of.
When keeping owners manuals I do toss the foreign language copies often included into the recycle bin. This is a quick access method and one location! Frees up real file space in my filing cabinet!!"