How To Declutter Manuals And Warranties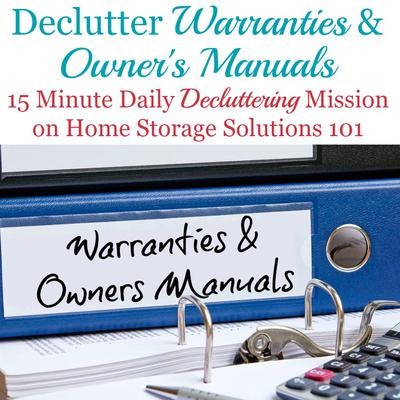 Today's mission is to declutter user and owner's manuals that you don't need anymore, as well as warranty documents that have expired and are no longer needed.
This mission is designed to be done while working on the
Organize Passwords, Manuals & Warranties Challenge
here on the site, which is part of the 52 Week Organized Home Challenge.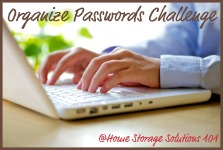 Tomorrow we'll focus on organizing the warranties and manuals you have left, but you definitely don't want to be organizing stuff you don't need, so today's mission is the vital first step in the process.
Fortunately, deciding what warranty documents and owner's manuals you actually need to keep, versus toss (into the recycling bin) is not as complicated as it is for some documents, like tax documents for example.
Instead, deciding what to keep versus get rid of is pretty straight forward. Keep the owner's manuals as long as you own the equipment or appliance that it goes with. When you get rid of the product you can get rid of the instructions for it too.
Same thing for warranties. If the warranty has expired, because it's been too many years, or you don't own the item anymore, or for whatever other reason the warranty no longer applies, it is no longer needed.
(You can check out more information about
how long to keep various documents here
, which includes a free printable cheat sheet for your reference.)
Work on this mission for 15 minutes at a time, and tackle it like you would when
getting rid of any other paper clutter
.
If you've been collecting owner's manuals in a file or binder for years, but have never bothered to clean it out, you may be in for a walk down memory lane as you get rid of the manual for the toaster oven you haven't had in your house for a decade, for example. :)
Below we'll also quickly explore a way of digitally organizing your owner's manuals to further reduce the amount of paper in your home.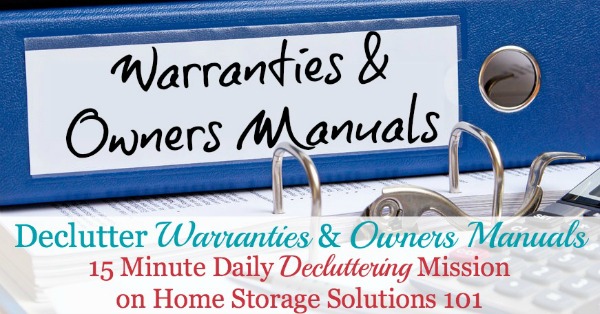 Organize Owner's Manuals Digitally To Get Rid Of Even More Paper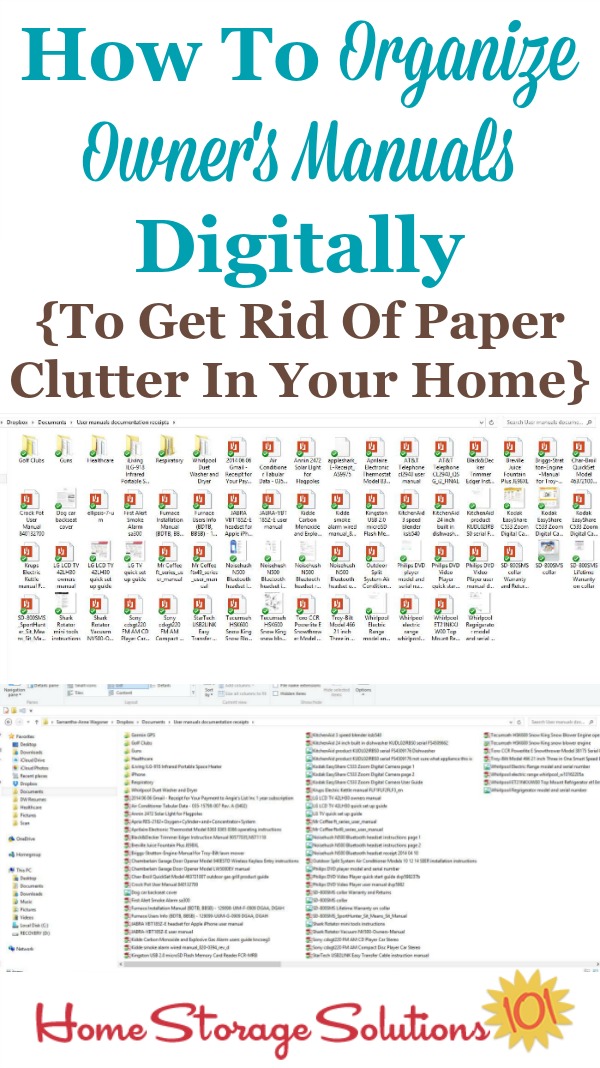 In tomorrow's mission we'll actually organize all of the owner's manuals you have left after decluttering the ones you no longer need. (You can
read that mission here
!)
However, depending on how many pieces of equipment, appliances, and various types of technology that you own you still may have quite a large stack of user's manuals to deal with.
For some people keeping the paper versions of these manuals is totally fine. However, if you want to get rid of even more paper in your home one thing you can do is find these manuals online, download the PDF of the manual onto your computer and then discard the paper copy from your home.
Several years ago this may not have been feasible, but these days the majority of the manuals are available online.
So that's exactly what one reader, Samantha, has done and she was gracious enough to send in the screen shots above showing how they're organized in her digital files.
She explained, "Here's what my list looks like on my laptop for the files for user manuals, etc. I don't think there are any I haven't been able to find. I often use the number on the back of the user guide that denotes the document to find it online."
How To Organize These Manuals Digitally
To do this for yourself start by creating a folder on your computer that will hold all your manuals, labeling it something obvious, like "owners manuals."
Next, do exactly what Samantha did and go through your stack of manuals typing in the relevant information into the search engine of the name and model number of the product, along with the term "owners manual" or "users manual" or whatever the document, in print, is titled.
As you find these documents online save a copy of the PDF version into the digital folder you've designated for this purpose.
Sometimes when files are saved they have strange numbers or words that later we don't recognize what they are. Therefore, as soon as you save the document go ahead and change the file name to something you'll be able to recognize later, such as "washing-machine-Maytag" or similar.
As with any type of digital files you want to make sure all your hard work doesn't go to waste if your computer hard drive dies, so make sure that you have a system in place for backing up these files for the future so you can retrieve them as needed.
As you get rid of an appliance or piece of equipment you can just delete the now obsolete PDF document from your digital files, keeping only the relevant ones available at the click of a mouse!
You can get more information about
how to organize computer files here
.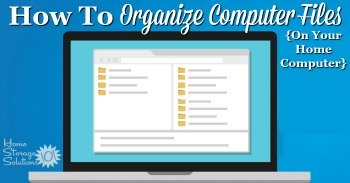 Are You Ready To Declutter Your Home?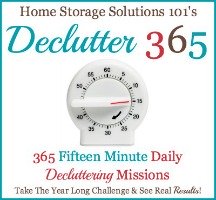 I hope seeing these pictures, and reading these simple instructions have inspired you to get rid of paper clutter in your home, including old and outdated warranties and owner's manuals.
When you begin to declutter the feeling you get is contagious, so if you're loving the results you're getting I would encourage you to keep going.
I've got a whole series of
15 minute decluttering missions
(eventually 365 of them!) that you can do.
Just pick and choose the ones you want to do, that will make a big impact in your home. But if you want someone else to tell you the order you can also grab the
15 minute daily decluttering mission calendars
and follow along as we all get our homes clutter free together!
Plus, now that you've decluttered all your old warranties and manuals, make sure to check out the follow up article all about
organizing warranties and manuals here
.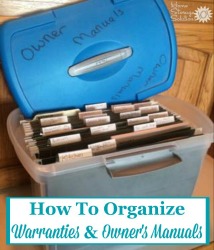 Related Pages You May Enjoy
Getting Clutter Free 15 Minutes At A Time Hall Of Fame
Getting Rid Of Paper Clutter Hall Of Fame
Go From How To Declutter Manuals & Warranties To Home Page