Declutter Broken Objects & Create Area For Objects To Be Mended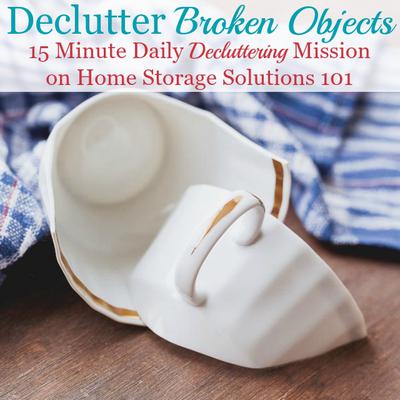 Today's mission is to declutter broken objects throughout your house.
I want you to go through each room of your home quickly, and look for things you know don't work, that are either just sitting around, or that you've placed somewhere to hold them while they're waiting to be fixed.
Sure, if you're actually going to fix something that's broken, so you can use it again, there's no reason to declutter it.
In fact, fixing older things, instead of heading out to buy something new, is a great way to save money, be frugal, and help the environment.
The problem comes when you don't actually fix the thing, but instead it just sits, broken and sad, taking up space and, of course, not being used, because it is broken.
That's why, typically, broken things are on my list of the
top 10 types of items you can declutter fast
from your home.
So today's the day to get real about all the broken objects in your home.
If something has been sitting around, not working properly, for six months or longer, especially, you really need to think long and hard before you keep it.
Perhaps you need to face the fact that you have no idea how to fix it, or it would cost more money or time to fix than it's worth, or perhaps you've already bought a replacement item for it.
If you get honest with yourself and find these types of things to be true, it should leave your home.
Normally I don't recommend donating things that are broken. After all, you
shouldn't donate trash to charities
.
There are always exceptions to that rule, such as for higher priced items that could be fixed, as long as you tell the charity or other place you're donating that it is broken and they still want it. Honesty is the best policy, since perhaps they have people that can fix it. But perhaps they don't, and you'd be costing them money to have to dispose of your trash.
Even items that are broken can often be recycled (although not always), so before trashing something I also suggest checking to see if recycling is an option.
The important thing, though, is to get anything broken that you are not going to fix out of your home so it doesn't continue to be clutter taking up space.
Once you've identified what items you'll get rid of, and which you'll keep and fix, scroll down below to learn more about how to keep the number of broken objects accumulating in your home under control from now on.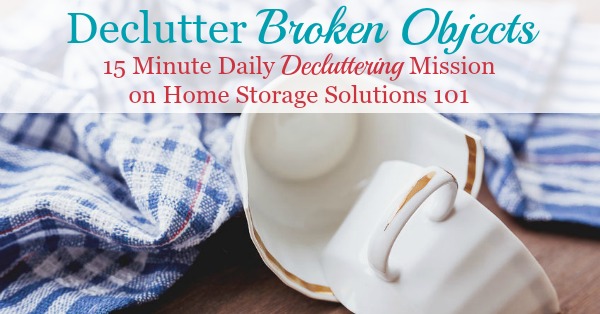 Join in and write your own page! It's easy to do. How? Simply click here to return to get rid of clutter.
Create Area To Hold Broken Objects For Mending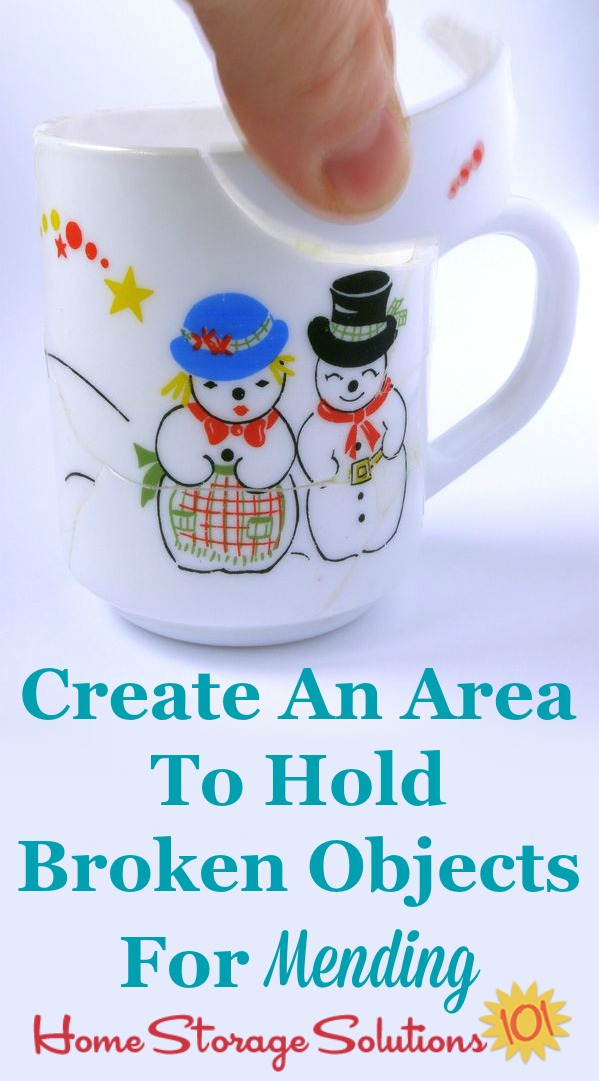 Once you've identified the items you are going to declutter, since they're broken, you'll be left with the ones that are still broken but that you intend to actually fix and begin to use again.
This is where the rubber meets the road. You've got to seriously sit down, and make an appointment with yourself (or depending on the number of objects that need to be fixed several appointments) to get them fixed, or to make the calls or run the errands necessary to get them fixed by others.
In addition, in the future there are going to be additional items in your home that break -- it's inevitable.
To keep your home free, in the future, from broken object clutter, I want you from now on to seriously decide each time an object breaks what you intend to do with it.
If you have no desire, energy, time, or whatever to fix it, do yourself a favor and get rid of it right away instead of next year when this Declutter 365 mission rolls around again.
If you do want to fix it, but cannot fix it right then, I want you to put the object (assuming it's small enough to move relatively easily) into a designated spot, or area, in your home that holds your broken objects for mending or fixing. If you don't have such a place right now, the second part of this mission today is to designate one now, and put everything that's broken in it.
The idea behind this area is very similar to the
mending basket
we created when working on the laundry organization challenge, and which we use to hold clothing and other items that need to be mended before they can be worn or used again.
You set a regular appointment with yourself, perhaps monthly, perhaps more frequently, depending on how many broken items you need to fix, and you work on the stuff you've put in this broken object area.
If you avoid fixing something over and over during the time you've set aside to fix things, then it's time to re-evaluate again and get rid of the object.
But if you have it where all the broken stuff is, you won't forget that whatever it is, is broken, and needs to be fixed.
Either way, creating this area for objects that need to be fixed will help you get rid of clutter in your home, by either helping to remind you to fix the stuff or to get rid of it, so it doesn't just lay around anymore.
Are You Ready To Declutter Your Home?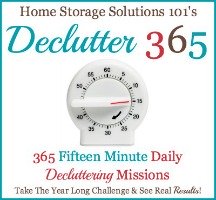 I hope this article has inspired you to get rid of broken stuff around your home.
When you begin to declutter the feeling you get is contagious, so if you're loving the results you're getting I would encourage you to keep going.
I've got a whole series of
15 minute decluttering missions
(eventually 365 of them!) that you can do.
Just pick and choose the ones you want to do, that will make a big impact in your home. But if you want someone else to tell you the order you can also grab the
15 minute daily decluttering mission calendars
and follow along as we all get our homes clutter free together!
Related Pages You May Enjoy
Getting Clutter Free 15 Minutes At A Time Hall Of Fame
Join The 52 Week Organized Home Challenge
Go From Declutter Broken Objects & Create A Mending Area To Home Page
Join in and write your own page! It's easy to do. How? Simply click here to return to get rid of clutter.