How To Opt Out & Stop Telemarketing Calls
Today's Declutter 365 mission is to opt out and stop telemarketing calls, at least to the extent possible, so you don't have to deal with so many unwanted and annoying marketing calls from now on.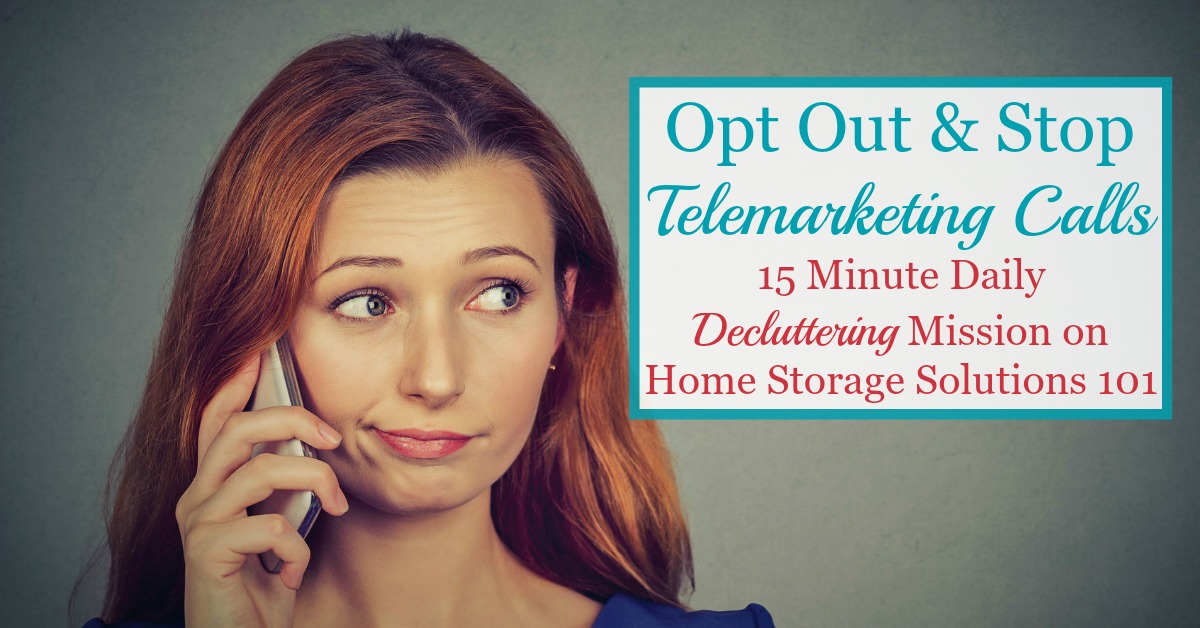 I don't know about you, but for me these unsolicited calls trying to get me to buy something, donate money, take a survey, or robocalls telling me about something or other I don't care about, all take up a lot of my time and frustrate me, a lot.
This mission is designed to help you make more time for yourself and save yourself aggravation in the future by opting out of many of these calls.
Unfortunately, what I'm going to tell you to do below will help, some, with the problem, but it won't completely fix it, especially unethical robocallers, but it will be worth your 15 minutes or so of effort for even the partial relief it provides.
Please note that these suggestions work for those located in the United States, and summarize some of the material provided from the FCC (Federal Communications Commission) along with some of my own practical tips and observations of trying to fight to reduce the amount of unwanted phone calls I receive at my own home.
Add Your Phone Numbers To The National Do Not Call List
The first step you should take is to add your landline and wireless numbers (as many as you've got) to the National Do Not Call List.
Here is the link to the website: www.DoNotCall.gov
When your number in on the Do Not Call list callers are prohibited from making telephone solicitations to that number, and must remove your numbers from their call list within 31 days of you adding it.
Once you've added your numbers you're set, unless you get a new number, because your numbers remain on this list until you remove them. There is no need to re-register your numbers later.
The Do Not Call list is not perfect, because there are exceptions for certain companies and people that can still call you, even if your number is on the list. These include calls placed with your express prior permission, or calls on behalf of a tax-exempt non-profit organization.
Still, having your numbers on the list does help some, so it's worthwhile to do it.
Many states also offer a state-wide Do Not Call list, so if you want even more protection you can check and see if your state has a similar service and sign up for it as well.
See If Your Phone Company Offers Additional Robocall Blocking Technology
Another huge problem are robocalls. Robocalls are unsolicited pre-recorded telemarketing calls to landline home phone numbers and all auto-dialed or pre-recorded calls or text messages to wireless numbers.
While many people absolutely hate these calls (they so enrage my husband he often angrily hangs up the phone when "Rachel from Cardholder Services" who wants us to know "there is currently no problem with your account but --" grrrrrr, OK, it enrages me too!, and I don't know what else she says because I often hang up as well) the federal government has been slow to actually put many regulations into place about them beside the Do Not Call list.
However, many phone companies have come to the rescue, offering their own robocall blocking technologies. You can check with your local phone providers, both for landlines and wirless, to see what they offer, and encourage them to offer more such technologies if they don't do it yet.
In addition, these robocallers are always trying to get one step ahead, so also find out from your phone company where you can submit additional phone numbers that have been calling that you want blocked, so that they can take additional steps to help you (and everyone else in the area) from receiving these annoying calls in the future.
What To Do When You Receive A Telemarketing Call Or Robocall
Despite adding your name to the Do Not Call list you're still going to receive some of these calls, so when you get them here are additional steps you should take to stop at least the mostly ethical ones from continuing to call if you are tired of hearing from them.
For a company to make these telemarketing calls they are supposed to have obtained your consent first, in some way. In the past an existing commercial relationship was deemed enough to assume your consent, but not anymore. Now, you need to have consented, in an oral recording, or in writing, before they call.
The rule is that you can revoke that consent to be called in any reasonable way, which means when they call if you say you do not consent to the call, and ask them to take you off their list, they're supposed to comply. Most will actually listen, stop talking, and hang up. If they try to argue with you about it though you should know that this statement that you do not consent to their call is all they can require for them to take you off the list. They cannot make you call another number or fill out a form to be removed from the list.
I know that sometimes you just want to hang up on these people when they call. They're annoying, they're wasting your time, and why do you have to waste any time on them at all? The answer is that if you hang up they just call back again later. Taking the time to tell them not to call again will save you more time in the long run.
Obviously not all telemarketers comply with the FCC rules and stop calling when you ask them too. This is especially true with certain robocalls where it's a pre-recorded message (that's my problem with Rachel from Cardholder Services, by the way).
According to FCC rules these calls are supposed to have a way for you to opt out and ask to be taken off the list, which they're supposed to tell you about at the beginning of the call, and allow you to exercise that option at any time during the call. The most pesky ones of these robocallers do NOT actually comply with this, either making you wait through the entire message for the option, or never providing the option to get off the list. Trust me, Rachel from Cardholder Services would have been told to "never call me again" a long time ago if she would give me the option, or every once in a while when she does give the option and I punch "1" to be removed from the list, if she'd actually listen and take me off the list.
So that's my long-winded way of saying this system isn't perfect, but it does help some to ask them not to call anymore. Many of them do listen, just unfortunately not all.
Block Phone Numbers When You Receive A Call On Your Cell Phone
When I receive these unsolicited phone calls on my wireless phone, as opposed to my landline, I have found a trick that helps me reduce the total number of calls, and that's to hang up (sometimes after asking them to never call me again, and take my name off their list), and blocking that phone number.
It's not perfect because they probably also have 20+ other phone numbers they use beside the one I just blocked, but it helps significantly, and if nothing else I find it psychologically satisfying.
I have a really old landline phone so I don't have that option to block on it, but perhaps newer landline phones may have this option as well. I'm not sure, but it might be something to look into.
Be More Careful About What Companies Get Your Phone Number From Now On
Finally, if you want to receive less unsolicited and unwanted marketing calls in the future you'll need to be much more careful and vigilant about what companies get your phone number from now on.
For example, if the form you're filling out doesn't make you provide your phone number, don't include it. They definitely can't call if they don't know your phone number.
In addition, recall that most of these companies claim they can call you because you consented to the phone calls. To avoid unwittingly giving your consent to such calls be careful of those pesky pre-checked boxes on Internet forms, where you're agreeing to things you didn't even know you were agreeing to. My tendency is to always uncheck any pre-checked boxes on a form, which then forces me to read what it is I'm agreeing to, and then only check the box myself if I really want it.
I hope these ideas will help you to at least significantly reduce the number of unwanted telemarketing and robocalls you receive on your phones from now on. If you've got more suggestions or ideas for how to receive less of these calls tell me below in the comments!
Are You Ready To Declutter Your Home?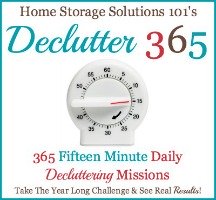 I hope these instructions have inspired you to try to stop some of these unwanted marketing calls to your home.
When you begin to declutter the feeling you get is contagious, so if you're loving the results you're getting I would encourage you to keep going.
I've got a whole series of 15 minute decluttering missions (eventually 365 of them!) that you can do.
Just pick and choose the ones you want to do, that will make a big impact in your home. But if you want someone else to tell you the order you can also grab the 15 minute daily decluttering mission calendars and follow along as we all get our homes clutter free together!
In addition, if you want to stop unsolicited telephone calls, you may also be interested in this article, about how to stop junk mail from coming into your home.