5 Tips For Preparing For Guests In Your Home
When you're preparing for guests in your home here are five areas to make sure are ready, so your guests feel welcome and at home.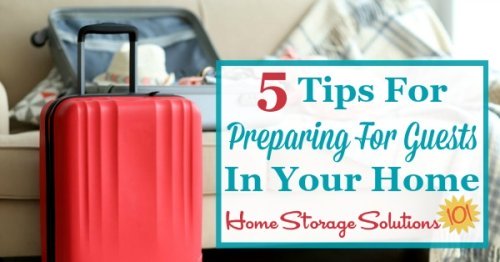 Gatherings with friends and family, whether for the holidays or any other time, are always a ton of fun, but when you're the one doing the hosting you want to make sure you're prepared so everyone enjoys themselves, and you do too.
Here are 5 things you can do around your home to prepare, so once guests arrive you can relax and enjoy their company, and so your guests feel welcomed and at home.
Focus On Cleaning Bathrooms Guests Will Visit
While you can close doors to some places in your home if they aren't company ready, you need to make sure the guest bathroom is ready to be used.
And without a bit of help the bathroom is often one of the dirtiest places in the home.
Therefore, before your guests arrive make sure to focus some attention on this room.
Spruce things up by decluttering the bathroom counter if necessary, and do a deep clean, especially of the places your guests will use like the toilet and sink.
You can get tips for speed cleaning your bathroom here so it looks great without spending too much time on it.
A clean bathroom goes a long way toward making guests feel comfortable in your home.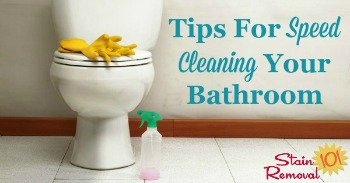 Almost always the guest bathroom can be improved by just a bit of quick cleaning before friends and family arrive, but if you feel like your entire house is messy you may need to do more than just those bathrooms.
If that's the case make sure to use this article about how to clean a messy house for guests, which includes a free printable checklist.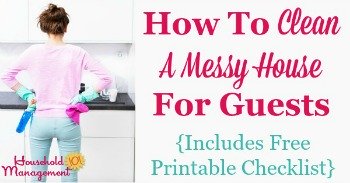 It will help you focus on what additional areas in your home to clean, and in what order, before company arrives.
Declutter Your Entryway And Main Entertaining Area
When guests arrive they will obviously see your entryway, and then you'll lead them most likely to the living or family room, or whatever other space you've designated for entertaining them.
To make sure you give a great first impression make sure to clear the clutter and excess stuff from these areas where they'll enter and walk through your home.
This can involve decluttering your front porch, if it is cluttered outside your home, but more likely it will require you to declutter your entryway, inside your home, since the inside is what tends to get more cluttered with use in everyday life.
You can check out the linked articles for more tips for decluttering these areas. First, is the article for decluttering your entryway: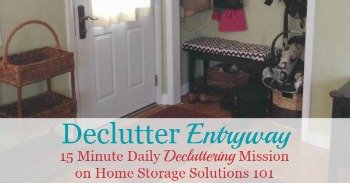 In addition, here's how to declutter your living or family room, if that's where you plan to take your guests to entertain them.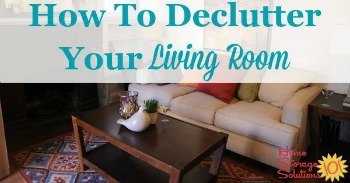 Then, once the clutter is removed make these areas more inviting by adding holiday decorations to the front porch or entryway, if they're in season, and then in the entertaining area you've chosen you could add a few comfy throws, pillows and some fresh magazines or books to the side table for them to browse during quiet times.
Whether they are going to stay for a week or just a few hours having this area feel homey and comfortable is important when preparing your home for your guests.
Add Fresh Linens To The Bathroom And Guest Bedroom
If you have out of town guests staying overnight, then a good clean up of your guest room is a must (including the guest bathroom already mentioned).
Getting these areas ready is a bit more involved for overnight guests, and includes fresh linens on the bed and towels in the bathroom.
In addition, while you are checking on the guest room make sure to add a few extra toiletries to the bathroom just in case they need them, and leave information on how to operate your guest room television or use your Wi-Fi for their Internet needs.
You can get a full list of 20 guest room ideas and essentials here, to make this room cozy and welcome.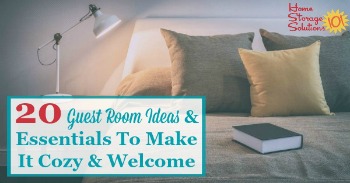 Have Multiple Options For Food And Drink For Those With Allergies
This is often overlooked, but is very important whether your guests are there for one meal or a week stay to have food and drink options that they will be able to consume safely.
When possible check with your guests in advance to find out if there are dietary issues such as allergies or food preferences that should be noted.
Adjust your menu plan and available food in the pantry to make it easy for your guests to enjoy meals in your home without worry.
Prepare Your Yard And Driveway For Extra Parking
One issue you may have forgotten about when preparing your home for guests is to prepare the outside for those extra cars. This means clearing out space on your driveway, in your garage or even your yard for guests to use if needed.
If any areas are off limits for guests to park, or you have a preference for where they do park, make sure to have these areas clearly marked or let your guests know in advance.
If possible, check with neighbors to make sure it is okay for your guests to park in front of their homes, on the street or curb that you share.
And depending on the weather, such as if there is snow or ice, you will want to make sure you've adequately cleared a safe path for guests to then walk from where they've parked up to your home's door, perhaps using salt or other means to make sure your entryways aren't too slick.
These tips for preparing your home for guests, during the holidays or any other time, will keep you and your friends and family happy no matter how short or long their upcoming visit may be.
How do you like to prepare for guests? I'd love to hear your tips and ideas in the comments below.
In addition, if the tables are turned and you're the one getting ready to travel, make sure to check out these 15 steps to get your home ready when preparing for a trip.