20 Guest Room Ideas & Essentials To Make It Cozy & Welcome
Here are 20 guest room ideas and essentials that you can place in any spare room for use by company that will help make them feel cozy and welcome in your home.

When you have overnight guests stay in your home you want them to feel comfortable and enjoy their stay. One of the best ways to do that is to stock your guest room, ahead of time, with items that will make them feel at home, and like they can relax and enjoy themselves.
Fortunately, preparing your home for overnight guests is simple to do and it's all about anticipating their needs before they arrive. Here are the things I suggest you add to make your home feel like their home away from home.
1. Clean and uncluttered bedroom or sleeping area.
Everyone enjoys sleeping in an uncluttered and clean space, so make sure before your guests come that you put away anything you've got out for other uses for that room (such as if the room is also used as a craft room, or home office), and get it cleaned up.
Here are tips for how to declutter your guest bedroom if this is a project you need to tackle in your home.
Even if the guest bedroom is already decluttered, before guests come may be a good time for a deep cleaning of the space. You can use this deep cleaning checklist for the bedroom if you really want to get it looking great.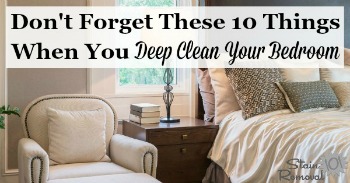 2. Fresh, clean linens already placed on the bed. 
Your guests will spend a lot of time sleeping, so make sure the bed sheets, pillowcases, and other bedding are nice and clean, and the bed well made before their arrival.
3. Extra pillows and blankets.
Some people get a bit chilly and want an extra blanket, or prefer sleeping with multiple pillows. Making these items available, before your guests even have to ask, is great, especially if your guests doesn't realize until they middle of the night they're a bit cold.
Make sure, before they go to sleep, to either show them where these items are stored for their use, or lay them out in an obvious location for them.
4. Bedside fan.
On the other hand, some people get warm at night, so again think ahead and also place a small fan near the bed they can use can.
Fans can help create some white noise which is comforting when sleeping in a new place.
5. Alarm clock.
An alarm clock is a nice touch, because it allows guests to quickly glance at the time as wanted or needed, and also to not have to rely on someone else to wake them up.
6. Glasses and pitcher, plus snacks.
Some people like a drink of water at night, so adding this to the room can feel quite welcoming.
In addition, stocking the room with a few small snacks, especially ones you know they love, can make guests feel special and cared for.
7. Night light or other proper lighting to lead to the bathroom.
Many times we need to use the bathroom at night, and guests are no different. However, in an unfamiliar room or house a small light to help guide them in the room or through the hall can be quite helpful, and also keep your guests safer.
Many people love those nightlights that are built into the outlet plates, and which come on automatically when it's dark. Here is one popular brand:
8. Lay out towels and wash cloths for bathing.
When guests are staying overnight they will most likely want to bathe at some point during their stay, so go ahead and place clean towels and wash cloths out for their use so they don't have to hunt from them later.
9. Clean and uncluttered bathroom space.
Everyone has got to use the bathroom, so having one that is clean and uncluttered, preferably close to the guest bedroom, is a must.
Make sure your guests know where the bathroom is that you've prepared for them to use, and before they arrive get it all cleaned up and uncluttered for their use.
You can get lots of tips for decluttering and organizing the bathroom here.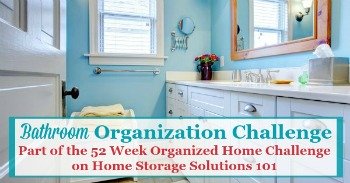 10. Extra toiletries.
We've all forgotten a toothbrush, or needed shampoo or conditioner from time to time when we've packed to go somewhere. Having small travel sized toiletries available for emergencies like this is a thoughtful gesture.
11. Hair dryer.
Similarly, lugging around a hair dryer can be a lot when trying to pack light, so having one available for use is always appreciated.
Here are ideas for how you can store and organize hair dryers and other hair appliances in the bathroom.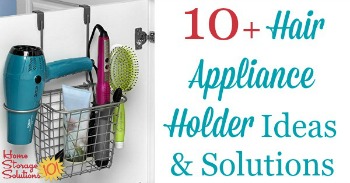 12. Laundry Hamper.
Make sure your guests know where to place dirty towels, or other linens, especially if it isn't obvious.
It can be a bit embarrassing to ask, plus telling will help ensure that conscientious guests will clean up after themselves as much as possible.
13. Full length mirror, if possible.
When getting ready a glance in a full length mirror is always helpful, so think about where you could place one in a guest room, such as on the back of a closet door, if possible.
14. List of details about the home.
This list could include where to find more towels or extra toiletries, instructions for working the TV and stereo, and the current wifi password.
This type of information makes guests feel at home without making them feel like they're demanding too much from you.
15. Luggage rack.
When traveling it's always nice, when possible, to place your luggage on something so you don't have to bend down to get things out of your bag. Your guests will appreciate a luggage rack if one is available.
16. Place to hang clothes, and extra empty hangers that can be used.
Similarly, when guests come with nicer clothing that needs to be hung, providing closet space or a hook to hang items on, and some empty hangers, is a nice touch.
You can get lots of tips for decluttering and organizing your closet here.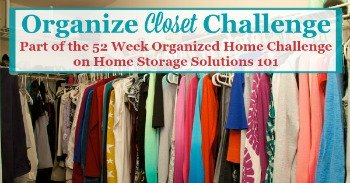 17. Tissues.
Simple little touches like making sure you've got tissues available in their guest room make guests feel loved and cared for.
18. Reading materials.
When preparing the guest room ahead of time, make sure to add some reading material, including magazines, and good fiction and non-fiction books. You want everyone to enjoy their time in your home, so providing nice entertainment options like books, or perhaps movies if your guests prefer it, can help them feel at home.
19. Reading light, or a lamp.
For those who love to read at night a nice reading light, or bedside lamp, is very helpful.
20. Wastebasket.
Everyone creates a bit of trash as they go through their day, so a small trash can placed in the guest room, where it's obvious, can be helpful.
Make sure the waste basket is completely empty when they arrive, and then empty it again soon after they've left.
Are there more ways you make your house guests feel comfortable, or things you always stock in your guest bedroom or bathroom? If so, I'd love to hear your ideas and suggestions below, in the comments.
In addition, get even more ideas for organizing all the bedrooms in your home as part of the 52 Week Organized Home Challenge.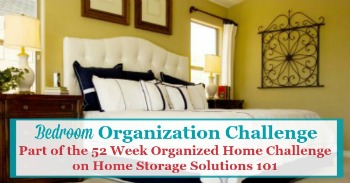 Further, here is an article about what you need to do to prepare for guests in your home, not just for the guest bedroom, but for entertaining all over the home.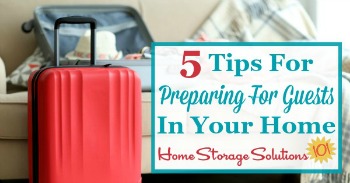 Some links on this page are affiliate links, meaning that if you purchase a product through them I receive a small commission which helps me provide this information to you for free, plus support my family. My integrity and your satisfaction are very important to me so I only recommend products I would purchase myself, and that I believe would benefit you. To learn more please see my disclosure statement.