Week #49 Organized Home Challenge
Christmas Decoration Storage & Organization
Your challenge this week is to work on Christmas decoration storage and organization so you can safely store, and then find and display the items you love and get rid of the rest.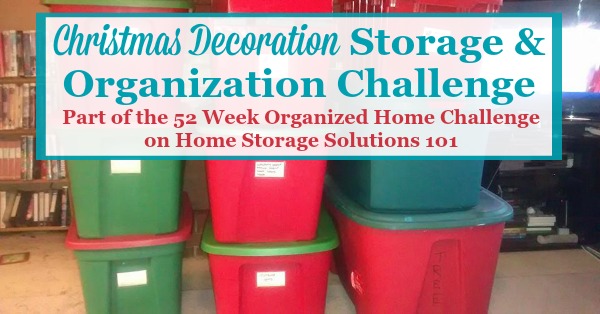 Obviously you aren't going to store your holiday decorations until the season is over but I scheduled this challenge for a couple of weeks before Christmas because there are really two parts to it.
First, we've got some work to do now, while your favorite decorations are out, to declutter what you don't want anymore, and to gather your storage supplies for later (that will be steps 1-3 below).
Then, second, after Christmas is over there's a bit more work to do, because then it's time to store the decorations away until next year (that will be step 4 below).
Are you new here? This Christmas decoration storage and organization challenge is part of the 52 Weeks To An Organized Home Challenge. (Click the link to learn how to join us for free for future and past challenges if you aren't already a regular reader).
Step 1: Declutter And Get Rid Of Decorations You No Longer Use Or Want
As you get your holiday decorations out this year to put up, it is the perfect time to declutter and get rid of items you no longer need, want or cherish anymore.
We're slowly, through the course of this year of challenges, going to declutter every area of our home (including stuff in storage) and these sometimes sentimamental items are no different. It can be tough, however, since we can have an emotional connection to some items, especially our Christmas items.
Prime Decorations To Declutter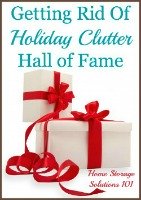 The items listed below are the prime categories of decorations you should declutter from your home. You can donate anything that others may want to use, and this can help you feel better about parting with some of these items. However, please don't donate broken or trash items, but instead just throw them away.
Broken items beyond repair (or that you realistically will not take the time to repair), such as ornaments, strings of lights, etc.
Anything you no longer find attractive or beautiful
Stuff you avoid, for whatever reason, from putting out year after year
You can check out my list of holiday and Christmas decluttering missions here for even more ideas.
Remember With Christmas Decorations Less Can Be More
When decluttering really try to keep only the cream of the crop of your Christmas decorations, and ditch the stuff you don't love or even like very much. You don't have to cram every surface with decorations to show your Christmas spirit, and your storage area will thank you for it 11 months out of the year!
While We're Focused On Christmas Decorations Right Now These Principles Apply To All Holiday & Seasonal Decorations
Another thing to keep in mind over the course of the upcoming year is that you've got decorations that you traditionally put up for other holidays as well. When you're dealing with them, during the season you're displaying them, is the perfect time to organize and declutter that holiday's stuff.
So use the same principles as discussed in this article when dealing with Valentines, Easter and spring, summer, Halloween, Thanksgiving decorations, or other seasonal decorations.
Step 2: Assess The Decorations Left, Placing Them In Categories
Once you've got the cream of the crop left, the next step is to take a quick and dirty inventory of what you've saved. You should write down the broad categories of items you've got left, the number of items, approximately, and how much space they will fill in your storage containers.
The purpose of this inventory is merely to make sure you've got a place for all your Christmas decorations in storage for the majority of each year, so don't worry too much on complete accuracy as much as reasonable guesstimates.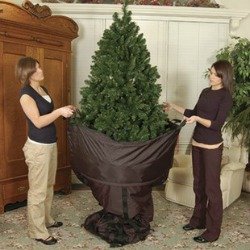 TreeKeeper artificial Christmas tree storage
bag allow you to keep your tree assembled
Here are the major categories to consider and take note of:
Ornaments and other decorations for the Christmas tree: approximate quantity, size, shape, extra hooks
Light strands: indoor and outdoor, length, color, extra bulbs
Artificial tree(s), wreaths and garland: size, shape
Nativity scenes, Christmas villages and other freestanding decorations: approximate quantity, size, shape, weight
Lawn ornaments and decorations: quantity, size, mechanical and electrical components
Christmas dishes: quantity, types of dishes, cups, serving pieces, etc.
Candles: size, shape, quantity
Miscellaneous decorations
Step 3: Gather The Right Christmas Storage Solutions
WreathKeeper bags can be used
for hanging regular to oversize wreaths
Once you've got a reasonable estimate of the decorations you've still got take a hard look at the containers you're storing everything in to see if you need to improve how you're storing everything.
These are all just suggestions and best practices. I'm not suggesting you go out and buy lots of storage containers or other items if you don't need them, or can't afford them. But, as you have an opportunity, or over time, these are good things to keep in mind.
The Ideal For Christmas Decoration Storage
The ideal storage arrangement for Christmas decorations will be as follows:
Each box contains the same category of stuff, such as one container each for lights, ornaments, other decorations, etc.
No box is overly stuffed, but instead everything fits neatly with plenty of room, and everything is packaged to keep it from breaking or being damaged while in storage
All storage boxes and other items can be placed together in one storage area in your home so everything stays together, and can easily be found each year
Decorations will be protected from extremes of heat, cold, and moisture, along with from dirt, dust, rodents and insects
Christmas Storage Solutions To Consider Before The Holidays Are Over
Until you place your decorations into storage at the end of the holiday season you won't be able to fully know if you've got all the Christmas storage solutions you need. However, the inventory I suggested you make above should help you identify any major areas you need to deal with, and give you time to get the right storage containers (or make something yourself) before you've really got to store everything.
With that in mind here are some things to consider before the holiday season is over, so you have time to gather all the right storage supplies you need to complete the Christmas decoration storage and organization challenge:
Step 4: Put Your Christmas Decorations In Storage Until Next Year (Not Until After The Holidays Though)
The final step of the Christmas decoration storage and organization challenge can't be done until after the holidays are over, but your preparations from steps 1-3 will make it an easy process.
Once the season is over and it's time to put everything away, go ahead and place everything back in the boxes or other storage containers you've designated. Separate the decorations into the major categories you listed in your inventory in step 2 so that like items stay together.
Be sure to carefully wrap fragile items in tissue paper, or otherwise cushion them so they stay safe. Make sure everything stays covered to protect it from dust and vermin. Be careful when stacking items not to place anything on top of soft or cardboard boxes containing fragile items.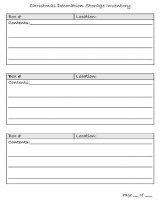 The most important thing is to arrange and store things in a way where everything is easily accessible for next year, and you can find what you want quickly. One of the easiest ways to do this is to label your boxes and other storage containers, and write down on a master inventory what you've stored in each container, and where you've placed it in storage.
To help you with this task I've created a free printable Christmas storage inventory that you can fill out and keep in a safe place, such as in your home management notebook or binder.
Once you've taken these steps this year, each year's Christmas decoration process from now on will be so much easier. You'll be able to find all the boxes you need quickly and easily, pull out clean undamaged decorations, and enjoy the process of decorating your home for the holidays.
This Week We're Also Organizing Wrapping Paper
Please note that over the years I've tweaked and (hopefully) improved the Organized Home Challenge, and as part of that process it I combined this week's challenge with another one, to organize wrapping paper and gift bags. So head on over to that article as well to also read how to do this part of the task this week.
Listen To Taylor's Video Tips For This Week's Organized Home Challenge & Declutter 365 Missions
Do you want more in-depth tips and instructions for how to do this week's missions and challenge all about decluttering and organizing holiday decorations? If so, I've got recorded video tips from me, Taylor, from the video archives in the Declutter 365 Premium group, all about this week's challenge and missions.
These video tips are available on demand in the archives, once you're a member of the group.
In Week #49's video I discussed the following topics, among others:
Tips for decluttering holiday and seasonal decorations
Tips for storing and organizing Christmas and other holiday and seasonal decorations
Organizing gift wrapping supplies and gift bags
Declutter 365 missions for the coming week

I suggest watching the video archive for the week, perhaps while you're doing some decluttering or cleaning around your home, before starting the week's missions and Challenge, and then you'll be able to breeze through this week's worth of decluttering missions, as well as organize what's necessary for the 52 Week Organized Home Challenge, based on the advice and instructions within those videos.
It really is like having me, Taylor, available, 24-7, as your decluttering and organizing coach, for every area of your home!
Plus, once you're a member of Declutter 365 Premium you get access to not only this video, but all the videos for the 52 weeks of the year, for 5 years (that's over 260 videos available in the archives!)

Tell Me How The Christmas Decoration Storage And Organization Challenge Is Going For You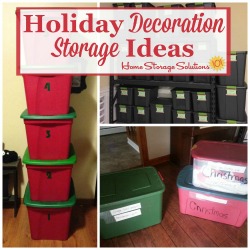 I would love to know how this week's challenge about Christmas decoration storage and organization is going for you. You can tell me your progress or give me more ideas for how you've organized this area of your home below in the comments.
I also love before and after pictures, and would love to see some of yours. Submit your pictures (up to four per submission) and get featured in the Creative Storage Solutions Hall Of Fame. You've worked hard to get organized, so now here's your chance to show off!
A couple of readers have already shared their ideas for storing holiday decorations here, so you can also check them out for more inspiration.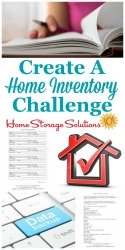 Sneak Peek For Next Week's Challenge
We're working on our homes slowly, one area at a time, so don't get too distracted from the Christmas Decoration Storage Challenge that we're doing this week.
However, I know we all like to know and plan for what is coming up next, so I'll tell you, we're going to focus on creating a home inventory to help protect us, and our belongings, in case of disaster, fire or theft.
Make Sure You Make The Most Of These 52 Organizing Challenges
Get your copy of the printable one page 52 Week Organized Home Challenge schedule for the year here, so you can see all the challenges we're working on.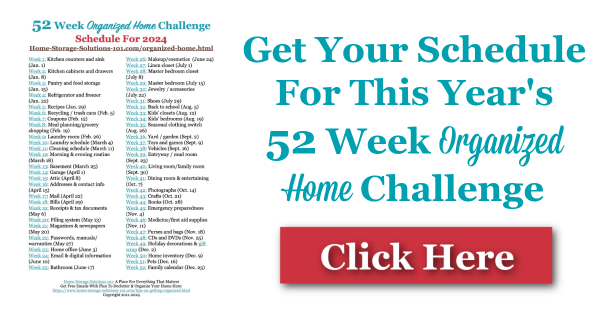 Further, if you'd like to join a community of others who are all commmitted to these organizing challenges and corresponding decluttering missions, and want more interaction with me, Taylor, video archives of Taylor providing more tips for each of these challenges and missions, as well as live monthly group coaching sessions focusing on the skills and habits necessary to maintain your home from now on, I'd urge you to join the private and exclusive Declutter 365 Premium Facebook group (you can learn more about it at the link).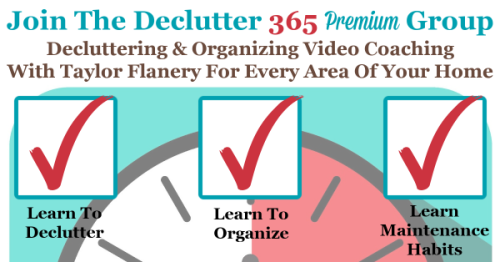 In addition, have you gotten your Declutter 365 Products yet, to make sure you can get even more assistance with decluttering and organizing your home this year? There are both free products (like the Declutter 365 calendar, a $20 value), as well as add-ons, such as daily text messages, planner stickers, and a Premium Facebook group, as well as a pack of printabe decluttering checklists.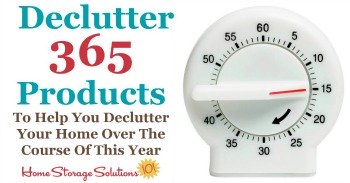 More Holiday Storage Articles