Wrapping Paper Storage Solutions
For All Your Gift Wrap & Accessories
Here are ideas and products you can use for wrapping paper storage to keep your gift wrap, ribbons, bows, bags, tape, scissors and other accessories organized and easily accessible.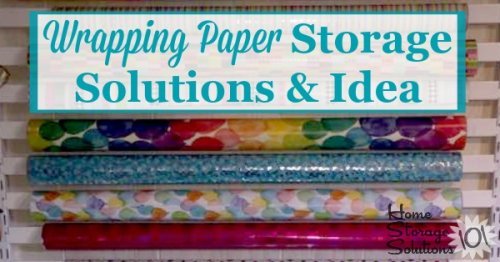 Wrapping Paper And Gift Wrap Organization
Instead of just keeping your gift wrap itself together, the most convenient thing to do is to keep everything you need for wrapping gifts and presents together for convenience when you need them. That includes not only the paper, but bows, ribbons, tissue paper, tape, scissors and gift bags.
(The photo to the left is from a reader, Joanne, who gathered many of her supplies into one place.)
Then, when you want to wrap a present or put together a pretty gift bag you don't have to hunt all over the house for various items to get the job done. That, along with a empty flat surface for wrapping, are about all you need.
If you'd like to learn more about the how to's of organizing these supplies check out this article on how to organize wrapping paper and gift bags, which is part of the 52 Weeks to an Organized Home Challenge.
Wrapping Paper Storage And Organizers
There are some types of wrapping paper that should be stored seasonally, such as that used only around Christmas, for example, and other types that should be kept handy year round, such as for birthdays.
Depending on how much paper you've got you may want to have one storage container just for holiday paper, that you store with the other stuff in your Christmas storage area, and another for other types of papers and accessories. Of course, if you don't have too much it may be more practical just to keep it all together.
If you've got some wrapping paper rolls that you will use year round make sure your store all the gift wrapping paper and accessories in a convenient location that is easily accessible for frequent use.
There are all kinds of storage containers and organizers available that are designed to hold all types of accessories together for easy access. They include hanging, over the door, under the bed, and other varieties. Choose the one which best fits the space you have available, where you want to keep the gift wrap, and also takes into consideration the amount of paper you've got to store. Some of the organizers hold many rolls of paper, while others hold just a few, for example.
You need to also be mindful of how long your rolls of wrapping paper are, since you want to make sure to buy a storage container that fits them easily, which can be an issue of you have oversized rolls.
Here are some of the types of wrapping paper storage containers and organizers I recommend:
Create A Gift Wrapping Center
If you've got room in your home it is great to have a gift wrapping center, which is basically an area with a flat surface for you to wrap presents. I recommend keeping your wrapping paper organizer in this area, if you can, to make it even more convenient.
Unless you wrap presents every single day you won't use this center all the time. Therefore, I suggest having the center have a dual purpose, such as a guest room desk, a place to pay bills or to serve as a night stand for guests, for examples.
Below is a photo from a reader, Kari, who showed her gift wrapping station.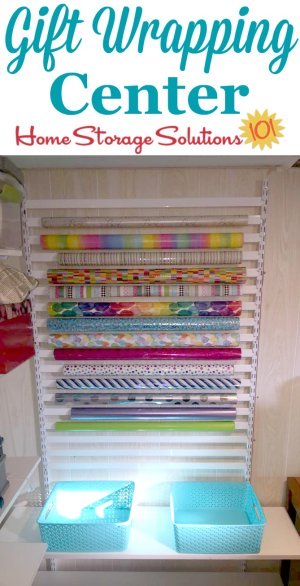 You can get several types of wrapping stations, including both carts and hutches, here:
Gift Bag Organizer
These days we not only wrap presents, but also give many gifts in gift bags. If you're like me you may have amassed quite a few gift bags you've found at the dollar store, or that were given to you which you plan to recycle and give to someone else in the future.

If possible, keep these gift bags in the same area as your wrapping paper storage, since the use for the items is quite similar. Try to store these bags by size, with all the small bags folded within another small bag, etc. In addition, you can even use one gift bag to hold bows and other gift wrapping accessories.
Another idea is to use a hanging gift bag organizer (such as the one pictured to the right) to keep all the gift bags together in one area, without using any floor or shelf space to hold them.