Hanging Gift Wrap Organizer
Store Wrapping Paper For Easy Access
A hanging gift wrap organizer, like the one pictured below, can keep your wrapping paper easily accessible year round for all your wrapping needs, while still keeping it all together but out of the way in your closet.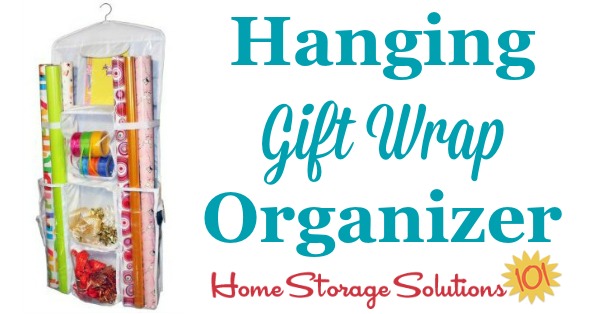 I know I've got this gift wrap storage hanging product located in the Christmas storage section of the site, but really this is a product that can be used year round.
Unlike many Christmas decorations you use at least some types of wrapping paper throughout the year, such as for birthdays and other special occasions. But of course, you don't use it everyday, and that is the rub, isn't it?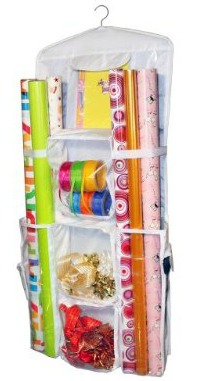 You need a way to keep the year round paper, bows, etc. handy so when you need to wrap something it doesn't take you a very long time to gather all your supplies before you can even begin wrapping. On the other hand, since you don't give gifts every single day you don't want to waste prime storage space on a gift wrap organizer.
That's why I think a hanging wrapping paper organizer like this one is a good compromise, and an elegant storage solution. It uses hanging space in your closet to keep the wrapping supplies easily accessible, while still not taking up too much room.
In addition, a product like this can serve both to hold the actual gift wrap, but also along with the holders which hold the rolls of paper, there are pockets which can hold lots of other wrapping accessories, such as bows, ribbons, a pair of scissors, tape, etc. to make wrapping convenient and easy. You can click here to purchase this organizer now.
In addition, here are several types of hanging wrapping paper and gift wrap storage organizers available:
Example From Reader
A reader, Becca, saw this page and got this product, and then sent in a photo of hers. She said, "I can't find the post that had the link to this wrapping paper holder thing you shared, but oh boy I saw it... Bought it...filled it...hung it...love it!!!!! Thank you :)
Here is the photo she sent in: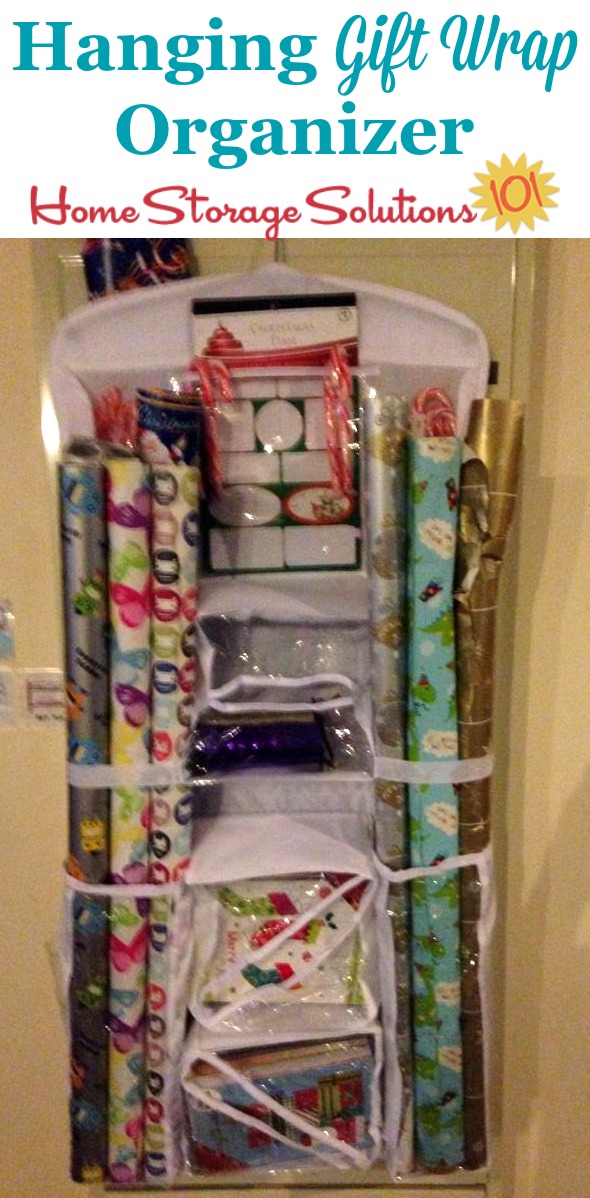 Other Wrapping Paper Storage Solutions
You can also see additional wrapping paper storage solutions on this site, since there are other ways to organize gift wrap besides just this hanging organizer.
For example, you could choose to use under the bed storage for your wrapping paper instead (see below). This, for example, could be a better solution for you if you are storing purely holiday related paper that you only need to get out once a year. Or, if your closet is too full, but you want to keep your wrapping paper out all year long perhaps an over the door hanging bag would work better for you.
In addition, for this hanging product there is actually a similar storage solution available for gift bags too, if you're interested in the set.
Some links on this page are affiliate links, meaning that if you purchase a product through them I receive a small commission which helps me provide this information to you for free, plus support my family. My integrity and your satisfaction are very important to me so I only recommend products I would purchase myself, and that I believe would benefit you. To learn more please see my disclosure statement.