September Declutter Calendar
15 Minute Daily Missions For Month
Here's the September 2017 declutter calendar with a daily 15 minute decluttering and organizing mission for each day of the month.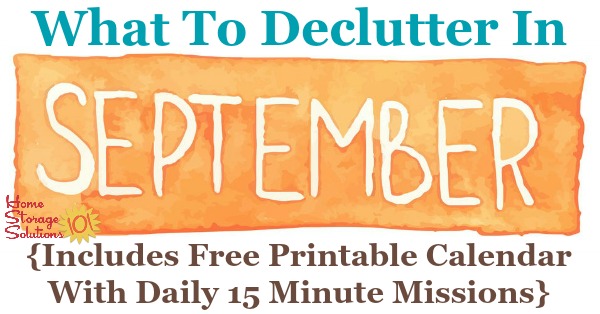 Remember, here are the ground rules:
1. Work for 15 minutes to declutter and do the mission listed, and if you need to work longer, and have the time, go for it. However, don't feel obligated to.
2. Print off the printable version of this calendar if you want to post on your fridge or some other area of your home to remind you what the daily mission is. To print it off scroll down on this page and click the picture of the calendar itself, or click the link directly under the calendar which says, "click here to get your printable September calendar."
3. You can also follow me through social media, including Facebook, Instagram, Google + and Twitter, to get a daily reminder of the day's mission.
Plus I've created a Declutter 365 Premium Facebook group for my Patreon patrons that you can join to get notification of each day's missions, live weekly video chats, plus comraderie from others who are also working on decluttering.
4. If you're loving this month's calendar (which you can get below without subscribing) you can get the entire 2018 declutter calendar, all 12 months, by signing up for the newsletter.
Please note that at this time this page provides the 2017 version of the calendar, because I release these to the public just a few days before the next month. However, when you subscribe you can get the entire 2018 calendar now.
Sign Up Here To Get Your Free 2018 Printable Declutter Calendar!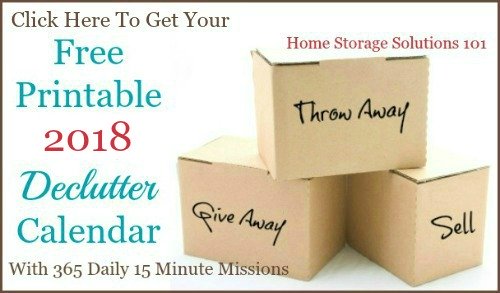 5. Once you've accomplished any one of these missions you can share your photos of what you have decluttered with me in the Getting Clutter Free Hall of Fame.
Plus, get some inspiration from the quote of the month, below.
September Decluttering Missions:
Get The September Declutter Calendar Printable
Here's a printable version of the calendar of daily missions that you can use. To print it is easy. All you have to do is click on either the image of the calendar itself, or the words below which say, "click here to get your September Printable Calendar" and a new window will open with the PDF.
Please note there are ads on this page. If you are asked to download something to get this calendar you've not clicked on the right thing. There is nothing to download to get this PDF!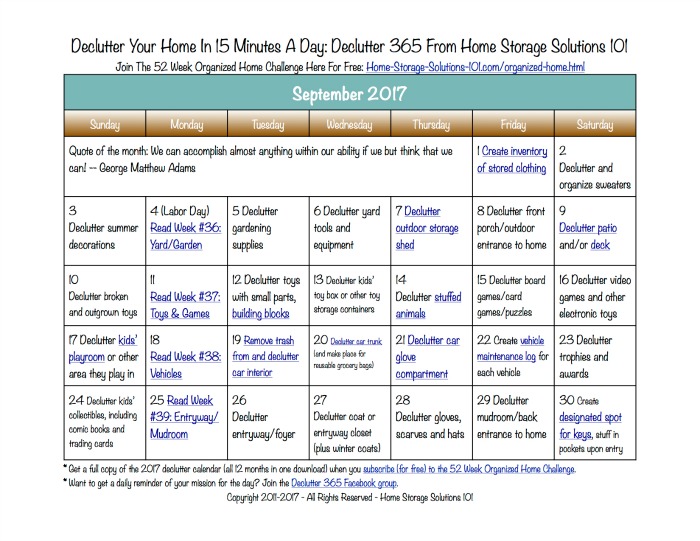 Click Here To Get Your September Printable Calendar
(opens into a new window, as a PDF)
Don't Forget To Also Join The Declutter 365 Premium Facebook Group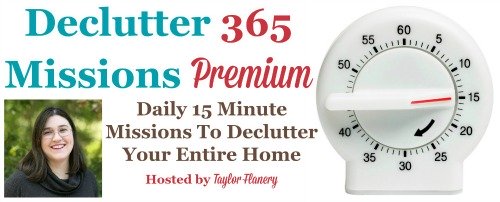 Although you can follow along with just the emails from me, plus the calendar, many people begged for more daily interaction and guidance during the missions.
You asked and so I delivered. I've created a closed Facebook group called Declutter 365 Premium which follows along with the free 2018 decluttering mission schedule I've created and posts each mission, daily, to help remind you of the challenges and missions, and keep you on track. In this group I also provide weekly live video sessions to discuss the week's missions, and have a question and answer session.
This premium Facebook group is only available as a bonus for my monthly Patreon patrons. You can find out more about how to become a monthly patron here.

You Can Follow The Missions Daily On Instagram Too!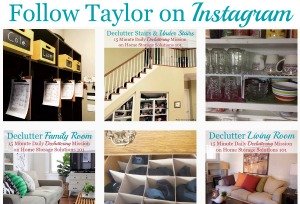 Lots of you have also asked me to make sure the daily missions were on Instagram. Again, you ask, I deliver!
I've now begun posting each of the daily missions, plus additional organizing tips and storage solutions ideas each day on Instagram.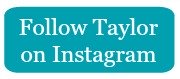 Here's the Instagram post showing the September 2017 missions. Be sure to use the #Declutter365 hashtag when you participate so we can all cheer you on!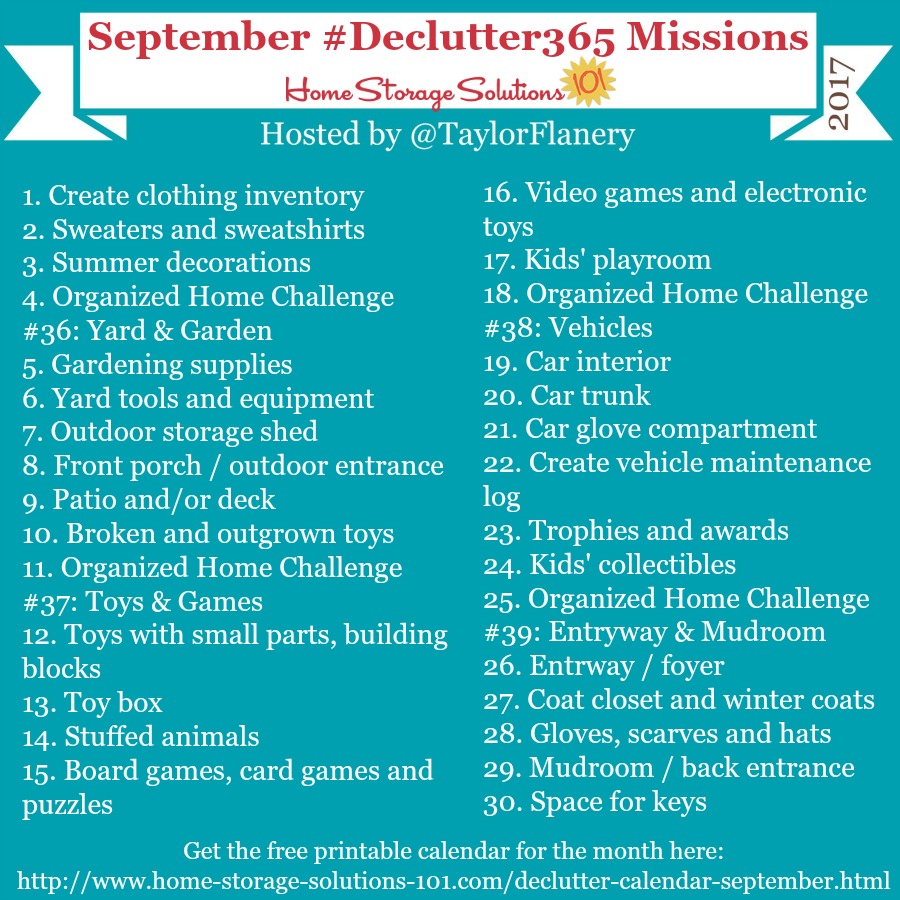 Do You Want Next Month's Calendar Too?
You can also get the October decluttering missions here (including printable calendar).
In addition, all newsletter subscribers will automatically get the 2018 calendar, in full, so be sure to sign up today if you haven't already!