How To Declutter Playroom
Today's mission is to declutter your playroom, without making a bigger mess in the process, and without overwhelm.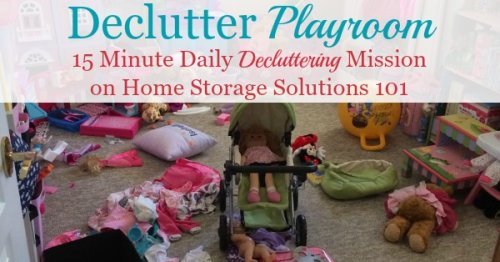 If you just read that sentence about not being overwhelmed, or not making a huge mess as you deal with playroom clutter, and laughed, thinking that was unrealistic, that's OK.
My guess, though, is that you haven't yet done all the other toy decluttering missions that have led up to this mission today (and that all fall under the umbrella of the Organize Toys & Games Challenge), and so you're not quite ready to declutter the playroom yet.
Instead, I encourage you to work through some of the earlier missions from this week in the Declutter 365 calendar, because once you work through them today's task in the playroom will seem much more doable.
The earlier Declutter 365 missions that will prepare you to tackle your playroom (or the area where you kids play in your home, if you don't have a room dedicated just to this function), are as follows:
So go do those missions, taking as much time as you need for each of them, and then come back to this one!
What To Do Once You're Ready To Declutter Your Playroom
Playrooms are the area of your home where you've got a LOT of toys and games, potentially, for your kids. So it's helpful to get rid of broken ones, excess toys, and things your kids have outgrown or don't enjoy, so there is less for them to pull out, and more room for them to spread out and play with what they do enjoy playing with.
Some of the best playrooms aren't necessarily stuffed with toys and games, but instead provide lots of open space, where kids can get a little rambunctious, and also make elaborate set ups with toys that use their imagination in creative and interesting ways.
Keeping in mind your end goal for this space will help you keep removing stuff from the area until it fulfills the functions that you want it to have in your home.
If, after you've done all the Declutter 365 missions listed above, for various types of toys and games, you still have some clutter left in your playroom today's the day to tackle it.
So you don't get overwhelmed, I want you to only work on one small area at a time. I encourage you to go in this order, decluttering each space one at a time:
Playroom shelves, drawers and cubbies
Playroom flat surfaces, like desks, tabletops, etc.
Playroom floor, removing excess items that should not be there, to give you a large open space for play
If you do just one of those small areas of your playroom at a time, cleaning up as you go as described in more detail in my how to declutter article, you will not become overwhelmed, and you won't make a huge mess that leaves the space more of a disaster than when it began.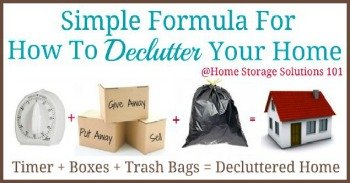 As you can see, depending on how much stuff you've got, and how big the room is, this may not be a 15 minute mission for you, but instead a 15 minute at a time mission. That's OK. It will take how long it will take.
But if you clean up, and remove clutter from the area as part of each of the decluttering sessions, you'll continually make progress, so that eventually it will get done.
Be Ready To Do A Couple Rounds Of Decluttering, Circling Back To Areas You Already Decluttered Once
Depending on how much stuff you had in your playroom, and how large the space is, it wouldn't be surprising to need to do a couple different rounds of decluttering, where you do one pass through all the items stored in the room, and then feel the need to do yet another round.
For example, you might come across a couple of different bins containing toy dinosaurs as you do your inital decluttering, and as you find them you think, "I want to keep some of these dinosaurs, my kids still love playing with them."
After you've done your initial pass through the whole room though, and you've removed a lot of clutter, you'll now have more room to reshuffle and move items around, putting like toys and games with like. Once you combine all the dinosaur toys together that you kept in the first round of decluttering, you might discover that you had more than you initially thought, and that means you'll do yet another round of decluttering, only keeping as many dinosaur toys as fit into a particular container, and then donating the rest.
This type of circling back around, and doing multiple rounds of decluttering is common, normal, and helpful.
If, in the past, the room was so packed with stuff that it was hard to move things around, it's no wonder as you re-sort items once you've got more space that you might need to do additional decluttering.
Don't be discouraged, you'll get there. Decluttering is like peeling back the layers of an onion, so just keep going.
For example, see the before and after photos above of a basement playroom, sent in by a reader, Monica. She worked for quite a while to make all that progress, and said that by the end she'd cleared out 10 bags of stuff!
Give it time, and as many 15 minute rounds of decluttering as necessary, and you can do that too!
Photos From Readers Who've Already Done This Mission
Below I've gathered quite a few photos from readers who've already done this mission, to hopefully get you inspired to tackle this task for yourself.

Above are several before and after photos Katie shared when she tackled this mission. She stated, "I did my 4 year old daughter's playroom. Here are some before photos, toys and more toys."
In addition, she shared several after photos, explaining, "She loves it ❤️" Further, she said, "The end result -- 7 bags of clutter and the rest organized into bins, including dolls, stuffed animals, and a craft section. It took 5 hours was so excited to be done."
Here's another one, this one from a reader, Malinda.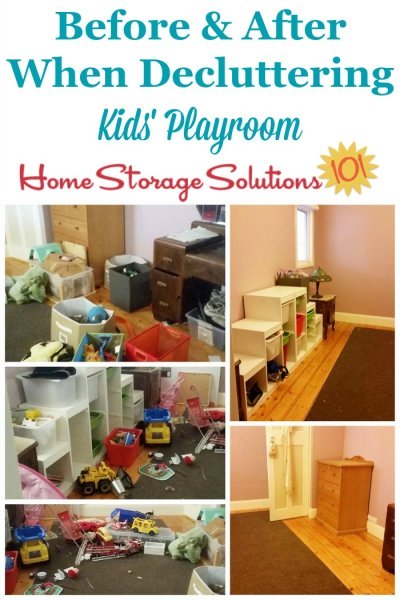 Malinda said, "I did the playroom today. Only took an hour. Now I can clean and paint and make it into miss 8s new room. I still have a tub of odd bits and pieces to put away."
Next, are before and after photos sent in by a reader, Jak, showing when she decluttered her "5 year old girls play room."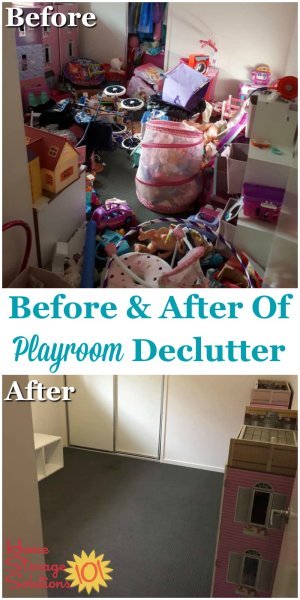 Finally, below is another set of photos sent in showing after pictures only, when a reader, Beth, decluttered her kids' playroom.

Are You Ready To Get Rid Of Your Playroom Clutter?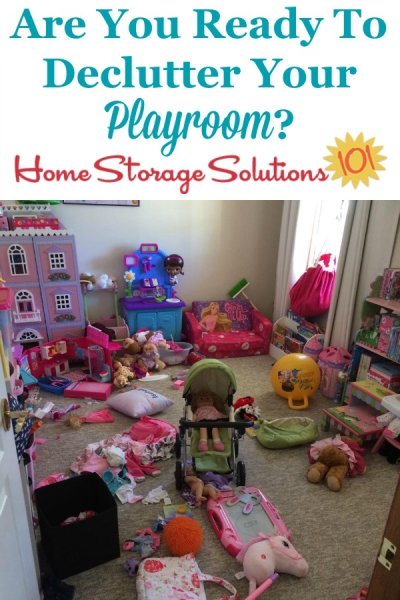 This photo is from a reader, Mandi, who said, "This is my daughter's playroom. By no means spotless but she has fun in there."
She'll have even more fun in there when it's decluttered and allows her even more room to play!
Want To Do More Decluttering Missions? Get Started With Declutter 365 Today!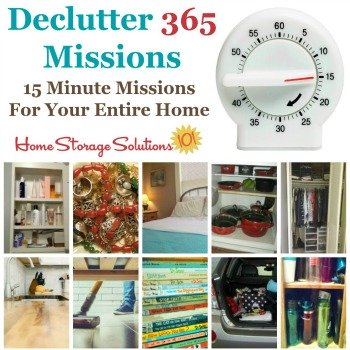 Once you declutter one type of item in your home I bet you'll want to declutter some more. After all, decluttering gives you a great reward for even a small investment of time and energy.
The Declutter 365 system is designed to help you declutter, over the course of a year, your entire house, with just 15 minutes of decluttering each day!
Hundreds of thousands of people use this proven system to get rid of their clutter, and bring peace and calm back to their homes.
Declutter 365 works to guide you to clear the clutter without overwhelm, focusing on just one small area at a time, and without making a huge mess in the process, so you see consistent forward progress without all that "messy middle" that makes it even harder to function in your home than before you started.
In addition to building a daily decluttering habit, the Declutter 365 program, along with the accompanying 52 Week Organized Home Challenge, teaches you the skills, habits, routines, and mindsets necessary to maintain the clutter free and organized state of your home from now on, so it'll never be as messy and cluttered as it is right now, ever again.
If you haven't already, make sure to get your copy of this year's Declutter 365 annual calendar here (it's FREE!), find today's date, and do 15 minutes of decluttering on the day's mission. Then, repeat again tomorrow, and again and again. Over the course of the next year, if you do this 15 minutes per day, you'll declutter your whole house!

Tips & Ideas For Organizing Your Playroom Once It's Decluttered
Once you've got this room clutter free, you may want to head onto the next step, organizing what's left.
I've got a couple resources on the site that can help you with this task.
First, make sure to check out the Organize Toys & Games Challenge here on the site, since it gives some great tips for organizing toys in general, and also has links to lots of articles about organizing specific types of toys.
In addition, check out this Kids Playroom Storage & Organization Hall of Fame, where I've showcased some really great organized playrooms as shown by Challenge participants.
Some links on this page are affiliate links, meaning that if you purchase a product through them I receive a small commission which helps me provide this information to you for free, plus support my family. My integrity and your satisfaction are very important to me so I only recommend products I would purchase myself, and that I believe would benefit you. To learn more please see my disclosure statement.