How To Declutter Games: Board Games, Cards & Puzzles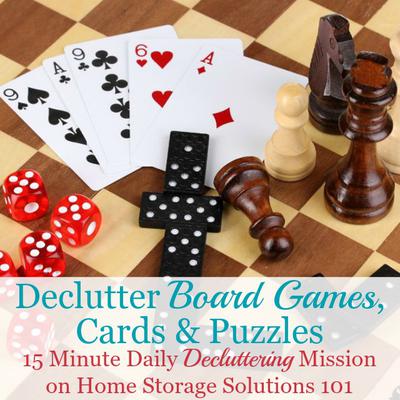 Today's mission is to declutter games of all varieties, including board games, card games, as well as puzzles.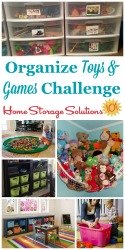 This mission is designed to be done while working on the
Organize Toys & Games Challenge
, which is part of the 52 Week Organized Home Challenge here on the site, although it can be done at any time you need or want to.
While I have this mission listed in the section where we focus on a lot of
kids clutter
I know a lot of adults (including myself) who are also very fond of games, cards and puzzles. This mission therefore applies to both kids and adults!
Steps To Declutter Games
To do this mission first gather all of your or the kids games together into one spot, and then begin to sort out the ones you want to keep versus the ones to get rid of.
As usual, I'm not suggesting you get rid of them all, because after all, they're fun! Instead, I want you to get rid of the ones that are clutter so only the ones you'll enjoy are left.
Games you never play (a good time frame is not played within the last 6 months to a year);


Ones where essential pieces are missing;


Boxes that are falling apart (although perhaps you'll just declutter the box and use a different container to hold the game);


Excess games that take up more space than you've got designated for them
Keep the best of the best, which in this case means the games you actually enjoy
playing the most, and which doesn't necessarily mean the most expensive ones.
What To Do With Decluttered Games
A question I often get is what to do with the games you've decided to get rid of.
The answer depends on what condition the games are in.
If the games are in good condition, but you just don't have room for them or don't play with them anymore, make sure you send them off to a good place where others can enjoy them.
I'm sure there are exceptions, but generally board games are not going to get you a lot of money if you try to sell them, so I suggest donation.
Ideas of places to donate games include day cares, schools for use at recess on rainy days, churches and even retirement homes (for adult games). I'd love to hear even more ideas of donation locations below, in the comments.
As always, make sure the place you're donating actually wants and can use the games!
Be careful, however, with donating puzzles missing pieces, or games that are missing essential parts.
It's very disappointing to try to put together a puzzle, for example, and find toward the end that you're missing a piece, or be involved in a game to discover you can't finish because of a missing piece.
Therefore, you may need to trash or recycle those types of games, or at least be very clear about the missing pieces when donating, so whoever takes it knows exactly what they're getting!
Several readers have already done this mission, so scroll down below to see some pics they've sent in of what they've accomplished.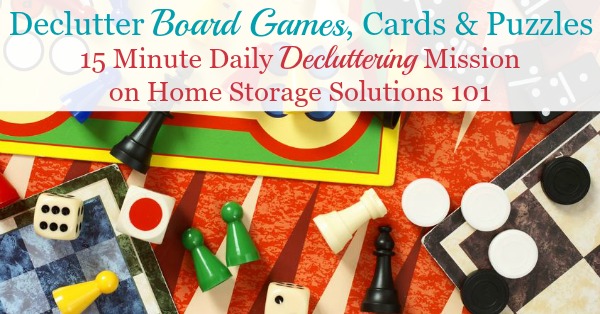 Photos From Readers Who've Done This Mission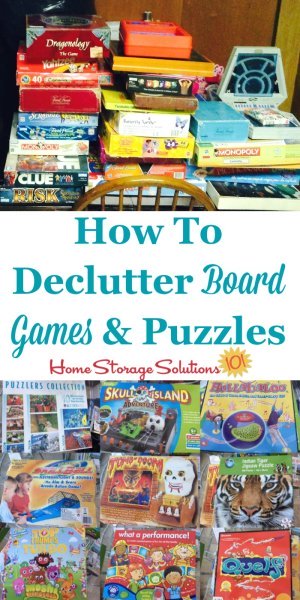 Here are some photos from other readers who've already done this decluttering mission, to show you what you can accomplish and get you inspired to tackle this task yourself.
The first photo above is from a reader, Carla. She said, "We have a "Donation Table". We started early (3 days ago!) and are REALLY decluttering this month!!"
The second photo above is from another reader, Christine. She sent in this collage of all the different board games she decluttered, saying, "Re-homed games which were sat in the cupboard unloved!"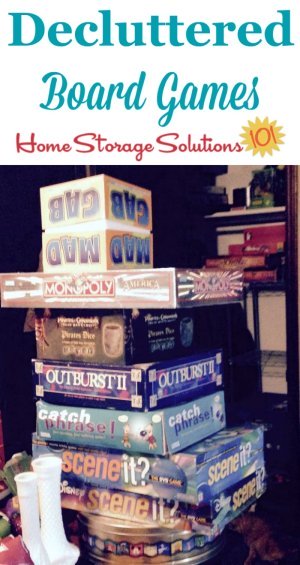 Finally, here's a photo from a reader, Christi. She said about this photo, "Today's victims."
Are You Ready To Declutter Cards & Games?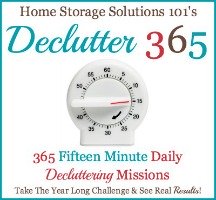 I hope seeing these pictures has inspired you to get rid of your game clutter.
When you begin to declutter the feeling you get is contagious, so if you're loving the results you're getting I would encourage you to keep going.
I've got a whole series of
15 minute decluttering missions
(eventually 365 of them!) that you can do.
Just pick and choose the ones you want to do, that will make a big impact in your home. But if you want someone else to tell you the order you can also grab the
15 minute daily decluttering mission calendars
and follow along as we all get our homes clutter free together!
Once you've got your board games, card games and puzzles dealt with, make sure to do this
mission to declutter video games
as well!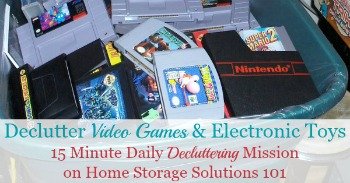 Plus, check out lots of missions to
get rid of kids clutter here
.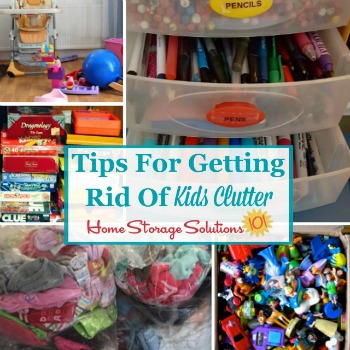 Related Pages You May Enjoy
Getting Clutter Free 15 Minutes At A Time Hall Of Fame
How To Declutter Your Kids' Playroom
Go From How To Declutter Games: Board Games, Cards & Puzzles To Home Page