How To Declutter Your Yard
Today's Declutter 365 mission is to declutter your yard and garden, to get rid of yard waste and other clutter around the outside of your home, so it looks great and is a relaxing place for you to hang out.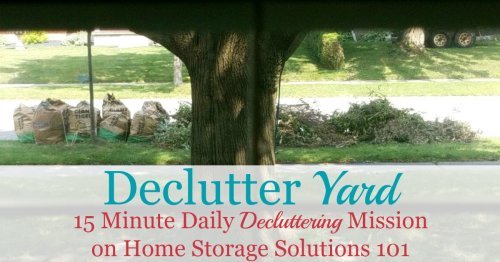 This mission is designed to be done while working on the Organize Outdoor & Garden Storage Areas Challenge here on the site, which is part of the 52 Week Organized Home Challenge.
Of course, you can do it anytime that you feel it's necessary, but during the preparation for the changes of the seasons is a great time, because typically these changes of the season (from spring to summer, or from summer to fall, for example), also necessitate some work on this area of your home anyway.
This is the type of mission where it will most likely not take you just 15 minutes, but instead, you should divide it into lots of 15 minute sessions.
That's because you don't want to, proverbially, bite off more than you can chew, especially without outdoor work like this, which can be quite physically demanding and tiring.
Work on small discrete tasks, one at a time, or small areas of the yard, garden beds, or whatever else you need to deal with during the mission.
The outside of each person's home is a bit different, so this mission is designed to allow you to declutter whatever needs decluttering for you, such as old or dead plants, excess fallen leaves, trees and broken or fallen limns, weeds, brush, cleaning up garden beds, or even other stuff you might have in your yard, like old toys or play equipment, fencing or other landscaping, etc.
(Remember, we also have missions for decluttering gardening supplies and also decluttering yard tools and equipment, so you don't have to do those tasks as part of this mission.)
I also understand that weather is a consideration when doing a mission like this, so be sure to choose a nice day for it, since you'll be outside for a while.
If you're going to be clearing a lot of foliage, weeds, limbs, etc. make sure to consider safety, including wearing work gloves, and eye safety gear if necessary.
Finally, remember that the yard clutter isn't all the way decluttered until it leaves your home. You may need to spend a decluttering session or two actually hauling your yard waste away, or arranging for someone to come pick it up or otherwise disposing of it, such as with a tree removal service, getting a yard waste dumpster, or hauling it to a landfill that accepts yard waste.
Photos From Participants Who've Already Done This Mission
Here are some photos sent in by other Declutter 365 participants, showing what they accomplished as part of this mission.
My hope is that these photos will get you inspired to tackle your own yard, front and back, garden beds, or whatever applies around your home, to get rid of the clutter.
First, here's a photo from Tamara, who said, "Decluttered the back yard and some of the veggie beds."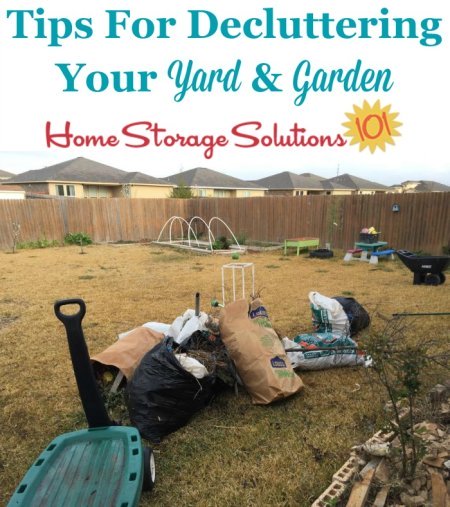 This next photo was sent in by Gillian, who said, "We decluttered the buddliah and the eucalyptus that was threatening the house."
As you can see in the photo below, now that she's cut down and bundled up this yard waste, she'll have to do one more step of the process, which is to bag it up or otherwise take it for disposal.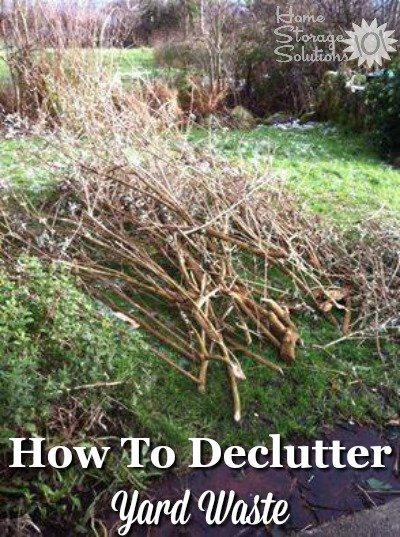 The next photo is from a reader, Julie, who undertook a decluttering project and an improvement project at the same time in her backyard. She said, "Before and after. Not technically done, but it's getting dark. Hopefully we'll finish it up this week! 😊"
If you've got enough time and energy, you can certainly undertake both tasks at the same time, but it's OK to go in stages, if that would make it more manageable for you.

Here's an idea sent in by a reader, Rex, who got inventive for repurposing an old fitted sheet, since he needed to haul around a lot of yard waste. He said, "The fitted sheets work great for putting cut limbs and stuff in for easy removal."
(You can get more tips for decluttering sheets and pillowcases here.)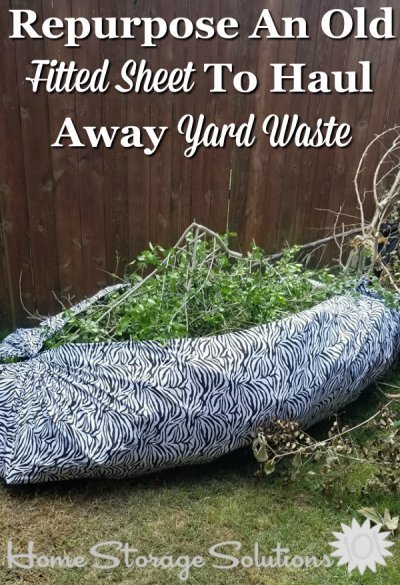 While a lot of the stuff you might declutter from your yard will be organic, not all of it has to be. It could include old furniture, toys, play equipment, fencing, or whatever else is something you no longer want to use in the space. A reader, Jen, sent in a photo which illustrates this quite well. She decluttered both the fence pictured, as well as the playhouse!
She said, "We took down a fence and posted it on the free page on Craigslist. It was gone in 15 minutes. Today we will also post a 48 inch tv, a playhouse, and an old entertainment center."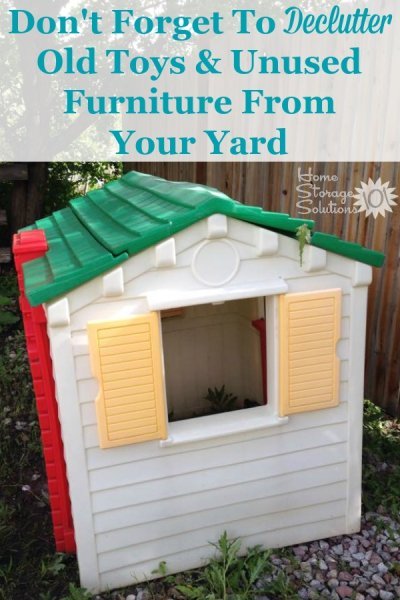 And last, but certainly not least, I wanted to show you this collage of photos sent in by a reader, Nicole. Here's an example of a how the task can certainly take many 15 minute missions, depending on what all needs to be done for your yard, but how all the hard work is worth it in the end.
Nicole said, "I've been awol but I have been tackling a mammoth task -- the back yard!!!! As it is just me, it is backbreaking hard work. I've moved TWO dead trees on my own (chopped up and taken to a man who will burn them), broke down 4 old fence panels and bagged them, pruned the overgrowing bush, and cleared the paths. There is still some work to be done but there's an end in sight now for a relaxing spring/summer in a nice(ish) backyard."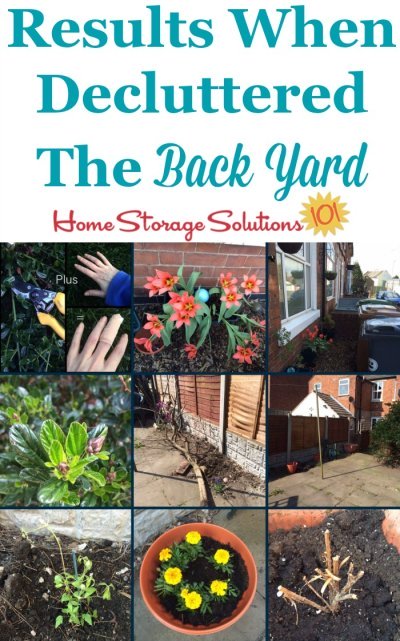 I think it's not just "nice" Nicole, it's absolutely great, and you should be proud of your hard work! Don't you think so too?
Want To Do More Decluttering Missions? Get Started With Declutter 365 Today!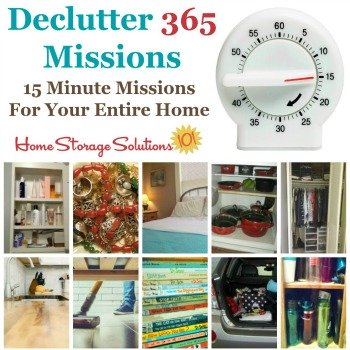 Once you declutter one type of item in your home I bet you'll want to declutter some more. After all, decluttering gives you a great reward for even a small investment of time and energy.
The Declutter 365 system is designed to help you declutter, over the course of a year, your entire house, with just 15 minutes of decluttering each day!
Hundreds of thousands of people use this proven system to get rid of their clutter, and bring peace and calm back to their homes.
Declutter 365 works to guide you to clear the clutter without overwhelm, focusing on just one small area at a time, and without making a huge mess in the process, so you see consistent forward progress without all that "messy middle" that makes it even harder to function in your home than before you started.
In addition to building a daily decluttering habit, the Declutter 365 program, along with the accompanying 52 Week Organized Home Challenge, teaches you the skills, habits, routines, and mindsets necessary to maintain the clutter free and organized state of your home from now on, so it'll never be as messy and cluttered as it is right now, ever again.
If you haven't already, make sure to get your copy of this year's Declutter 365 annual calendar here (it's FREE!), find today's date, and do 15 minutes of decluttering on the day's mission. Then, repeat again tomorrow, and again and again. Over the course of the next year, if you do this 15 minutes per day, you'll declutter your whole house!

You can find a full list of yard and garden related missions here, in the Getting Rid Of Yard Clutter Hall of Fame.
Top photo courtesy of a reader, Sarah