Get Rid Of Storage Areas & Garage Clutter Hall Of Fame
Below is a list of storage area and garage clutter items to consider getting rid of. In addition, there's a hall of fame where you can share your own success or get inspired by what others have accomplished.
Almost everyone has an area in their home where they just dump junk, and then it sits there for years, whether in or out of boxes.
However, those areas could be much more functional (and less free of clutter) if we'd just take some time to clear them out and only store stuff in them that we at least periodically use.
I know this sounds daunting though, and depending how much stuff it can be rather intimidating.
There are several challenges within the 52 Week Organized Home Challenge that deal with the most common storage areas in our homes that I encourage you to read:
I've also created quite a few decluttering missions that accompany these challenges, to help you get this area of your home more manageable.
Whether you've done these missions when I've scheduled them during the year, or any other time doesn't really matter to me. I just want to celebrate your success, so here's your chance to show off some before and after pictures when you've done one of the missions. If you're ready to share now click here to begin!
Decluttering Missions For Your Garage & Storage Areas
The decluttering missions for this area of your include:
Basement
Fill out basement storage inventory
Label boxes stored in basement
Small hardware (such as nuts, bolts, nails, etc.)
Tools
Create essential tool chest for everyday home repairs
Utility room
Garage
Fill out garage storage inventory
Labels boxes stored in garage
Auto supplies
Bikes, big wheels, skateboards, etc.
Sports equipment and gear
Exercise and fitness equipment
Attic
Fill out attic storage inventory
Label boxes stored in attic
Self-storage areas outside home
Garage & Storage Area Clutter Hall Of Fame
Here's who's in the hall of fame so far. Are you ready to submit your own accomplishments? If so click here to share your successes here.
More Resources To Declutter Your Entire Home
Clutter rarely just accumulates in one area of your home, but instead with time can overfill your entire home.
Follow the Declutter 365 plan to get your whole house decluttered, one small step at a time, over the course of the year, and see fantastic results that you can maintain year after year!
Start with my free gift to you, a 12 month declutter calendar (a $20 value), which lists 365 different decluttering missions that will transform your whole house.
The step by step plan laid out in the calendar will guide you through the process of removing physical clutter, digital clutter and even set up foundational routines and habits for your home, to make it clutter free and organized from now on.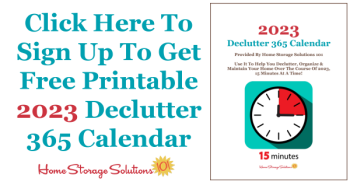 You can also get additional services to help you succeed with the Declutter 365 plan, including receiving daily text messages about each day's mission, planner stickers, and joining a private and exclusive Facebook group devoted to helping encourage and motivate you as you work through the daily and weekly tasks.
You can learn more about Declutter 365 products here.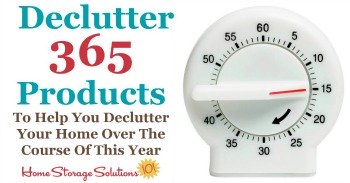 Have You Gotten Rid Of Garage Or Other Storage Areas Clutter?
Have you participated in one of the Declutter Your Home In 15 Minutes A Day Missions, either while it was running for the day or when it was convenient for you?

Are you proud of your accomplishments and want to show the world what you decluttered today, and are getting out of your home?

Here's your chance to tell me about it. Pictures are highly encouraged, but you can also just write a description of what you decluttered too (note you've got to at least explain what we're seeing in the picture you upload).

You can send up to four pictures in each submission.
Get Rid Of Storage Areas And Garage Clutter Hall Of Fame
Here are the Hall of Fame submissions that have already been submitted.

Check these out to get inspired about what others have accomplished with the power of 15 minutes a day.