Week #15 Organized Home Challenge
Attic Organizing
In this week's challenge we're tackling attic organizing, to declutter and bring order to this long-term storage area in your home.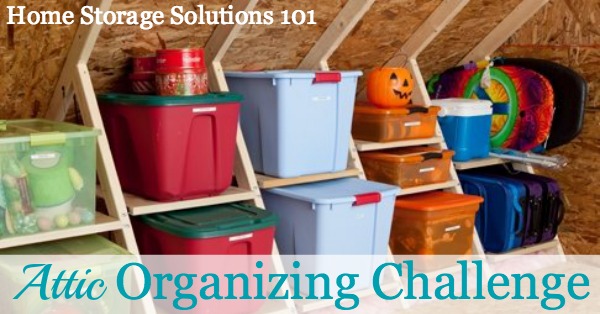 Again this week (just like with the basement organization challenge and garage organization challenge the last couple weeks) we're dealing with an area of our home where things often are stored, never to be seen again.
The reasons are quite similar in both areas - our attics, just like our basements, are typically a large space in our homes intended for storage, and it just begs to be filled up, doesn't it?
Since there's "plenty of room" we don't feel like we have to make the tough decisions about things either -- we'll just put it in the attic instead. Then, it's out of sight, out of mind.
Unfortunately, the day of reckoning always comes, doesn't it? And then, there is lots of junk, clutter, and major decisions to make to get the attic back under control.
Are you new here? The Attic Organizing Challenge is part of the 52 Weeks To An Organized Home Challenge. (Click the link to learn how to join us for free for future and past challenges if you aren't already a regular reader).
During this challenge we'll conquer your attic's clutter and go about the process of attic organizing, so the space does what it is supposed to do -- provide long-term storage for little used items in your home, while making them as accessible as possible given the space limitations.
Step 1: Get One Or More Partners To Help You With Attic Organizing
Because of the way most attic spaces are built, this whole challenge is not really a one person job, but at least a two person job, since partners need to work together to move things around.
Therefore, before beginning make sure you've got help, such as from a family member or friend.
Similarly, always be mindful of safety when working in attic storage areas. Many of these spaces are not easily accessible, requiring use of a ladder, are unfinished, and/or can have dangerous flooring, among other things, so be careful up there!
Step 2: Declutter Your Attic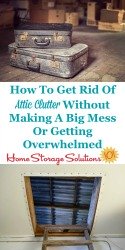 Once you've gotten a partner or two to help you out, you're ready for the next step in the Attic Organizing Challenge, which is to remove all the junk and clutter from your attic.
First, make sure to have a plan for how to get rid of everything you decide to declutter from this space. This could include, for example, renting a dumpster, getting lots of trash bags ready, or having a vehicle ready that you can use to drop large items off at the dump, or to take to a charity for donation.
Second, get ready to make some difficult decisions you may have been putting off for a while. Not wanting to make the decision may be why you had the stuff stashed in the attic to begin with.
If you're having trouble deciding what to let go of, please read my article about 5 guidelines to help you determine what is clutter, and also how to break free from the emotions making you hold on to clutter.
You can also check out my article about how to declutter your attic without making a big mess or getting overwhelmed for more tips.
Step 3: Categorize Items And Assess Where They Should Be Stored
Once you've gotten rid of all the clutter from your attic that will no longer be stored there, it's time for the third step in the Attic Organizing Challenge, which is to categorize the items left, putting like items with like.
When storing anything it is easiest to store like items together, so you can find and access things as easily as possible. Once they're all together, go ahead and also place them in containers (and label them, as discussed more in step 6 below), since it is not advisable to store loose items in your attic.
Once you put the items together, look at the categories you've created, which might include some of the following:
Next, consider whether the attic is actually the best place to store each of these categories of items, or if perhaps there is a better place somewhere else in your home.
This really comes down to an issue of accessibility, how often you'll need these items, and whether they're suited to be stored in the temperature extremes that your attic has.
Step 4: Create Zones In Your Attic For Your Storage Categories
Looking at the containers you've packed up with attic storage items, the next step in the Attic Organizing Challenge is to create zones within the space to store these containers.
Plan to store all the containers of a certain category together, if at all possible, to make it easier to find what you need later. For example, all boxes of Christmas decorations should be in one area, for example, if at all possible.
When designating your zones, consider which storage items you'll need to access most frequently and make sure those things are placed in the most accessible areas.
Step 5: Consider These Attic Storage Solutions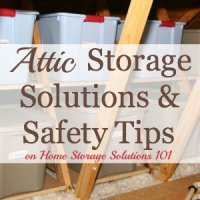 As I mentioned above, everything in your attic should be placed in containers or tubs, if possible.
This keeps items from being loose in your attic, which can make them harder to access, plus it protects your stored stuff from rodents and insects.
In addition to containers, several other popular storage solutions include:
Mounting a pole between the roof rafters to hang out of season clothes (inside zippered garment bags)
Attic truss shelves (shown in the picture on the right, but currently very difficult to find)
Rafter hangers or hooks for hanging storage
Plywood or Attic Dek Flooring to increase floor space for storage
Here's my article about attic storage solutions and safety tips that I suggest you read. It discusses safety concerns that should be addressed before you use this area for storage, plus shows some of these storage ideas in action to give you a better idea of what might work in your home.
Step 6: Label And Inventory Your Attic Storage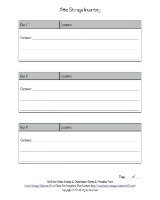 [Click for this printable]
Finally, the last step in the Attic Organizing Challenge is to label all of your boxes and other storage containers, and take an inventory of what you've got in the storage space.
Make sure you label all four sides and the top of each container, so that no matter from what angle you're looking at it, you can get a clue of the container's contents.
Further, add a number to the label, and then also fill out the printable attic storage inventory form I created for you to use in this Challenge. On the form you can list more detail about what is in the numbered containers than you can on the little labels.
Plus, you can then keep the form in your home management binder or in your filing system to reference when you need to remember where you stored something.
The page of the site giving you access to the form (linked above) also has some suggestions for its use, so make sure you read the instructions when you grab your copy of the form.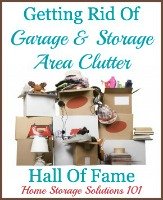 Listen To Taylor's Video Tips For This Week's Organized Home Challenge & Declutter 365 Missions
Do you want more in-depth tips and instructions for how to do this week's missions and challenge all about decluttering and organizing your attic? If so, I've got recorded video tips from me, Taylor, from the video archives in the Declutter 365 Premium group, all about this week's challenge and missions.
These video tips are available on demand in the archives, once you're a member of the group.
In Week #15's video I discussed the following topics, among others:
Organization habit: Be a finisher
Strategies for clearing clutter when you don't know where to start
Attic decluttering and organization tips
Declutter 365 missions for week

I suggest watching the video archive for the week, perhaps while you're doing some decluttering or cleaning around your home, before starting the week's missions and Challenge, and then you'll be able to breeze through this week's worth of decluttering missions, as well as organize what's necessary for the 52 Week Organized Home Challenge, based on the advice and instructions within those videos.
It really is like having me, Taylor, available, 24-7, as your decluttering and organizing coach, for every area of your home!
Plus, once you're a member of Declutter 365 Premium you get access to not only this video, but all the videos for the 52 weeks of the year, for 5 years (that's over 260 videos available in the archives!)

Tell Me How The Attic Organizing Challenge Is Going For You
I would love to know how this week's Attic Organizing Challenge is going. You can tell me your progress or give me more ideas for how you've organized this area of your home in the comments below.
I also would love to see before and after pictures of your organized attic, once you've completed the challenge. Submit your pictures (up to four per submission) and blog posts and get featured in the Creative Storage Solutions Hall of Fame. You've worked hard to get organized, so now here's your chance to show off!
Sneak Peek For Next Week's Challenge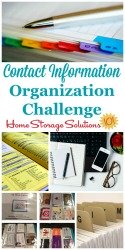 We're working on our homes slowly, one area at a time, so don't get too distracted from the Attic Organizing Challenge this week.
However, I know some of you love to know what's coming next, so I'll tell you. Next week we'll start a new big section of the Challenge, when we begin dealing with our paper clutter. The first task of this series is to ease yourself into this daunting task easiliy, so we're organizing contact information.
Make Sure You Make The Most Of These 52 Organizing Challenges
Get your copy of the printable one page 52 Week Organized Home Challenge schedule for the year here, so you can see all the challenges we're working on.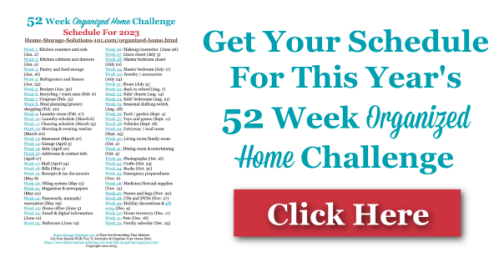 Further, if you'd like to join a community of others who are all commmitted to these organizing challenges and corresponding decluttering missions, and want more interaction with me, Taylor, video archives of Taylor providing more tips for each of these challenges and missions, as well as live monthly group coaching sessions focusing on the skills and habits necessary to maintain your home from now on, I'd urge you to join the private and exclusive Declutter 365 Premium Facebook group (you can learn more about it at the link).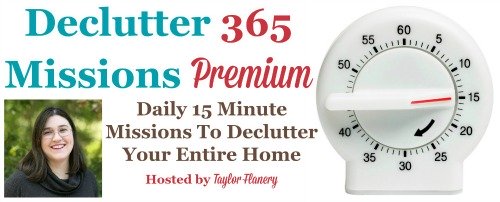 In addition, have you gotten your Declutter 365 Products yet, to make sure you can get even more assistance with decluttering and organizing your home this year? There are both free products (like the Declutter 365 calendar, a $20 value), as well as add-ons, such as daily text messages, planner stickers, and a Premium Facebook group, as well as a pack of printabe decluttering checklists.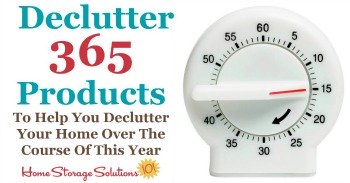 First photo courtesy of AtticMaxx Shelving, available on Amazon.com
Some links on this page are affiliate links, meaning that if you purchase a product through them I receive a small commission which helps me provide this information to you for free, plus support my family. My integrity and your satisfaction are very important to me so I only recommend products I would purchase myself, and that I believe would benefit you. To learn more please see my disclosure statement.