How To Declutter & Clean Your Crawlspace

Today's mission is to declutter and clean your crawlspace in your home.
This mission is designed to be done while working through the
Basement Organization Challenge
, which is part of the 52 Week Organized Home Challenge here on the site.
While your home's crawlspace may not be in your basement, many are located in this area.
When I refer to a crawlspace I am discussing an area of your home that is accessible only by stooping or crawling, because it is not tall enough for you to stand up completely.
There are many variations in crawlspaces, but often they are unfinished, some even having a dirt floor, or only a thin concrete floor. They are most often used to access plumbing or wiring, but they are also sometimes used for storage for infrequently used items, since it is not very convenient to get to items stored in this area.
This storage function of crawlspaces is what we're focused on this declutter mission today. Today's the day to deal with stuff you've stored in this area and clear out clutter.
Did You Forget Your Christmas Presents Down There?
I know that is a weird question, mentioning Christmas presents, but when I told my husband I was going to write about cleaning out the crawlspace in your home we both grinned at each other and said, "Christmas presents."
The story behind this is that the first home we purchased together had a crawlspace, but for a long time we had no reason to go down in there, and we did not personally store anything in there. However, for some reason a few years into owning the home my husband needed to get into the crawlspace (I don't even remember why now, it's been so long) and when he came back out he was chuckling. Apparently the previous home owners had hidden Christmas presents down there and forgotten all about them.
Crawlspaces are kind of creepy places in my personal opinion, and his as well, so he moved the presents around, did what he needed to do, and left them there. We ended up selling that house and we left those presents right where they were, unopened. So hey, if you go into your crawlspace as part of this mission and find unopened really old Christmas presents, you might just be the new owner of our old house!
The Perils Of Storing Things In Your Crawlspace
The point of my anecdote about a crawlspace (and really, how many people can say they have an anecdote about crawlspaces?) is that this is such an inconvenient storage area that often what you will store down there should eventually just be considered clutter, because if you don't access or retrieve these items for years and years, you might as well not even have them.
And if you do need to access these items more frequently, then really hopefully you can find a better space to store these things beside a crawlspace! As you declutter your home hopefully space will open up allowing you to put items that were previously in the crawlspace elsewhere.
Why
do I discourage people from storing items in this area? First, because of the inconvenience, which I've now discussed. In addition, because when you do need to access this area of your home to do things like deal with plumbing and wiring issues you're going to have to move around all this stuff you've stored there to allow you access to these things, and that is pain.
But third, and most important, is that many times crawlspaces have damp ground, lots of moisture (some even flood), and also have a lot of temperature fluctuations from freezing cold to blazing hot. They can also have problems with insect and rodent infestations.
The moisture is never good for storage, in general, and also makes crawlspaces a breeding ground for mold and mildew, which is not something you want to expose your items to. These types of conditions can quickly deteriorate things like cardboard boxes, fabrics, and wood surfaces, not to mention paper and photos. Further, the temperature variations can be extremely damaging to a wide variety of items, and rodent and insect infestations can wreak havoc on just about anything.
How To Declutter & Clean Your Crawlspace
Depending on how much stuff you've got stored in your crawlspace this may not be a 15 minute mission, but instead you'll want to approach it 15 minutes at a time.
Because of the inconvenience of getting to these items though, and the fact that you'll probably get a little (or a lot) dusty and dirty when accessing the area, I suggest setting aside the amount of time necessary to remove all stored items from this area all at once. Then, place all the items previously stored in your crawlspace into temporary storage somewhere else in your home, such as a garage, storage shed, etc. and then begin to deal with the items 15 minutes at a time from this more convenient location.
I highly suggest that your goal be to not put anything back into your crawlspace at all. Instead, your goal should be to get rid of any clutter and trash quickly, and then to find better storage homes for any items that previously were in your crawlspace that you decide to keep.
However, you do what you want to do, and if you want to keep storing items in your crawlspace, go ahead and do so, as long as you're careful what you're putting there based on the cautions of what you should not store in this area that I mentioned above.
While you have your crawlspace emptied out though, go ahead and clean it up. This is an unfinished area, so honestly I don't suggest doing a lot of crawlspace cleaning because it is not worth your time and effort, beside removing trash and clutter.
The only exceptions that you should clean would be if you see evidence of insect infestation, rodents, or excessive mold and mildew, since these can all turn into bigger problems and should be addressed to keep further damage from occurring in your home.
Top photo in collage courtesy of hiles.reinhardt and second photo in collage courtesy of TheHormans from Flickr CC
It Feels So Good To Get The Clutter Out Of Your Crawlspace!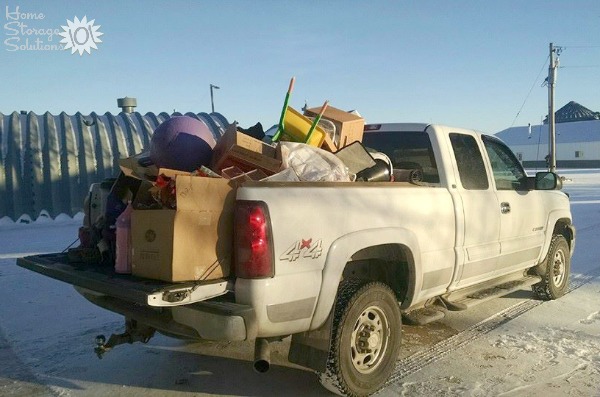 Once you've done this mission I guarantee that you'll feel "lighter" with all that junk removed from your crawlspace.
The photo above was sent in by a reader, Misty, who already did this mission. She said, "My husband and I cleaned out our crawl space. One pickup load went to the dumpster and one pickup load went to charity. It's a space no one sees, but what a great feeling to know the garbage is out of the house, the items that are still usable is sent to ones who can use it, and the stuff we wanted to keep is organized!"
Great job Misty! I am so proud of you!
Want To Do More Decluttering Missions? Get Started With Declutter 365 Today!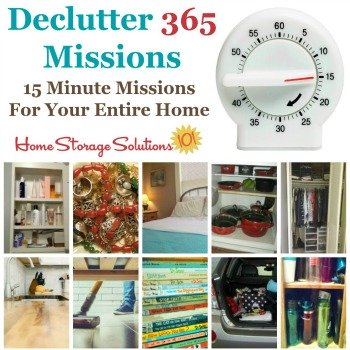 Once you declutter one type of item in your home I bet you'll want to declutter some more. After all, decluttering gives you a great reward for even a small investment of time and energy.
The Declutter 365 system is designed to help you declutter, over the course of a year, your entire house, with just 15 minutes of decluttering each day!
Hundreds of thousands of people use this proven system to get rid of their clutter, and bring peace and calm back to their homes.
Declutter 365 works to guide you to clear the clutter without overwhelm, focusing on just one small area at a time, and without making a huge mess in the process, so you see consistent forward progress without all that "messy middle" that makes it even harder to function in your home than before you started.
In addition to building a daily decluttering habit, the Declutter 365 program, along with the accompanying 52 Week Organized Home Challenge, teaches you the skills, habits, routines, and mindsets necessary to maintain the clutter free and organized state of your home from now on, so it'll never be as messy and cluttered as it is right now, ever again.
If you haven't already, make sure to get your copy of this year's Declutter 365 annual calendar here (it's FREE!), find today's date, and do 15 minutes of decluttering on the day's mission. Then, repeat again tomorrow, and again and again. Over the course of the next year, if you do this 15 minutes per day, you'll declutter your whole house!

Related Pages You May Enjoy
Getting Clutter Free 15 Minutes At A Time Hall Of Fame
Getting Rid Of Storage Area Clutter Hall Of Fame
Go From Declutter & Clean Crawlspace Mission To Home Page