Tips For Decluttering Tools

Today's mission is decluttering tools, from your tool box, your junk drawer, garage, basement or wherever else you may keep them.
This mission accompanies yesterday's mission to
declutter and organize hardware
, such as screws, nails, and other small parts you use when doing minor home repairs and DIY projects around your home.
Once you've done both missions you'll have a tool chest or box that actually fits everything inside, with only the best and most useful tools left, and you will be ready to tackle just about any small home repair or minor DIY project that you encounter.
What Tools Should I Keep?
The first question I get asked when I run this mission each year is, what tools should I have and keep, versus which ones should I get rid of?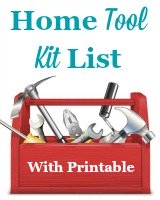 So I've answered that question for you! I've written an article with a
basic home tool kit list
, including a free printable, that is like a checklist of what items you should keep in your tool box.
This list is designed not for those who are professional contractors, or that work with tools as part of any type of hobby, but instead for those of us who use these tools only infrequently, when we've got to fix something minor around the house, or want to put something together we've purchased at the store.
Criteria To Consider When Deciding Which Tools To Get Rid Of
Keep all the tools you regularly use, plus any on the list I've provided that you think will be helpful for normal repairs and small jobs in your home.
However, often what happens is we get a new, better tool, and keep the old one as well. That's one of the ways clutter creeps in.
Another tool clutter problem comes from tools you don't even know how to use. Those can actually be dangerous, to either your personal safety or cause you to damage something you're trying to fix.
So my criteria for what tools to get rid of are pretty simple. First, get rid of any duplicates of tools, keeping the best one for use.
In addition, get rid of any that are broken or that you know you will never
use (because you don't like it, or you have no idea how to use it).
If you use a tool quite infrequently, and would be able to easily borrow a replacement in the future if you needed to use one, you may also want to consider getting rid of some of those tools. However, I know tools are expensive so consider the amount of hassle involved in tracking down another one to borrow or to purchase, plus how frequently you might need it, before getting rid of any tool.
Ideas For What To Do With Old Tools
Once you've decided which tools will go, the next question is where will they go?
You can donate tools that are still in good condition. I suggest somewhere like Habitat for Humanity or a similar charitable organization that can actually use the tools to help others.
In addition, some tools in good condition are actually worth enough money that it makes sense to take the time to try to sell them.
Some ideas for places to sell used tools include in a
garage or yard sale
, or online through places like Craigslist, Facebook buy and sell groups, eBay or in pawn shops.
I would love to hear even more ideas from you about what to do with your old tools below, in the comments, because this can really help people feel better and more confident about getting rid of some of their excess tools, if they know what to do with them.
To get you inspired, below I've shown some pictures sent in by readers who've already done this mission, showing what they got rid of and kept, and how it made them feel so much better to get this task done.
But in addition to the photos below, the photo above was sent in by a reader as well. Christine sent in her photo, which I've used for this mission, showing some of the tools she decluttered. She said, "Tool boxes in the loft! Binned loads of stuff and selling lots of tools that I would never use and tools I wouldn't trust my boyfriend to use! This photo is just some of them! I still seem to have 3 or 4 hack saws in my refreshed tool box!"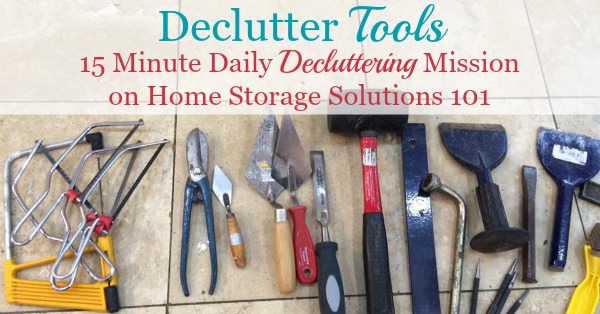 Getting Rid Of Tools Wasn't As Bad As Dreaded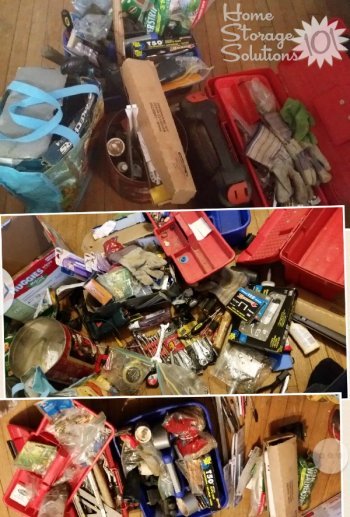 The photos above are from a reader, Kimberly, who also worked on this mission, although with as many tools as she had it took a bit longer than 15 minutes (which can definitely happen if you've got a lot of them).
She explained, "Here's a collage of my tools before, during and after. I don't know why I was dreading it so bad other than the fact that it was a dirty job. I was able to throw away the shoe box and the tool can. I've had it over 15 years. It was time to let it go. I almost got all of the tools in the bottom of the toolbox and the hardware and accessories fit in the carrying caddy. About 2 hours later and I'm done. Thanks for the motivation my fellow declutterers and kindred spirits."
Are You Ready To Declutter Your Home?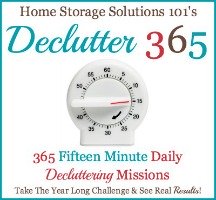 I hope seeing these instructions and pictures have inspired you to declutter tools and your tool box.
When you begin to declutter the feeling you get is contagious, so if you're loving the results you're getting I would encourage you to keep going.
I've got a whole series of
15 minute decluttering missions
(eventually 365 of them!) that you can do.
Just pick and choose the ones you want to do, that will make a big impact in your home. But if you want someone else to tell you the order you can also grab the
15 minute daily decluttering mission calendars
and follow along as we all get our homes clutter free together!
If you're looking for more tools to declutter, why not work on
declutter yard tools and equipment
, in the linked mission article.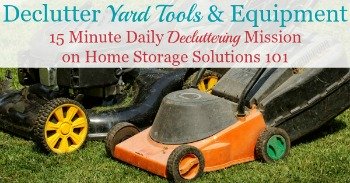 Related Pages You May Enjoy
Getting Clutter Free 15 Minutes At A Time Hall Of Fame
Getting Rid Of Garage & Storage Area Clutter Hall Of Fame
Go From Decluttering Tools Mission To Home Page