Printable Clothing Inventory Form
Use this free printable clothing inventory form (scroll down for it) to remember what clothes you've got in storage for next season, or outgrown kids' clothing.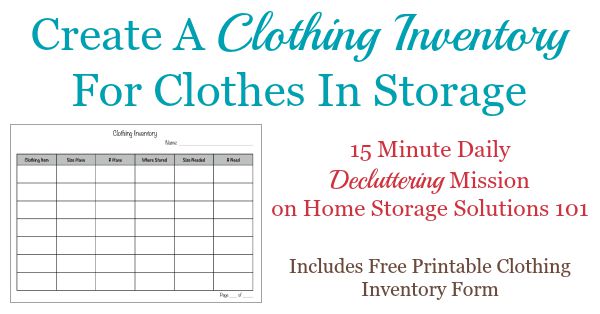 Who Can Benefit From Using This Form?
This clothes inventory was designed with a couple of situations in mind, including the following:
Seasonal Clothing Storage For Adults And Kids
Often we store our clothing for the winter during the summer months, and vice-versa. You can easily forget what you've got stored, and perhaps buy something you already have, or fail to retrieve all the things you've already gotten.
Using this form should help you avoid these problems.
Storing Kids' Clothes That Don't Currently Fit Your Kids But Will In The Future
In addition, whether you're a thrift shopper who buys clothes in a sometimes too big size for later, when your child will grow into it, or you've got outgrown clothes that a younger child can wear later, you've got to keep them stored and organized so you use what you've got when its needed.
Again, this form can help you remember what you've got versus what you need, so you use the clothing you've accumulated when your child is the right size for it.
(If you want to learn more about how to store outgrown kids' clothes for hand me downs check out this article here.)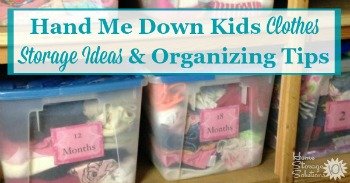 How To Use This Inventory Form For Seasonal And Out Grown Kids Clothes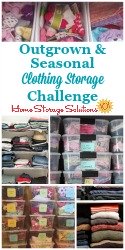 At the beginning of both fall and spring you should rotate out seasonal clothing from the previous season, and get everything ready for wear in the new season. (This is discussed in more depth in the Outgrown & Seasonal Clothing Storage Challenge.)
As you store the out of season clothing make a quick inventory of what you've got, noting what you have and what you will need for next season.
This allows you to buy only items you actually need, and perhaps even to grab items on sale or clearance to save some cash. Writing it on paper can help you see what items you truly lack (and what you have plenty of) and budget and plan for what you need for the next season.
Similarly, as your child outgrows items from their closet if you've got another child who could wear them later, add them to your outgrown kids clothing storage, and put the stored items on the clothing inventory form.
Then, as the next child is growing into the next size up you'll already know what you've got, and can identify and buy only a few additional items that are needed to complete the wardobe in that size.
Here's Your Printable Form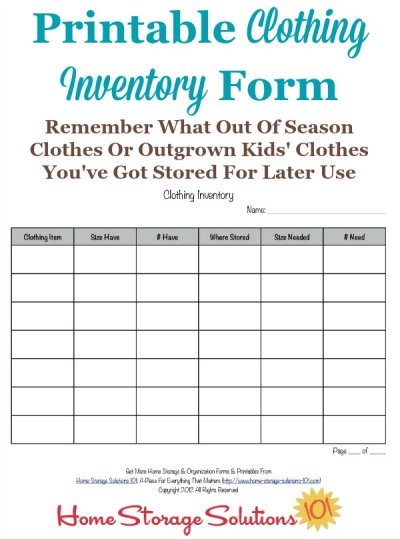 Click Here To Get Your Free Form
(opens into a PDF in a new window)
Additonal Printable Forms You May Like
Here are some additional printable inventory forms on the site that you may find helpful.
Another Example Of A Clothing Storage Inventory
I've provided you with a printable form, above, that you can use to create your inventory, but that's not the only way you can accomplish this task.
For example, a Declutter 365 participant, Jen, who has 11 (yes, you read that right, eleven) kids created an inventory using a spreadsheet, shown below. She said, "I use tubs . . . and keep the contents of the tubs on an inventory spreadsheet. That way, I never have to dig in a tub to know the contents."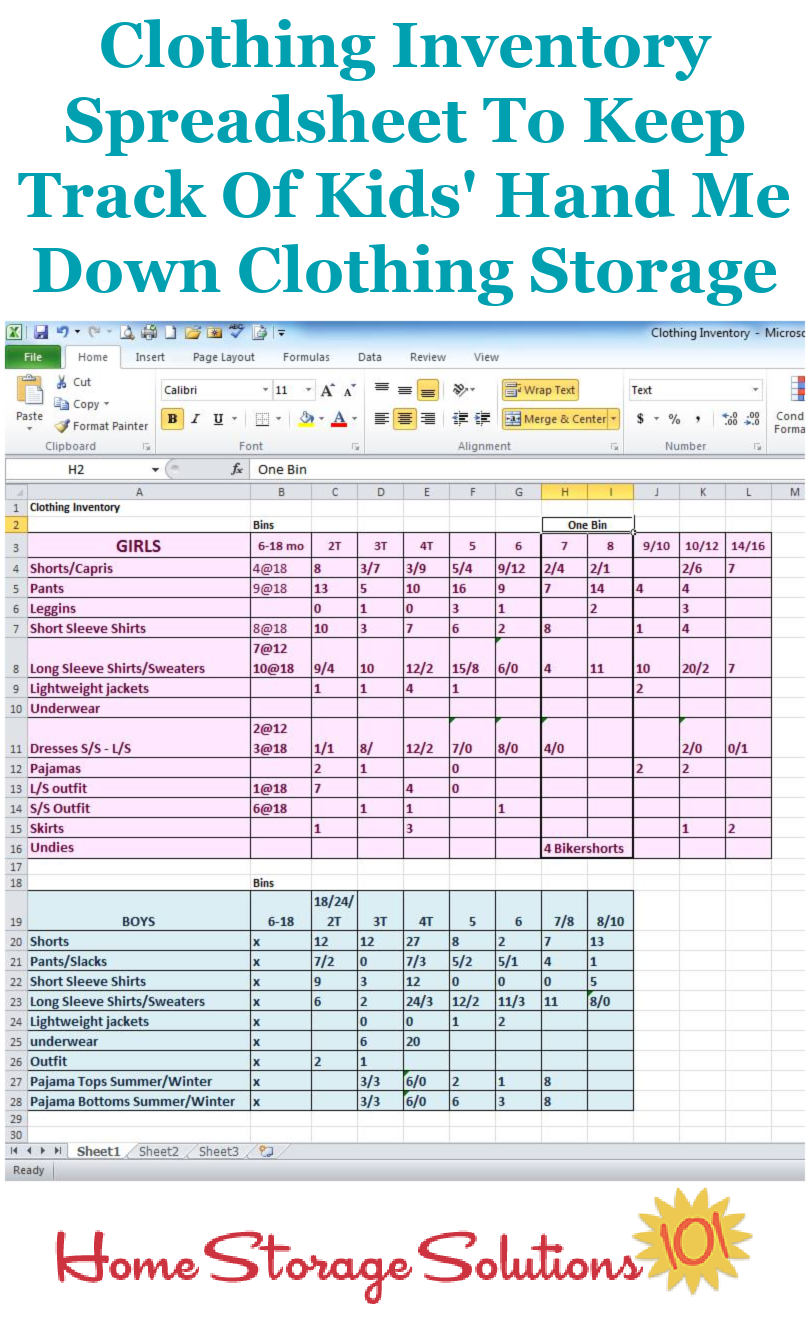 Want To Do More Decluttering Missions? Get Started With Declutter 365 Today!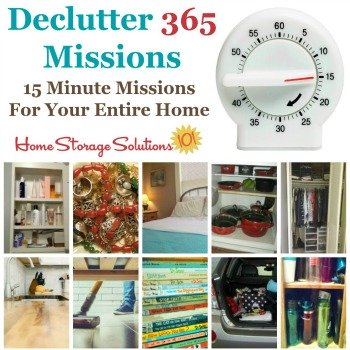 Once you declutter one type of item in your home I bet you'll want to declutter some more. After all, decluttering gives you a great reward for even a small investment of time and energy.
The Declutter 365 system is designed to help you declutter, over the course of a year, your entire house, with just 15 minutes of decluttering each day!
Hundreds of thousands of people use this proven system to get rid of their clutter, and bring peace and calm back to their homes.
Declutter 365 works to guide you to clear the clutter without overwhelm, focusing on just one small area at a time, and without making a huge mess in the process, so you see consistent forward progress without all that "messy middle" that makes it even harder to function in your home than before you started.
In addition to building a daily decluttering habit, the Declutter 365 program, along with the accompanying 52 Week Organized Home Challenge, teaches you the skills, habits, routines, and mindsets necessary to maintain the clutter free and organized state of your home from now on, so it'll never be as messy and cluttered as it is right now, ever again.
If you haven't already, make sure to get your copy of this year's Declutter 365 annual calendar here (it's FREE!), find today's date, and do 15 minutes of decluttering on the day's mission. Then, repeat again tomorrow, and again and again. Over the course of the next year, if you do this 15 minutes per day, you'll declutter your whole house!