How To Declutter Your Wardrobe Of Sweaters & Cool Weather Clothes Clutter
Today's mission is to declutter your wardrobe of sweaters, sweatshirts and other cool weather clothes that you don't need and are excess stuff, to get rid of your closet or drawer clutter.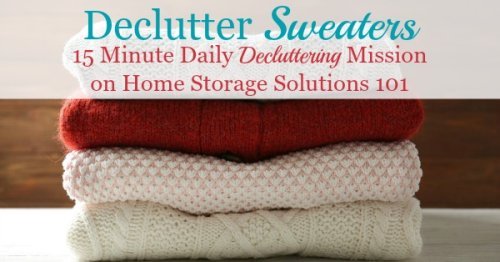 This mission is designed to be done while we're focused on one of several different weeks of the 52 Week Organized Home Challenge, all dealing in one degree or another with clothes, including the Organize Master Bedroom Closet Challenge, the Organize Master Bedroom Challenge, or the Outgrown & Seasonal Clothing Storage Challenge.
Instead of trying to get rid of all your clothing clutter at once, and then feeling overwhelmed, or pulling out too many clothes all at once and making a big mess, I've broken this task up for you into a series of missions, some of them focused on the type of clothing item, while others are focused on clearing out the places you store the various types of clothes, such as in drawers in your bedroom, or hanging up or on shelves in your closet for example.
As always, when decluttering any type of clothing, make sure to use these 9 questions to help you with the process, so you can feel good about the choices you make.
What Types Of Clothing Items This Mission Encompasses
During this Declutter 365 mission I want you to evaluate whether to keep or get rid of the following types of clothing items in your closet or dresser drawers that are considered cool weather clothes. This list can include:
Sweaters, also known as jumpers
Pullovers
Cardigans
Turtlenecks (also could be included in the decluttering shirts mission)
Sweatshirts
Hoodies
In addition, it's important to know what you is not included within this mission. I have a separate Declutter 365 mission in the declutter calendar for decluttering coats and jackets, as well as winter gear like gloves, winter scarves and winter hats, which means you don't have to worry about those things today.
How Many Pairs Do You Need?
Today's the day that you ask yourself how many sweaters, sweatshirts, and other cool weather clothing items you need (and have room for in your closet or drawers), and then keep decluttering until you reach that number.
Since everyone has their own lifestyle, fashion and style sense, and a different amount of space in their closet and drawers to store this type of clothing it's difficult to say with certainty what that number of how many you need is, for you.
Therefore, I find it easier to talk about minimums, and then additional factors to consider to decide if you need or want any number above that minimum.
At a minimum you need enough sweaters or sweatshirts to have enough clean items to wear until the next time you do laundry, during the cool weather months.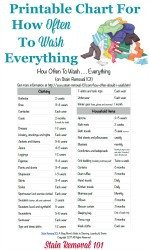 As discussed in more length in my article about how often to wash various types of laundry, assuming you've just worn the clothes around your home or work without exessive exertion and sweating, have worn some type of undershirt under the sweater, and haven't fallen in a mud puddle or otherwise made big mess, you can wash wool sweaters and sweatshirts after around 5 wears. Sweaters made from cashmere, cotton or silk should be washed a bit more frequently, every two wears.
Since you can typically wear sweaters and sweatshirts a few times before they need to be washed, and I recommend you do laundry at least once a week or otherwise stick to a laundry schedule or routine, then you really don't need that many of these clothing items.
However, most people use other considerations to decide they'd like a few more. Here are some things to decide for yourself, when determining how many cool weather clothes you'll want to keep.
Consider what types of sweaters or other cool weather clothes you need for various types of occasions or events, such as going out with friends, going to work, hanging out around the house, and working in the garden;
Consider what types of sweaters are appropriate for each season (we're assuming here that mostly you'll wear these items in cooler months, but I know that lightweight sweaters can be worn in more weather, and with air conditioning I find you may need some warmer items even in hot months); and
Consider fashion and colors, to decide what variety of styles, colors, and fits you need for a wardrobe that fits your fashion and style choices
Keep decluttering to get rid of excess items that don't fit your body, you don't like, aren't in fashion, have too many stains or tears to be salvageable, or otherwise will not fit into the space you've got designated for them.
Photos From Readers Who've Already Done This Mission
To get yourself motivated to do this mission with your own clothes, check out these photos from other Declutter 365 participants, to see what great results they accomplished. You can get great results too!
This first photo is from a reader, Liana, who said, "I decluttered my sweaters! I had about 75-100 winters ago and I keep paring my stash down. I used to have 2 underbed tubs and 2 regular tubs full, now it's about 1 tub total but I put them in this awesome wardrobe we have in our bedroom now! If I don't wear each of these this fall/winter, they are going in the donate bag I keep in my closet."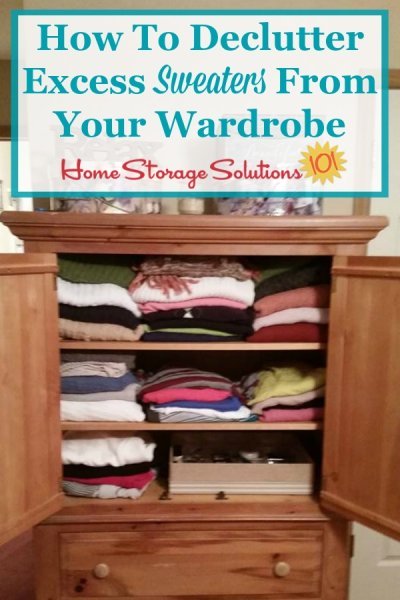 In addition, this next photo is from another reader, Barbara who decluttered and then organized her sweaters and scarves.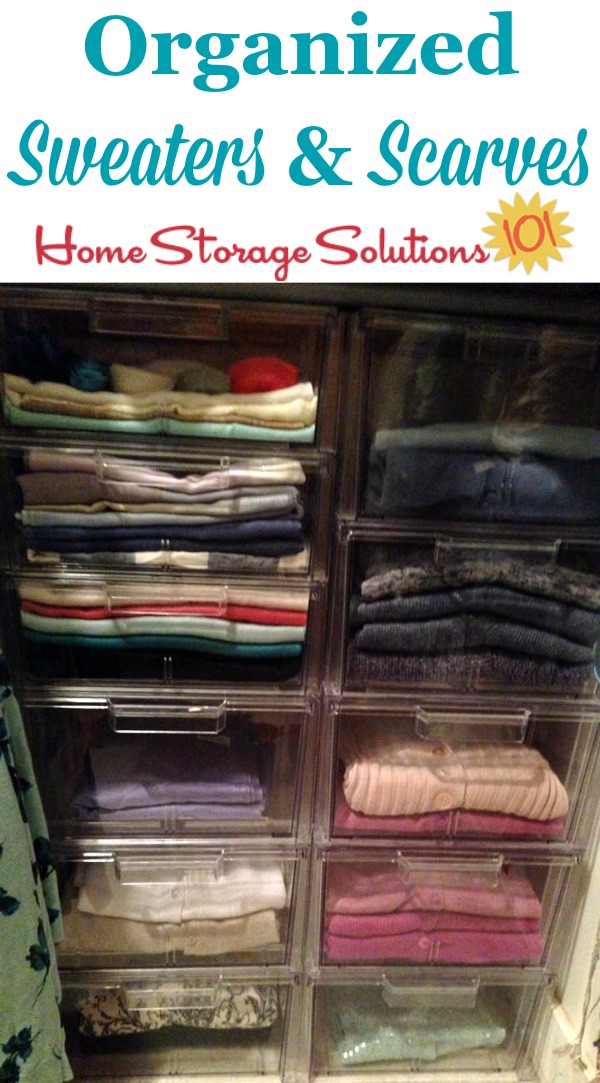 If you like the see through drawers that Barbara added to her closet, to organize these clothing items, you can get similar one here:
Are You Ready To Declutter Your Home?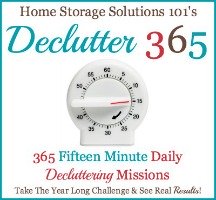 I hope these instructions have inspired you to get rid of your sweaters and sweatshirts clutter, so your wardrobe and closet contain only the items that you love, and look and feel good on you.
When you begin to declutter the feeling you get is contagious, so if you're loving the results you're getting I would encourage you to keep going.
I've got a whole series of 15 minute decluttering missions (eventually 365 of them!) that you can do.
Just pick and choose the ones you want to do, that will make a big impact in your home. But if you want someone else to tell you the order you can also grab the 15 minute daily decluttering mission calendars and follow along as we all get our homes clutter free together!
In addition, here's a round up of all the Declutter 365 missions on the site for decluttering clothes of all kinds.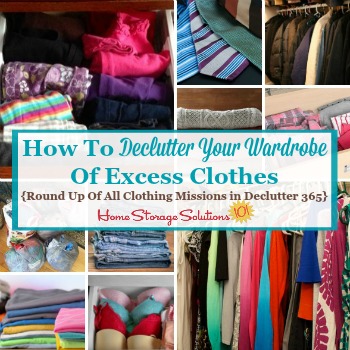 Some links on this page are affiliate links, meaning that if you purchase a product through them I receive a small commission which helps me provide this information to you for free, plus support my family. My integrity and your satisfaction are very important to me so I only recommend products I would purchase myself, and that I believe would benefit you. To learn more please see my disclosure statement.