How To Declutter Blankets & Comforters

Today's mission is to declutter blankets, throws and comforters in your home. As always, we're not getting rid of all of them, but only excess ones.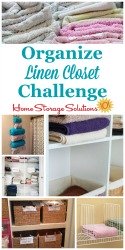 Once you've done this mission you'll realize how much room these items take in your home, because they're bulky, and it will clear space in your linen closet or wherever else you store them.
This mission is designed to be done while working through the
Organize Linen Closet Challenge
here on the site, which is part of the 52 Week Organized Home Challenge, but of course you can do it whenever you need.
Doing this mission is quite simple. All you need to do is gather up all the blankets, throws, quilts, and comforters you've got in your home into one place and then decide which ones to keep and which ones to get rid of.
As always, get rid of the ones you don't like, that are too tattered or torn to use, and any that are excess.
How Many Blankets Should You Keep?
Deciding how many blankets and similar items you need is a very personal decision, but I'll provide some guidelines and rules of thumb for you to help you along, plus some places you may not have considered that you might want to stash a blanket or two.
Second, in addition to those blankets for your beds, I know a lot of people enjoy having a blanket or two to curl up with on a couch or at other times that they're relaxing.
Consider who in your family enjoys wrapping up in
blankets, and also where they like to do this, and decide the total number you need for this purpose. (Remember that blankets can be moved around, such as from a bed to on the couch, for example, if needed, so you may not need duplicates between the two categories.)
Once you've considered those issues you should basically have decided on a preliminary number of blankets to keep, and then the rest are excess, at least for normal use.
You may want to have a couple of blankets in the following places though:
(1) In an
emergency preparedness kit
(or you could choose to use sleeping bags);
(2) In the trunk of your car, especially in the winter in a traveling
car emergency kit
;
(3)
For pets
, who themselves may enjoy a blanket or throw, especially one that's past its prime for human use.
Once you've considered these additional places to keep blankets, then any that are excess for normal use, and in these special areas, should leave your home.
If you get a bit nervous about the number you've decided on though, because, for example, you want to be assured you've got enough blankets for very cold nights, or when the heat goes out, consider how many people there are in your home typically, and make sure there are about two blankets per person for that eventuality. (Again, these can be blankets that would normally be on a bed, or from the couch). If that number is larger, keep that many, at most, and then you can feel more comfortable with getting rid of the rest of them.
Once you've decided how many to keep choose which ones will be decluttered. As always, you can typically sell or donate any that are still in good condition. There are some good ideas below of possible places to donate.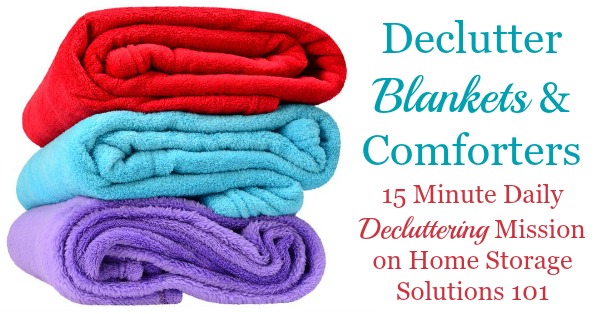 Readers Who've Gotten Rid Of Blanket Clutter
Several readers have sent in photos showing how they've done this mission and gotten rid of their blanket clutter.

These photos, I hope, will inspire you to get this clutter out of your home as well, plus give you some ideas of what you can do with your excess blankets and other bedding clutter.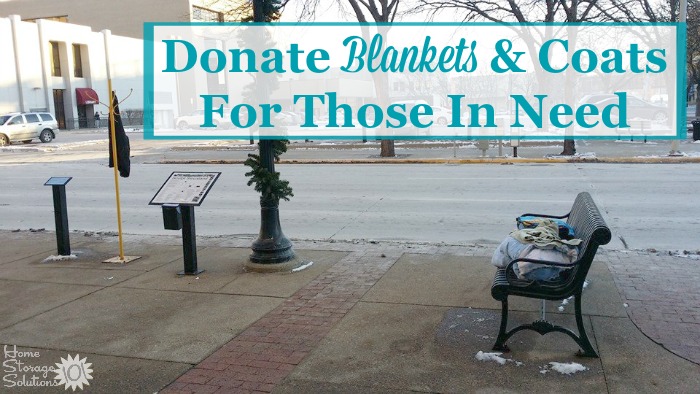 The photo above is from a reader, Melissa. She explained, "We took blankets out to the local coat rack. We do not need 20 blankets but homeless people might."
What a great place to donate your blankets Melissa! Thanks for that idea.
Another excellent idea is to donate them to a local pet shelter, many of which are looking for many types of used bedding for the animals, including blankets, towels and sheets.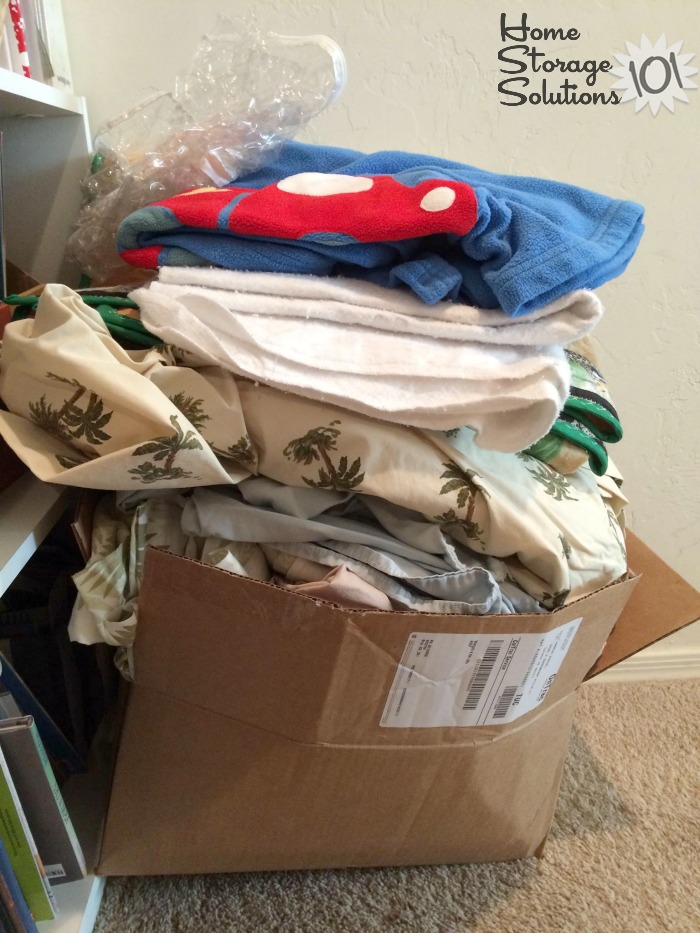 The photo above is from another reader, Amy, who said, "Got rid of all this, plus a giant
trash bag of decorative pillows
! It's loaded in my trunk right now to go to a women's shelter! Woohoo!"
Yay Amy! Great to get all those bulky items out of your home, plus donating them to a women's shelter is also a wonderful idea.
Are You Ready To Get Rid Of Excess Blankets & Comforters?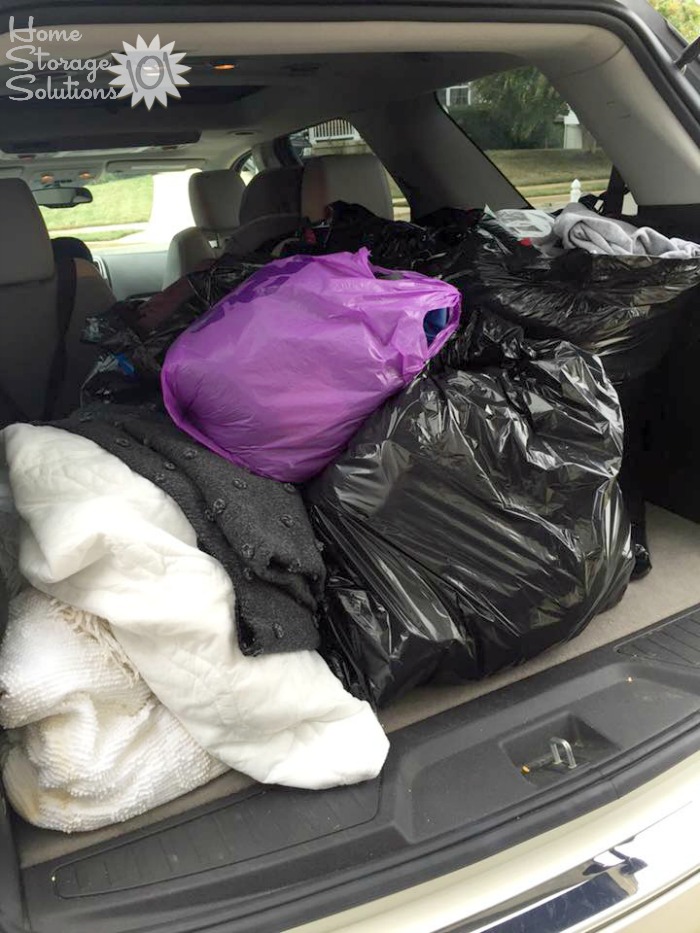 The photo above is from a reader Adrianne. She said, "4 trash bags, some blankets, and another bag all donated today!"
Are You Ready To Declutter Your Home?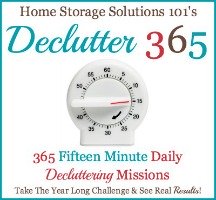 Just imagine all that stuff leaving your house, like Adrianne or the others who've shared their photos! I hope it gets you excited to do this mission for yourself!
When you begin to declutter the feeling you get is contagious, so if you're loving the results you're getting I would encourage you to keep going.
I've got a whole series of
15 minute decluttering missions
(eventually 365 of them!) that you can do.
Just pick and choose the ones you want to do, that will make a big impact in your home. But if you want someone else to tell you the order you can also grab the
15 minute daily decluttering mission calendars
and follow along as we all get our homes clutter free together!
Related Pages You May Enjoy
Getting Clutter Free 15 Minutes At A Time Hall Of Fame
Getting Rid Of Bedroom & Coset Clutter Hall Of Fame
Go From How To Declutter Blankets, Comforters & Throws To Home Page