Ideas Where To Donate Prom Dresses & Other Formal Wear When Decluttering
Here are ideas for where to donate prom dresses and other types of formal wear that you've decided to declutter from your closet.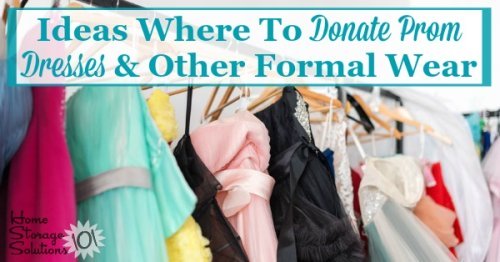 This week, as part of the Declutter 365 missions, we're focused on decluttering your closet, including of excess dresses and other formal wear.
As you work on this mission, going through all the hanging clothes in your closet, you may come across some special gowns and dresses that you wore to proms, formals, dances, weddings, and other special events in your life.
These dresses and gowns are definitely not the type of item that you will wear frequently (at least for most people), and depending on how long ago these special dances and other events occurred, the dress itself may no longer be currently in style, or your current size.
If you decide to get rid of some or all of these fancy dresses as you declutter your closet this article is designed to help you find a new good home for these gowns by donating them to someone else.
Please note that this article talks generally about where to donate prom dresses, homecoming dresses, bridesmaid gowns, and similar types of dresses. You can get ideas for donating your wedding dress here, for that particular very special dress.
Further, I've found that where you can donate depends partially on how old your dress or gown is. If you're going to donate, doing it sooner rather than later is good, because fashion changes so quickly that only newer prom dresses and gowns are really desired for re-wear by someone else.
Proper Formal Gown Donation Etiquette
Before you donate any type of formal wear or prom dresses, please make sure that the dress is in good condition, without tears or rips, and also is clean. Ideally, you'd get the dress dry-cleaned before donating, so the next person can enjoy it.
This also helps the charitable organizations that you send the gowns or other formal wear to, because otherwise they have to pay for such cleanings, or get it mended before they can give it to someone else for wear.
Places To Donate If Dress Less Than Five Years Old
There are lots of places you can donate prom dresses that are relatively new, but I'm most familiar with Becca's Closet.
Becca's Closet is a charity that focuses on getting donated prom dresses, homecoming dresses, and bridesmaid dresses and then giving them to deserving high school girls for them to wear to prom. Your donations are tax deductible, but they request that the dress be recent (within the last five years, so it's fashionable), and also clean and undamaged. (You can click the link for all the details.)
It's super simple to get your prom dress or other formal wear to Becca's Closet using Give Back Box. Just grab a cardboard box that you've received an online shipment in, use the Give Back Box website to print your pre-paid shipment label, and then drop the box off at either UPS or a USPS location!
Here are a couple of other prom dress donation programs around the country as well:
Ideas For Where To Donate If Dress More Than Five Years Old
If your prom or other formal wear is more than five years old here are more ideas for where you can donate these items from your closet.
Donate to local donation shop, such as Goodwill or Salvation Army.
Every Girl's Dream - provides dresses to girls within the Southeast Michigan area. You can mail them donated gowns, but if they're soiled you need to send at least $30 with the gown to cover cleaning costs. Check the link for more details.
Project G.L.A.M. - this charity accepts dresses up to 10 years old (or older, if the dress is black). You can read more information at the link.
You can get even more ideas for places to donate items when decluttering your home, plus do's and don'ts for what to donate to charities, in my donate clutter section of the site.