How To Declutter Desk Drawers In Your Home Office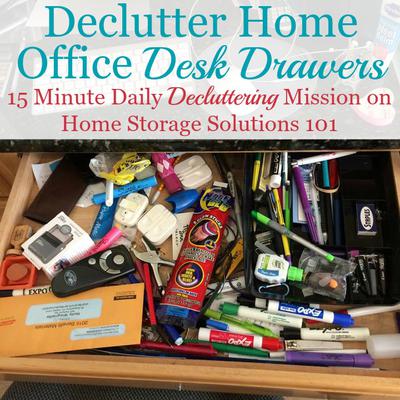 Today's mission is to declutter your home office desk drawers, removing whatever type of clutter you may have in them.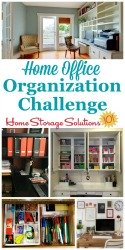 This mission is designed to be done as you work through the
Home Office Organization Challenge
here on the site, which is one of the 52 Week Organized Home Challenges.
Please note that if some of the drawers in your desk are file drawers, those are dealt with explicitly in the
Declutter File Clutter mission
here on the site, which discusses getting rid of papers within your filing system that you no longer need.
In addition, if you've been following along with the
daily decluttering missions here on the site
, you'll no doubt have gotten a head start on today's mission, since we've already done some of the following:
However, if you haven't done those other missions yet, no worries, today is the day. Take this mission 15 minutes at a time and you'll get it done!
Because drawers are a small space it is easiest when tackling them to empty everything out of the drawer and then sort through each item, deciding if you should keep it in a desk drawer, put it away somewhere else in your home, or declutter it completely from your home. Each item should earn it's spot back into the drawer.
I suggest you do only one drawer at a time in your desk, to make sure you don't make more of a mess than you can clean up in a short period of time, and set your timer for 15 minute decluttering sessions.
Once you've decluttered all of your desk drawers then, and only then, would I, to the extent necessary, combine and rearrange items within those drawers to make them more organized. There's no use in organizing the drawers until the clutter is removed from each of them.
To get you inspired to do this mission for yourself, and so you can see the great results you can achieve when decluttering your desk drawers, I've added before and after photos sent in by readers, below. In addition, I want to thank a reader, Holly, who not only has some photos showcased below, but also provided the photos above to show her results as she worked to declutter her kitchen desk drawers.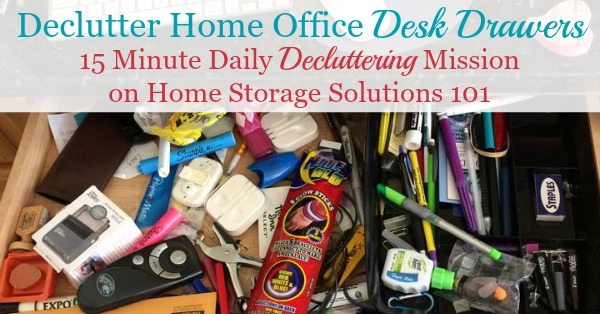 Before & After Photos Showing Decluttered Desk Drawers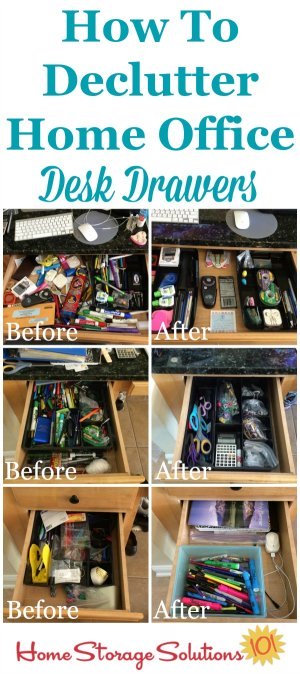 As promised, here are quite a few before and after photos from readers who've done this mission, showing the results they have achieved as they decluttered their desk drawers.
As you can see, taking a bit of time to remove clutter makes the drawers so much more functional, and easy to find the items you really want and need within them.
The photos above are from Holly, who explained that she needed to declutter her kitchen desk drawers. She removed all of the items from the drawers, cleaned them out of dust and debris, and then slowly added back only non-clutter items back into the space.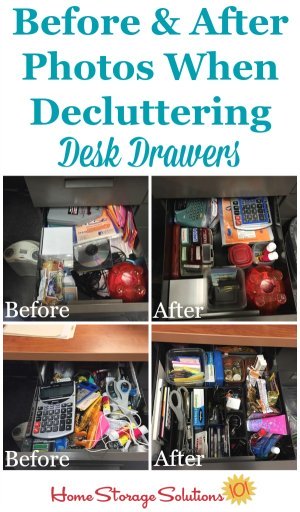 These photos are from another reader, Jana, who also got rid of the clutter in her own desk drawers. Great job Jana!
Once you've done this mission I'd love to see your results too. You can
submit your photos here
and the best one will be featured here on the site.
Are You Ready To Declutter Your Home?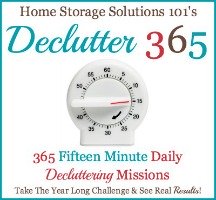 I hope seeing these pictures has inspired you to get rid of the clutter within the drawers of your desk.
When you begin to declutter the feeling you get is contagious, so if you're loving the results you're getting I would encourage you to keep going.
I've got a whole series of
15 minute decluttering missions
(eventually 365 of them!) that you can do.
Just pick and choose the ones you want to do, that will make a big impact in your home. But if you want someone else to tell you the order you can also grab the
15 minute daily decluttering mission calendars
and follow along as we all get our homes clutter free together!
Related Pages You May Enjoy
Getting Clutter Free 15 Minutes At A Time Hall Of Fame
Getting Rid Of Technology & Home Office Clutter Hall Of Fame
Go From How To Declutter Desk Drawers To Home Page