Ways To Set Up Worn Clothes Storage Area In Bedroom
Here are ways to set up a worn clothes storage area in your bedroom or closet, to hold clothes you've worn, but aren't yet dirty enough to wash.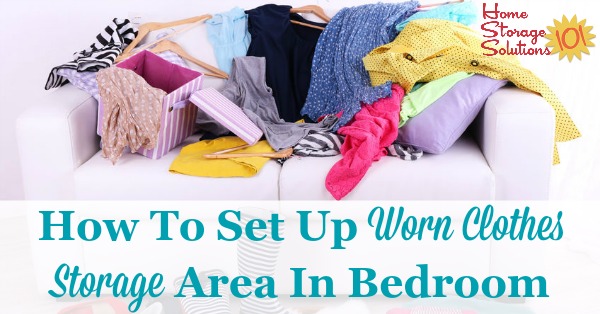 Unless you absolutely love washing clothes, you most likely have some clothes you've worn for a bit, but that you wouldn't classify as dirty enough to get washed yet.
It might be the pair of jeans you wore out for about an hour, before taking them back off when you got home, or the sweatshirt that you threw on for a quick trip outside, or the pajamas you can wear for two or three nights before they need to get washed.
The question for these types of items is, what do you do with them once they've been worn a little bit, but before you throw them in the laundry hamper to get washed?
That's what the subject of today's Declutter 365 mission is -- to create a worn clothes storage area somewhere in your bedroom or closet (and a similar area in your kids' bedrooms) where you can keep these slightly worn clothes, instead of throwing them on the floor, or draping them across a chair or other piece of furniture in your bedroom.
You Don't Have To Wash All Clothing As Soon As It Touches Your Skin!
If you are already convinced that you can wear at least some clothing multiple times before it needs to be washed, you can skip this little section of the article, but this public service announcement is for those of you who spend a lot of time washing clothes, perhaps needlessly.
Here it is, my personal PSA: You don't have to wash all clothing as soon as it touches your skin. Many items can be worn a few times first, assuming you've not sweated profusely, or had a major spill with them on.
This should be welcome news, because if you don't have to wash clothes as frequently you don't need as many of them, your clothes don't wear out as fast because the more washes the more they get worn out, and also you don't have to be quite as much of a slave to your laundry machine as you might have thought.
As always, common sense should prevail when deciding how many wears you can have of a particular clothing item before it needs to get cleaned.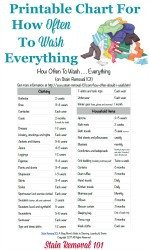 However, to help you out, I've got a helpful printable chart which answers the question, how often should I wash . . . everything?
The chart provides good rules of thumb for the most common types of clothing items, discussing how often they can be worn before washing, as well as certain items (such as underwear) which should be washed after every single wear.
It also has some common sense examples when something needs to be washed sooner than is indicated in the chart.
When in doubt, check the chart for guidance about how often to wear something, and then use your own instincts as well!
What This Mission Tries To Avoid: Worn Clothes Clutter
Now that you know you can wear at least some things multiple times before they've got to get washed, we come up to the logistical question of how to store this clothing, once it's been worn once, before it gets thrown into the dirty clothes hamper.
If you don't think through this simple question for yourself, and for others in your household (like your kids), you may run into one or more of the following scenarios:
Washing clothes too frequently, because all dirty clothes, no matter their level of filth or freshness, are thrown in the hamper after one wear, even if "wearing it" consists of just trying it on, but then deciding to wear something else (this is very common for kids to do, especially kids who don't themselves have to do the washing);
Worn clothes being thrown on the floor, perhaps mixed in with clean clothes, and getting dirtier from contact with the floor, eventually meaning they are too dirty or wrinkled to wear again without washing; or
Lightly worn clothes being thrown on a chair or other piece of furniture in the bedroom (like in the image below), making it impossible to use the furniture for its intended purpose, and becoming an eye sore because it's a cluttered mess.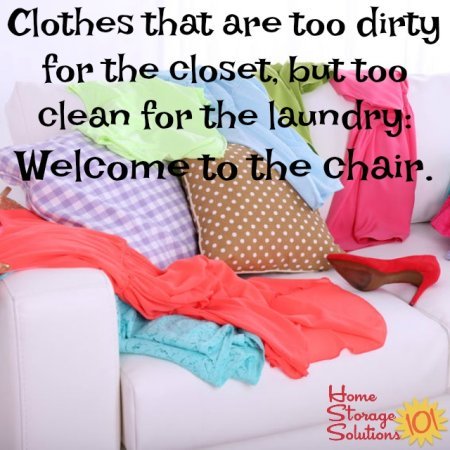 All of these scenerios are what we're trying to avoid by doing today's mission, and thinking through where in your bedroom or closet you'll store these lightly worn clothes that don't yet need to be washed.
Ideas For Where To Put Worn Clothes For Future Wears
There is no one right place to put worn clothes that can be worn again, before being washed. Instead, you've got to decide what system works best for you, based on the set up of your closet or bedroom, and your personality.
Here are ideas you can use, choose the best one for you.
Idea 1: Hang Worn Clothes On Hooks On The Back Of Your Closet Or Bedroom Door
This is my personal favorite idea, so I've added it first, and that's to add some hooks or pegs to the back of your closet door (or bedroom door) that you can use for hanging up lightly worn clothes.
I think this method works so well because it's easy to just throw an item up on the hook when you take it off, it's behind a closed door so you can't see it except inside your closet, and it doesn't allow too many "kind of" clean things to pile up, because you'll just have a couple of hooks available for use.
That way, you go ahead and wear these items again soon, or throw them into the dirty clothes hamper to make room for newer, just slightly worn items, to enter the rotation on the hooks.
This method works especially well for kids because they can easily (in theory) put something on a hook, but may not do as well if they're expected to fold or hang something back up, on a hanger, after taking it off.
Here's some hooks that would work well for your closet or bedroom door:
Idea 2: Create A Drawer, Shelf Or Closet Hanging Space Designated For Worn Clothes
Another possibility is to designate a dresser or closet drawer, shelf, or other hanging space in your closet just for worn clothes. That way these items can be segregated from the completely clean and laundered clothing, to help you keep track of what you've worn versus haven't, but these slightly worn items can be put away instead of just thrown on the floor or chair.
This keeps your bedroom or closet from looking cluttered, because there is a designated space for these items.
Be careful if you decide to use this method not to allow too many items to accumulate in the drawer, or on the shelf, before you start either wearing stuff again, or putting it into the hamper to get washed.
If you're using a closet shelf for this purpose, you could use these closet shelf dividers to separate the worn clothes from unworn clothes.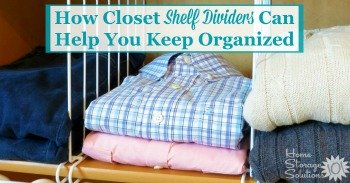 Idea 3: Put Worn Clothes Back Away With Clean Ones In Drawers Or Closet
Finally, a third idea is to not segregate out the lightly worn clothes from the completely unworn clean clothes, but instead to put away these items when you take them off, back where they were before, like inside the dresser drawer, hanging up, or on a closet shelf.
I'm not as partial to this idea, because I think it makes it hard to keep track, in your mind, of what you've worn once, versus not at all, so that you do actually wash stuff as it needs it.
However, if you don't have room for an extra drawer, shelf, or a place to put up hooks, this may be a good option for you, as long as you can be disciplined enough, when taking off clothes, to go ahead and fold or hang them immediately, and put them away.
I'd love to hear below in the comments which of these methods you use, or are going to try as you do this mission!
We've worked on this Declutter 365 mission as part of the Laundry Organization Challenge, which is one of the 52 Week Organized Home Challenges, here on this site.
That's because to make sure your laundry is properly organized, you've got to know what to do with these types of clothes until they're ready to go into a clothes hamper or laundry basket, waiting to get washed.
You can check out more tips for laundry organization in the challenge here: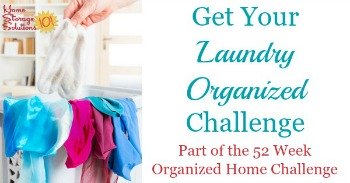 In addition, you can also check out the Closet Organization Challenge here, since the mission also relates to that organizing task as well.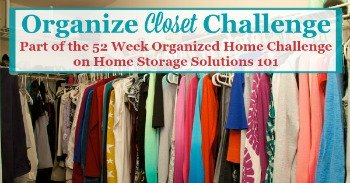 Want To Do More Decluttering Missions? Get Started With Declutter 365 Today!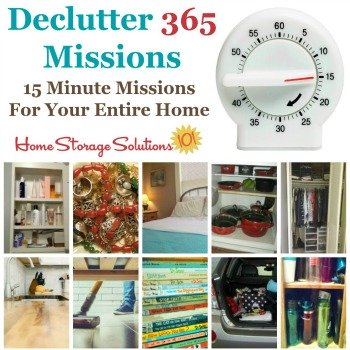 Once you declutter one type of item in your home I bet you'll want to declutter some more. After all, decluttering gives you a great reward for even a small investment of time and energy.
The Declutter 365 system is designed to help you declutter, over the course of a year, your entire house, with just 15 minutes of decluttering each day!
Hundreds of thousands of people use this proven system to get rid of their clutter, and bring peace and calm back to their homes.
Declutter 365 works to guide you to clear the clutter without overwhelm, focusing on just one small area at a time, and without making a huge mess in the process, so you see consistent forward progress without all that "messy middle" that makes it even harder to function in your home than before you started.
In addition to building a daily decluttering habit, the Declutter 365 program, along with the accompanying 52 Week Organized Home Challenge, teaches you the skills, habits, routines, and mindsets necessary to maintain the clutter free and organized state of your home from now on, so it'll never be as messy and cluttered as it is right now, ever again.
If you haven't already, make sure to get your copy of this year's Declutter 365 annual calendar here (it's FREE!), find today's date, and do 15 minutes of decluttering on the day's mission. Then, repeat again tomorrow, and again and again. Over the course of the next year, if you do this 15 minutes per day, you'll declutter your whole house!

Some links on this page are affiliate links, meaning that if you purchase a product through them I receive a small commission which helps me provide this information to you for free, plus support my family. My integrity and your satisfaction are very important to me so I only recommend products I would purchase myself, and that I believe would benefit you. To learn more please see my disclosure statement.