April Declutter Calendar
15 Minute Daily Missions For Month
Here's the April 2020 declutter calendar with a daily 15 minute decluttering and organizing mission for each day of the month.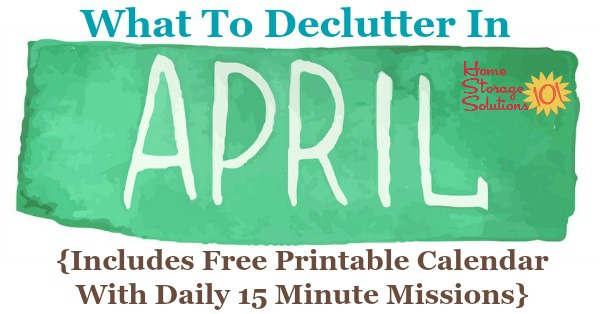 Here are the ground rules, and how these missions work:
1. Work for 15 minutes to declutter and do the mission listed, and if you need to work longer, and have the time, go for it. However, don't feel obligated to.
2. Print off the printable version of this calendar if you want to post it on your fridge or some other area of your home to remind you what the daily mission is. To print it off scroll down on this page and click the picture of the calendar itself, or click the link directly under the calendar which says, "click here to get your printable April calendar."
3. Get a daily reminder of the day's missions, sent directly to your mobile phone, with text messages. Find out how to sign up for text messages here.
In addition, you can also follow me through social media, including on Facebook, Instagram, and Twitter, to get a daily reminder of the day's mission, although I can't guarantee the algorithms will show them to you.
Plus I've created a Declutter 365 Premium Facebook group for annual or monthly subscribers that you can join for motivation, encouragement, live weekly video group coaching sessions, plus comraderie from others who are also working through the Declutter 365 missions.
4. If you're loving this month's calendar (which you can get below without subscribing) you can get the entire 2020 declutter calendar, all 12 months, by signing up for the free newsletter.
Currently the entire 2020 calendar is only available to subscribers, although the April 2020 version is available for everyone on the site.
Sign Up Here To Get Your Free 2020 Printable Declutter Calendar!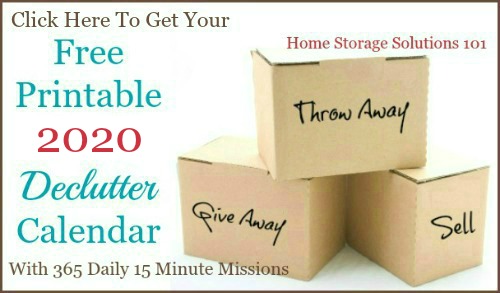 5. Once you've accomplished any one of these missions you can share your photos of what you have decluttered with me in the Getting Clutter Free Hall of Fame.
Plus, get some inspiration from the quote of the month, below.
April Decluttering Missions:
Day 2 - Declutter bicycles and gear, and then properly store what's left
Day 3 - Declutter sports equipment and camping gear
Day 4 - Get clutter out of the house by selling, using websites such as eBay, Craigslist, etc.
Day 5 - Fill out garage storage inventory
Day 6 - Read Organized Home Challenge #15: Attic and declutter boxes, other stuff in attic
Day 7 - Continue to declutter attic, and organize what's left
Day 8 - Declutter storage unit or locker

Day 9 - Declutter storage room or closet in your home
Day 11 - Get clutter out of house by selling, using consignment shops or sales
Day 12 - Fill out attic storage inventory
Day 13 - Read Organized Home Challenge #16: Contact Information and create most important contacts list for purse and household notebook
Day 14 - Update and organize address book information (either on paper or electronic) and declutter paper pile
Day 16 - Create wallet inventory in case wallet lost or stolen
Day 17 - Declutter and organize business cards for home reference, and create command center for family information and home message center
Day 18 - Get paper clutter out of house by shredding what needs to be shredded
Day 20 - Read Organized Home Challenge #17: Mail and clear spot to hold incoming and outgoing mail and unpaid bills
Day 22 - Create tickler file for upcoming events/paperwork
Day 24 - Declutter junk mail
Day 25 - Get paper clutter out of house by shredding, recycling or trashing
Day 26 - Opt out of junk mail
Day 27 - Read Organized Home Challenge #18: Bills and change bills from paper to automatic or electronic payments, where possible
Day 28 - Create a routine for a weekly paperwork session
Day 29 - Create a family budget
Day 30 - Create paper or electronic bill organizer, and get rid of unwanted recurring charges
Get Daily Reminders Of The Missions Via Text Messages
Over the years I've tried LOTS of ways to remind people, daily, of the missions. This year I'm offering daily reminders of Declutter 365 missions via text messages. (You can click the link to read the article with more information about this product.)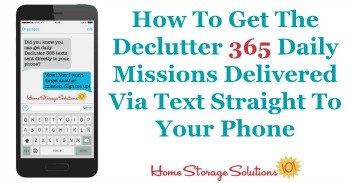 Please note that the texting service only will text to U.S. based phone numbers, so only get this if you've got a U.S. based number.
Stay Motivated & Encouraged, And Get Help When You Need It With The Declutter 365 Premium Facebook Group
Along with daily reminders, getting support through motivation, encouragement, and help when you need it can make the process of decluttering your home much easier, and give you the tools to succeed.
To help with all these tasks I've created a special, private and exclusive Facebook group that you can join where I can help you with group coaching through the missions and tasks, and you can also get help and support from like-minded Declutter 365 participants as well.
Both annual and monthly subscriptions to this private Facebook group are available. Find out how to join the Declutter 365 Premium Facebook group here.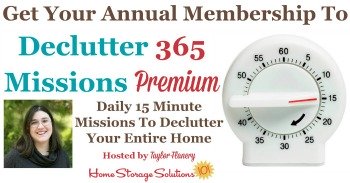 Get The April Declutter Calendar Printable
Here's a printable version of the calendar of daily missions that you can use. To print it is easy. Merely click on either the image of the calendar itself, or the words below which say, "click here to get your April Printable Calendar" and a new window will open with the PDF.
Please note there are ads on this page. If you are asked to download something to get this calendar you've not clicked on the right thing. There is nothing to download to get this PDF!

Click Here To Get Your April Printable Calendar
(opens into a new window, as a PDF)
Don't Forget To Get Declutter 365 Products To Help You Get Your Home Decluttered This Year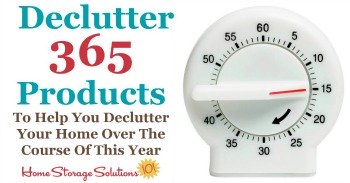 I've got more free products, as well as add-on Declutter 365 products, such as text messages and a private and exclusive Facebook group that can help you get your home decluttered this year.
Make sure to check out all the Declutter 365 products available here.
Do You Want Next Month's Calendar Too?
You can also get the May decluttering missions here (including printable calendar).
If you'd like the May 2020 calendar, along with the entire 2020 calendar now, it is available automatically to all newsletter subscribers (the subscription is free) so sign up today if you haven't already!