Command Center & Home Message Board Hall Of Fame
Every home needs a home message board of some type, even if it isn't actually a board, where messages can be shared between family members.


The busier the household the more important this is because people are coming and going and there still needs to be communication.
Yes, with smart phones a lot of the little notes like, "gone to the store," don't need to be shared anymore since you can just call or text, but even now there are still papers from school or church with dates or needed information, phone messages where a child has answered the phone and needs to tell a person has called, etc.
There is no right or wrong way to do this, but it is important that there is a designated area where these communications can occur.
A designated area means everyone knows where to both leave messages and also where to check for them.
This avoids problems like finding a random note a few days later saying so-and-so called and you should call them right back when, by the time you've found it, it is way too late, or you appeared rude for not even realizing that person called.
I suggest both a message board for quick notes as well as referencing certain papers, as well as a phone message center that comes equipped with pen and paper near a phone so when you need to write a message down you aren't hunting for the supplies while the person on the other end of the line waits, or rattles off the information before you're ready, meaning you've forgotten half of it before you even hang up the phone.
Below are some real life examples from readers who've created these areas in their home to give you ideas for setting up your own.
Do you have such an area in your own home? I'd love to see it, as well as hearing your tips keeping up with these areas of your home since you've got to stay vigilant so they don't get cluttered up. You can
share your photos and tips here
and I'll add them to the page.
Join in and write your own page! It's easy to do. How? Simply click here to return to paper clutter.
Family Calendar + Chore Charts + Weekly Menu Area
by Laura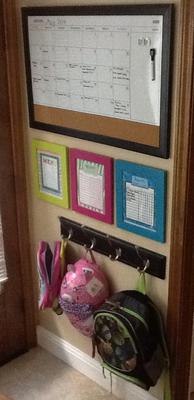 Laura says:
This little nook is right by our back door. We have a
home office
so no need for paperwork here. Just a family calendar, weekly menu, chore charts and back packs.
Taylor says: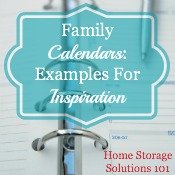 Thanks so much for sharing this picture Laura. The area looks lovely.
Many family and home message centers do have a
calendar
in them, which makes a lot of sense since this is one of the main ways a household communicates and gets on the same page about what is happening.
I like the idea of also posting the weekly menu as well. It helps the kids (and everyone) know what to expect. Here's a
printable weekly meal planner template
if you'd like to fill one of these out each week to post in this area of your home.
Another Example Of An Entire Wall Of Information: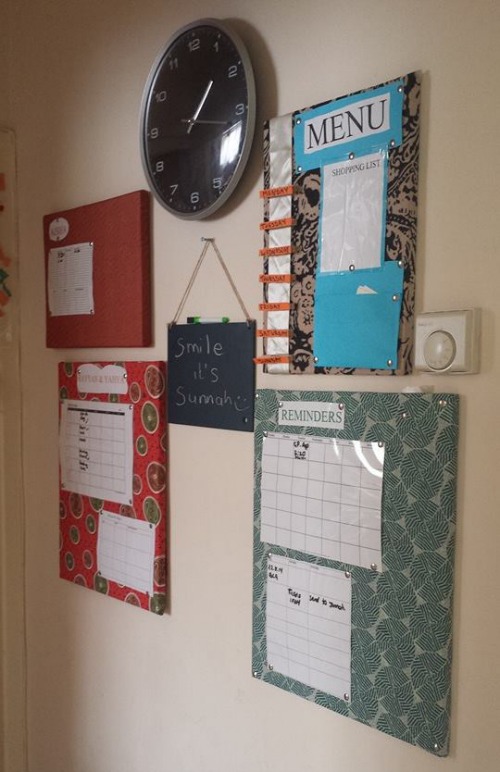 This picture was provided by a reader, Umm, who said: "I have a full on management wall."
Join in and write your own page! It's easy to do. How? Simply click here to return to paper clutter.
Family Message Center For Calendar, Chores, & Paperwork
by Kim
Kim shared this picture of her family message center, where she's put up several things to help her family communicate and keep up with what's going on in the household.

First, you can see her family's calendar on the left.

Underneath that is her kids' chore chart. Brilliant to keep this with the rest of the stuff, I think.

Finally, she's got a place to collect mail and other paperwork on the right in the wall mounted inboxes (you can see similar products below).

Looks great!


Join in and write your own page! It's easy to do. How? Simply click here to return to paper clutter.
Home Management Center Using A Whiteboard
Erin says:
Here's our home management center complete with rules/consequences, chores for the day, appointments, mommas goals, etc :)
School Information On Whiteboard & Wall
Tracy says:
This is how I keep my daughters school info organized and it keeps me up to date too. Thought I would share in case any one needs an idea.
Taylor says:
A white board, or a chalkboard, are both great ideas to share messages quick messages with your family since you can easily erase and write new information quickly as needed.
You may still need something to share paperwork, but often times a note will do the trick, so this can work really well!
Join in and write your own page! It's easy to do. How? Simply click here to return to paper clutter.
Your Refrigerator: A Built In Message Center
by Rebecca
We use the refrigerator. On it you will see:
Honey do list;


Medication list for my sons antibiotics, Motrin, and Tylenol;


Grocery list; and


Game schedule.
Everything all in one.
Join in and write your own page! It's easy to do. How? Simply click here to return to paper clutter.
Family Message Center Corkboard: Must Be Decluttered Consistently
by Bec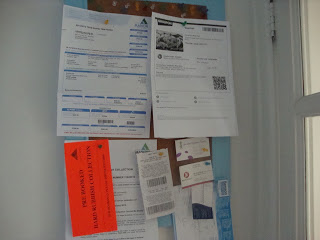 After
Bec from 2012 - The Year of Challenges shared her before and after pictures of her family message center corkboard.

She took the opportunity that this challenge presented and went ahead and decluttered the board.

A family bulletin board can be such a good way to keep track of schedules, calendars, messages, and other pieces of paper that your family needs to keep and reference.

Then, everyone in the house knows where to both put information and where to look for it, whether you're there to help them or not.

However, as you can see from Bec's before and after pictures if you're going to use this system you've got to keep on top of it.

If you keep adding papers without removing anything, ever, you'll soon get a cluttered space where you can't actually find the information you need.

Therefore, I would suggest doing a cursory glance at the board or message center every time you tack something new onto it, and pulling off anything that is old and no longer needed. Like, who cares about last month's calendar?

Also, when you deal with your paperwork weekly, or otherwise deal with updating your family calendar go ahead and look at this message center more carefully and remove old papers.

Doing it regularly will only take a few moments and make it much easier for you most of the time.


Join in and write your own page! It's easy to do. How? Simply click here to return to paper clutter.
Family Command Center In Dining Room To Talk About It During Dinner
by Nancy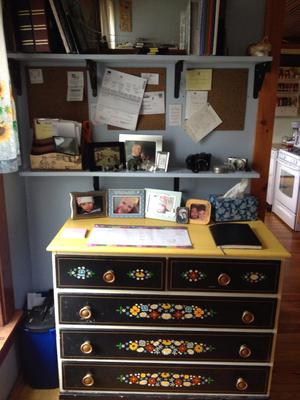 This is in the corner of our dining room so that we talk during dinner or breakfast about all that is coming and going.

We keep photo scrap books there too for when we empty backpacks right away of old school work. Keep some, toss some, frame some in the davinci frames.


Are You Inspired To Get Organized Now?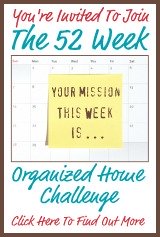 I hope seeing these examples have given you some ideas for creating a family message center of some type in your own home.
If you have a good system (or create one after seeing this) I'd love to see it. You can
share your pictures here
and I'll add them to the page.
Further, these readers worked on this area of their home as part of the
52 Week Organized Home Challenge
, and I would love it if you joined us.
Each week we work on a different room or area of our home so that slowly, over the course of the year, your whole home becomes organized! If that sounds good to you I'd love it if you participated with us.
Some links on this page are affiliate links, meaning that if you purchase a product through them I receive a small commission which helps me provide this information to you for free, plus support my family. My integrity and your satisfaction are very important to me so I only recommend products I would purchase myself, and that I believe would benefit you. To learn more please see my disclosure statement.
Related Pages You May Enjoy
Getting Clutter Free 15 Minutes At A Time Hall Of Fame
Week #10 Challenge: Create A Home Mail Organizer Center
Go From Command Centers & Home Message Board Hall of Fame To Home Page