FAQ: What Do I Do If A Declutter 365 Mission Takes Longer Than 15 Minutes?
Here's the answer to one of the most common questions of participants of the Declutter 365 missions, what to do when a mission takes longer than 15 minutes.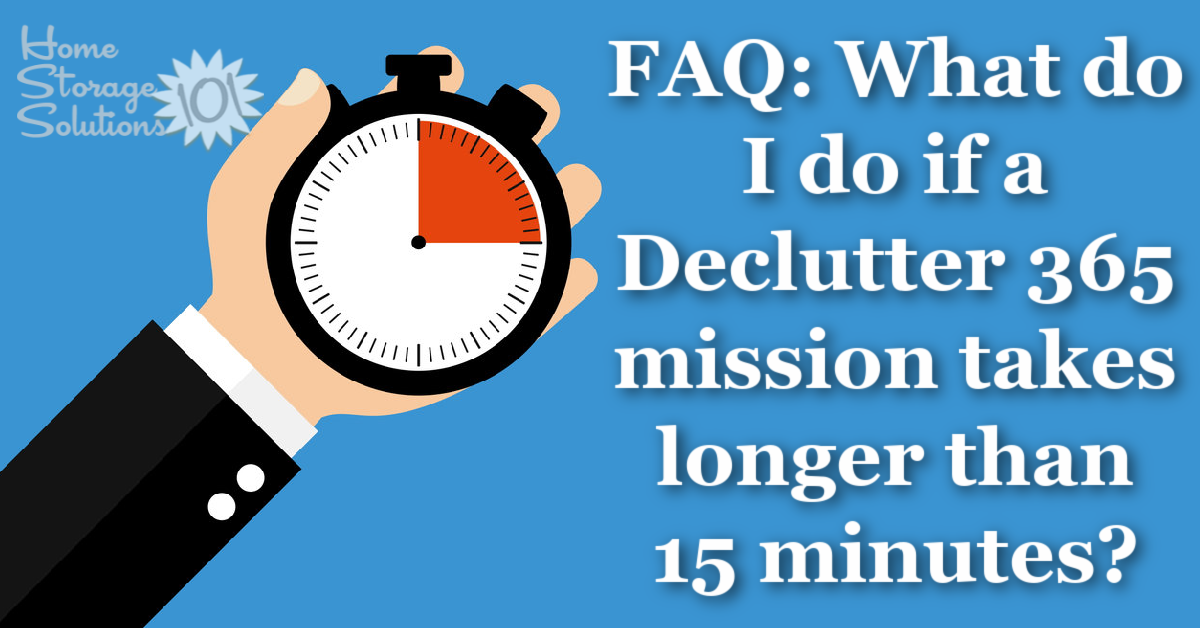 To help, I've got both the short answer, and the longer answer to that question for you below.
Short Answer:
All you have to do is work on the day's mission for the full 15 minutes, with the Declutter 365 method of decluttering of approximately ten minutes of sorting and deciding, and five minutes of clean up at the end, and then you can quit for the day, feeling accomplished and knowing you've made progress.
If you want to, and have time, keep doing the mission, 15 minutes at a time, until you've finished it either that same day, or on subsequent days, or just move to the next mission the next day. Either way you will make progress, slowly, over time, with Declutter 365, whether you want to stick with the calendar precisely, or you want to work the missions following your own schedule.
Longer Answer:
It's not uncommon for someone to see one of the Declutter 365 missions and say, "that will take me much longer than 15 minutes."
This happens for several reasons. One reason is because splitting up decluttering your home into 365 different tasks doesn't always allow jobs to be evenly split between the days, especially since the one sized fits all nature of the missions means that some missions won't even apply to everyone.
This leads to, for example, a week's worth of missions where you're supposed to declutter a basement you don't even have, while there's only one week of missions for decluttering your garage, which is more full since you don't have a basement. (See this FAQ article with answer to what to do when a mission doesn't apply to you for more details.)
Another reason it's not uncommon for some missions to take longer than 15 minutes is that each person has unique circumstances, and while the missions have been designed to deal with what is considered an average amount of certain types of clutter, some people have more than an average amount of certain types of clutter.
For example, if you really enjoy crafts, and therefore have a lot more craft supplies than most people, the craft decluttering missions will take you longer to complete than someone else.
It All Averages Out With Time
After coaching thousands of people through the Declutter 365 missions though, I've found that it all averages out with time. The Declutter 365 system works when you put in the effort, 15 minutes at a time, whether that is repeated 15 minute sessions for one mission, while you skip other missions, or quickly finish some in just one or less 15 minute session.
Key Habit: 15 Minutes Per Day Of Decluttering
The key to the Declutter 365 system is developing and maintaining the habit of decluttering 15 minutes per day. That's more important than finishing a specific mission in one single session.
So what should you do if a mission takes you longer than 15 minutes to complete?
1. Remind yourself that it's normal, and not uncommon to encounter missions that take extra time.
The most important thing is to not feel defeated, or like you've failed, when you encounter this issue when doing the missions.
During the Declutter 365 missions we're embracing slow, but steady progress, and also embracing the concept of making things better than before. I want you to feel good about your decluttering efforts, instead of mentally berating yourself, which doesn't help you to make forward progress.
2. Give the mission an honest effort, for the full 15 minutes, not skipping the five minutes of clean up at the end of the 15 minute session.
This is your reminder that when I'm discussing a 15 minute decluttering session this means doing around ten minutes of sorting and deciding, and five minutes of clean up, for a total of 15 minutes per session. (You can read more about this concept in the article about how to declutter, here.)
As long as you clean up as part of each session you won't be leaving any task messier than when you started, which means it's less important to complete it all in one day, or in one session. Instead, each 15 minute session is progress, even if really small amounts of progress, for the subject of that mission.
Sometimes You're Wrong That It Will Take Longer Than 15 Minutes, So Try And See What Happens
Sometimes when you see one of these missions that you assume will take more than 15 minutes to complete, you are assuming wrong, and have grossly overestimated how long decluttering that type of item or space will take you.
Then, once you've put in your 15 minutes, you are pleasantly surprised to actually complete the task. When that happens celebrate a job well done!
Sometimes You Are Completely Right And It Will Take Longer, So Embrace Progress Without Needing Completion
However, there are plenty of times you know it will take longer than 15 minutes, and that's true as well. That's OK.
Part of the process is learning to embrace progress at the end of your decluttering session as the thing to celebrate in those instances, instead of demanding completion from yourself in an unrealistic time frame.
Now, the question for such missions is when will you complete it? You have two options: (A) stay with the calendar and group as we declutter together, or (B) go at your own pace. Neither is wrong, it's your choice.
3. Option A: Stick with the calendar schedule.
You can choose not to fully complete the mission at this time, but instead stay moving along with the calendar and know you're slowly making progress in stages.
I've designed the Declutter 365 missions to be done as part of a calendar because many people enjoy the group aspect of doing the missions together, and the calendar helps me to lead the missions and keep the whole group on track, hitting all the major parts of the home every year.
Therefore, I encourage you to stick with the calendar schedule if you can. It keeps you pushing forward and making progress.
As discussed already, if you can't fully complete a mission in one 15 minute session you're still making progress, since you're using the Declutter 365 method for decluttering, which involves cleaning up frequently and not leaving bigger messes than when you started. Therefore, this method of decluttering doesn't leave you in a big disadvantage if you don't fully complete a task before moving on. Even small amounts of progress cumulatively add up to big results, eventually.
In addition, the way the Declutter 365 missions are structured, with themes like all the storage areas of your home grouped together, or the paper missions or clothing missions all together, you also usually have more time to complete whole areas of your home than you might think.
That's also helped by the fact that many Declutter 365 missions overlap one another. For example, we have missions for decluttering dresser drawers, when working on the bedroom, as well as missions for decluttering undergarments and socks. At least for many of us, since we keep undies and socks in a dresser drawer, you can see how that overlap in missions actually gives you more time to complete tasks than you might imagine. Often what happens is that even when you're sticking with the calendar, you'll find time to complete missions over the course of several days or sessions, even if you didn't think you would.
To keep yourself from stressing, and feeling behind, I suggest each month or so you give yourself a few minutes to read through the entirety of the missions I've calendared, so that you can see the overlaps more, and more realistically understand how much time is allocated for various tasks.
And even if you can't finish missions completely, remember that the missions come back around again, even if that time frame for them to come back around is a whole year later.
I've been running the Declutter 365 missions continuously on the site since 2012, so you can feel confident they'll come back around again!
4. Option B: Declutter at your own pace.
You can choose to complete the mission, fully, by repeating more of the sessions either right then, if you've got more time that same day, or 15 minutes at a time, on subsequent days, until you do complete it.
While I encourage you to follow along with the yearly Declutter 365 calendar it's not necessary. You can do these missions at your own pace, or in your own order.
The support and guidance are available for you, when you need them, and more important than following along with me or the group, is for you to accomplish the tasks you want to get done.
A theme you're going to see throughout this site and through this system is that we're all headed to the same goal, a decluttered and organized house, and while I've made one roadmap for you to get there you can always choose a different path and still get to the same ultimate destination!
Conclusion
I know I said it earlier, but I feel it bears repeating: The most important part of the Declutter 365 system for decluttering your home is developing the habit and routine of decluttering your home 15 minutes per day.
It's the repetition and consistency which bring the results, so don't sweat it if a mission takes longer than 15 minutes for you to finish.
It will take as long as it will take for you, and that's alright.
The key is to keep at it, one 15 minute session at a time, and make that slow but steady progress. You'll eventually get to your final destination, and I'll be there to cheer you on, and celebrate with you at the end!
If You Haven't Already, Join The Daily Declutter 365 Missions & Get Started Today!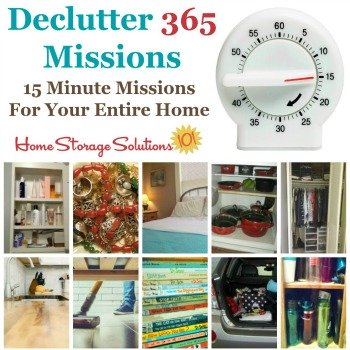 If you haven't already, make sure to get your copy of this year's Declutter 365 annual calendar here (it's FREE!), find today's date, and do 15 minutes of decluttering on the day's mission.
It will be your first step toward decluttering your whole house!

Here's More Answers To Frequently Asked Questions About The Declutter 365 Program
I've got quite a few more FAQs answered, to help you get started and make the most of the Declutter 365 tasks, so find them all in this round up of answers to FAQs: