FAQ: What Do I Do If A Declutter 365 Mission Doesn't Apply To Me?
Here's the answer to one of the most common questions of participants of the Declutter 365 missions, what to do when a mission doesn't apply to their circumstances.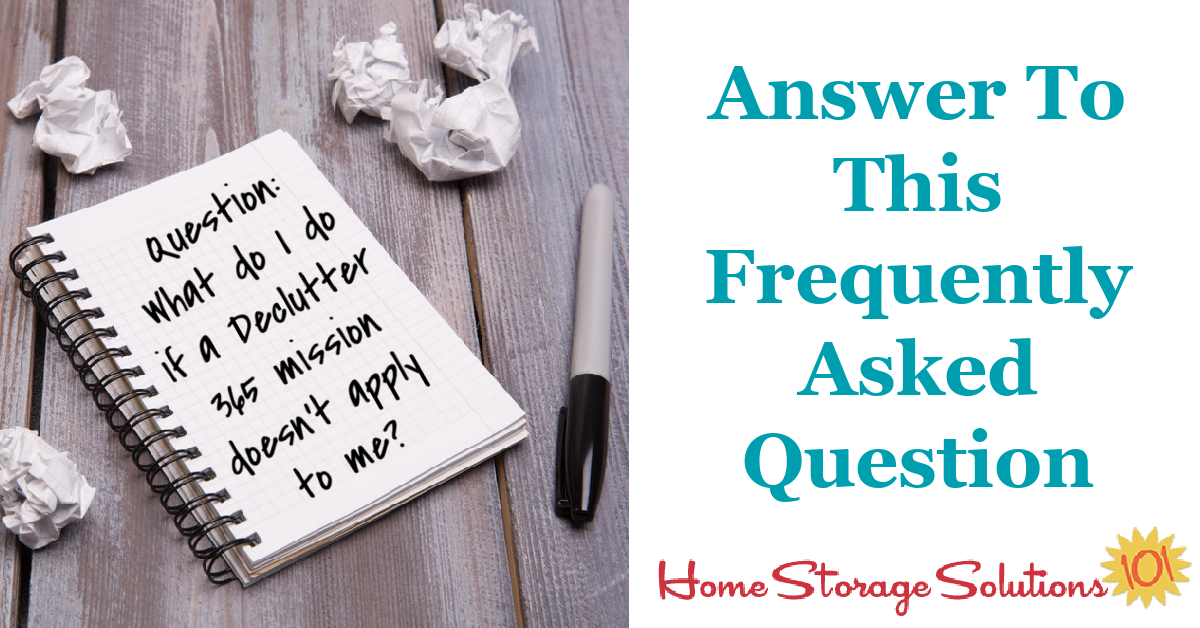 To help, I've got both the short answer, and the longer answer to that question for you below.
Short Answer:
The most important thing is to continue your habit of decluttering for 15 minutes daily, so if a mission doesn't apply to you, find a different decluttering task to do for at least 15 minutes that day.
Longer Answer:
If you look at all of the 365 missions that encompass the Declutter 365 yearly calendar, I feel confident that at least one of those missions will not apply to you. Why? Because the plan is necessarily one sized fits all, and we're all unique, and none of us are average in every single way, which means you're going to encounter times that the plan isn't an exact fit.
That doesn't mean the plan doesn't work, it just means you're going to have to have the flexibility to make the plan work for you.
Common Circumstances When A Mission May Not Apply
Three common times that participants in the Declutter 365 missions find that a mission doesn't apply to them include (and an example of each type):
When I ask you to declutter a type of item you may not even have, such as pool toys or supplies, if you don't have a pool.
When you don't have that room or area of your home that's the topic of the mission, such as if we're focused on decluttering the dining room, and you don't have one in your home. (Note, I don't have several of these areas in my own home either, most notably I don't have a dining room, nor do I have a basement. So you're not alone!)
When you don't have kids currently in your home, and we have a whole section of missions on decluttering kids' stuff.
Remember The Most Important Part Of Declutter 365: Decluttering 15 Minutes Per Day
When a mission doesn't apply to you, unfortunately that doesn't mean that you have the day off of decluttering.
Instead, when a mission doesn't apply I want you to remember that the most important part of Declutter 365 is developing the habit of decluttering for 15 minutes each day.
It is that act of doing the actual work, and looking through your stuff and making decisions about what you'll keep and what you'll get rid of, because it's not serving you anymore, that is where the rubber meets the road, and decluttering progress happens.
Therefore, when a mission doesn't apply to you, which will inevitably happen at some point during the year, I want you to be flexible enough to find a different decluttering task that you can do, for at least 15 minutes that day.
What Types Of Alternative Tasks Can You Do?
Inevitably, when a task isn't applicable to someone participating in the Declutter 365 missions, I get asked to provide them with an alternative task.
I've been resistant to providing a stated alternative, and I'll tell you why. First, practically, I still don't know your exact circumstances, and so my proposed alternative task could also, easily, not apply, and so it wouldn't be particularly helpful.
Second, and more importantly, I think that you learning the skills, and having the flexibility, to determine your own alternative decluttering task to tackle for 15 minutes that day will make you more effective at getting your home decluttered, which is ultimately the result we're all trying to achieve anyway.
These small flexible decisions and changes, that help you shape and mold the overall decluttering missions directly to your home's needs, are what ultimately make the Declutter 365 system so effective.
So now that I've just said I will not provide you with alternative tasks, I will instead give you some hints and guidance about possible alternative tasks that many people use when working with this decluttering program, and that will help you identify good alternative tasks for yourself on any days where the listed mission doesn't apply.
Alternative 1: Catch Up
The first type of alternative mission you can do, when the listed Declutter 365 mission doesn't apply to you, is to catch up with missions you might have missed, or that you didn't complete fully.
Some days, despite us wanting to declutter for 15 minutes each day, life happens and we may not actually do it. Instead of berating yourself for these lapses, or giving up entirely, I suggest treating each new day as a clean slate. (You can read more about what to do if you miss one or more Declutter 365 missions in the calendar here.)
If you track which missions you do, versus which you don't, such as marking an X or a slash on completed missions on the calendar (such as the one shown below, from a participant Sheryl), then you can easily look back at previous days in the calendar and find one you missed and work on the day the listed mission doesn't apply.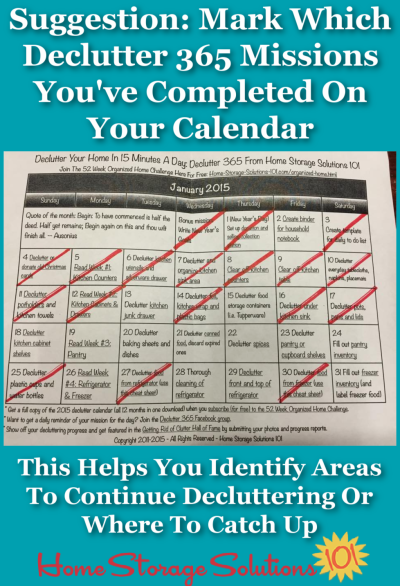 Further, as discussed more in the FAQ about what do when the mission takes longer than 15 minutes for you to complete, there will most likely be days that 15 minutes total of decluttering time doesn't finish the task completely. If you also track on your calendar of which missions need some additional work, you can use the days when a mission doesn't apply to you to instead make additional progress on a mission that you hadn't yet completed.
(If you need to get your PDF copy of the calendar, so you can print them out, here's the link to sign up to get the entire year's worth of monthly calendars emailed directly to you, when you sign up for the FREE newsletter.)
Alternative 2: Work Ahead
Another type of alternative mission that works for many, when the listed Declutter 365 mission for the day doesn't apply, is to work ahead. You can look ahead in the Declutter 365 calendar and find another mission to do.
You can choose whatever mission you want, but good ones to choose to work ahead on include:
Missions where you feel like they're going to take you multiple 15 minute sessions to complete, so you might as well get in some extra sessions now.
Missions listed for days that you know won't work well in your schedule. For example, if you know you're planning on being on vacation, out of town, during a particular week, you can go ahead and work ahead on the missions listed on those days to make sure you get to them, despite not being home to declutter on those days.
Alternative 3: Adapt The Mission To Meet Your Needs
Finally, sometimes a mission doesn't quite apply to you, but it makes you think about a different mission that's similar, and that does apply to you, and you could choose that as an alternative.
One example of this is when I ask you to declutter your kids' bedroom, but you don't have a children's bedroom in your home. While you don't have that particular room, you may have a guest bedroom, or your own bedroom still needs decluttering work. On such days moving to these related tasks may be a way to identify an alternative decluttering mission to do for yourself.
Another example would be while we're decluttering the basement, if you don't have a basement you may want to expand your thoughts to the storage areas of your home you do have. You may have extra stuff crammed in your garage, or you have a storage closet stuffed to the brim.
Thinking about the types of items I'm trying to get you to declutter, as part of the mission, can help you identify similar related types of items or areas of your home that you do have, where you can devote your decluttering time for the day.
Conclusion:
I hope you can see, from this discussion, that there's lots of ways to discover a good alternative Declutter 365 mission for yourself, if the listed Declutter 365 mission in the calendar, for the day, doesn't apply
As long as you keep decluttering for 15 minutes a day I promise that you're going to start seeing results, eventually, even if you can't follow the plan exactly as written. It's the power of decluttering in small steps that we're harnessing as we do these missions, and I can't wait to hear about your positive results as you work each day on these tasks!
If You Haven't Already, Join The Daily Declutter 365 Missions & Get Started Today!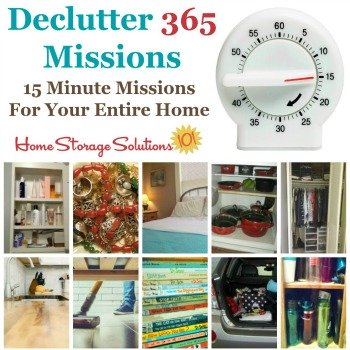 If you haven't already, make sure to get your copy of this year's Declutter 365 annual calendar here (it's FREE!), find today's date, and do 15 minutes of decluttering on the day's mission.
It will be your first step toward decluttering your whole house!

Here's More Answers To Frequently Asked Questions About The Declutter 365 Program
I've got quite a few more FAQs answered, to help you get started and make the most of the Declutter 365 tasks, so find them all in this round up of answers to FAQs: