Christmas Tree Storage Containers
Duffels To Roll Tree Into Storage
These artificial Christmas tree storage containers are great for keeping your tree safe and clean while in storage, and even large heavy trees are easy to move with the rolling wheels.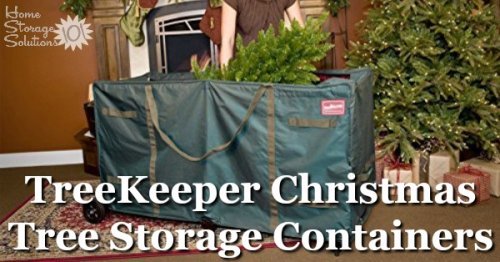 Some people like to put their trees in bags, but this soft storage like box or duffel is another great alternative.
This duffel is made by TreeKeeper, the leader in all things Christmas storage, and the bags are very sturdy.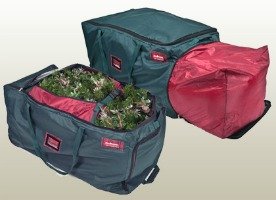 The duffel is a good way to store your tree if you need or want to take it apart for storage, because you don't have room to keep it assembled year round.
It comes in a variety of sizes (see below the video for all of them), including small, medium and extra large. If you've got a really big tree, from 9-12 feet tall, you'll need an XL duffel to keep it in.
It's actually one of the biggest containers I've seen that still seems like it wouldn't be completely unwieldy to deal with, because of the wheels which can keep you from putting out your back moving that huge thing around your home, to and from the storage area.
Here is a video from TreeKeeperStorage.com which shows how you can use the duffel to store your disassembled artificial Christmas tree.
The TreeKeeper duffel comes in several sizes, as stated above. You can purchase one of them through the links below.
Here are some additional similar products available:
Additional Tree Storage Options
As I mentioned before, there are methods for storing your artificial Christmas tree, if you don't want to disassemble it, for instance. There are options available not only for keeping the tree itself assembled, but even an option for keeping it decorated so it is very easy to put up and down each year.
Some additional options available include the following Christmas tree storage containers and bags (click on any of these links to learn more about them):

Some links on this page are affiliate links, meaning that if you purchase a product through them I receive a small commission which helps me provide this information to you for free, plus support my family. My integrity and your satisfaction are very important to me so I only recommend products I would purchase myself, and that I believe would benefit you. To learn more please see my disclosure statement.