Christmas Tree Storage Container
Never Have To Undecorate Your Tree
Imagine a Christmas tree storage container that allows you to never disassemble or undecorate your tree ever again, making set up and put away a breeze each holiday season. Well, now it's here!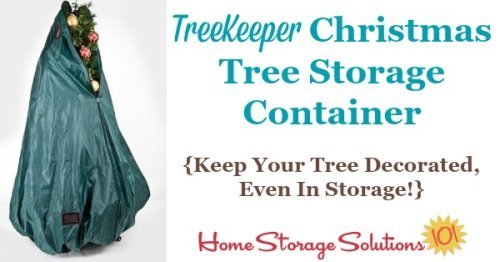 I have to admit that of all the storage solutions I've researched for artificial Christmas trees this is the one I most want, personally. Sadly, I currently don't have room in storage for my tree to stay assembled year round, but if I ever get enough room you know I'll be first in line for one of these.
The reason is that I hate, hate, hate assembling and disassembling the tree, and adding the lights each year. I frankly don't mind putting on the ornaments and think that part is kind of fun.
This bag, unlike some Christmas tree bags, does not compress the limbs of your tree at all. That means at the end of the season you just zip up the bag around the tree, and wheel it into storage, and then the next season wheel the tree out of storage, and unzip the bag. Done.
Oh, and did I mention this Christmas tree storage container comes with a rolling artificial Christmas tree stand included? (You don't have to buy this separately if you get this bag, but I have provided the link so you can learn more about it, if you're interested.)
The rolling stand is what makes this storage system even possible. Have you ever tried to lift a fully constructed Christmas tree, all decorated up? I have, just trying to turn it a bit and it is very heavy. The rolling stand makes moving it easy so holiday decorating is a snap!
Here is a video from TreeKeeperBag.com showing how to use this product to bag up your decorated Christmas tree for storage.
You can click here to purchase this bag for yourself.
In addition, here are several additional similar options for your tree available:
Additional Tree Storage Options
As awesome as it would be to never have to assemble, disassemble, or decorate your artificial Christmas tree ever again, there may not be enough room in your storage area to keep a big tree up all year round. Sadly, that is the case in my current home. :(
But there are always more Christmas tree storage container options available. As explained in more detail above this bag does not compress your tree at all, so it is safe to keep the decorations on it. However, you can get bags that compress the tree so it fits in a smaller area that still allow you to not have to disassemble it each year.
In addition, there are soft box like containers that are sturdy, and also roll to hold your diassembled tree, other miscellaneous items, and not break your back as you move things from and to your storage area each year.
You can learn more about some of these additional Christmas tree storage solutions below.

Some links on this page are affiliate links, meaning that if you purchase a product through them I receive a small commission which helps me provide this information to you for free, plus support my family. My integrity and your satisfaction are very important to me so I only recommend products I would purchase myself, and that I believe would benefit you. To learn more please see my disclosure statement.