Christmas Wreath Storage Bags
These hanging Christmas wreath storage bags, seen below, are designed to fit most regular sized wreaths, and to keep your decoration clean and beautiful while it is in storage between holiday seasons.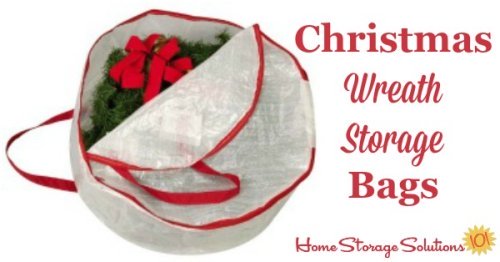 This bag's design is pretty straight forward. To use it just place your wreath inside while it is not in use and hang the bag up in the storage area of your home.
I do not recommend laying the wreath down in the bag unless you are careful to not place anything else on top of it, because otherwise your wreath could get crushed.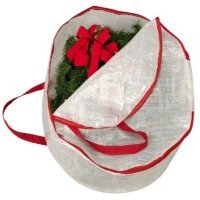 In addition, if you do lay it down for storage make sure to keep it lying on a completely flat surface to keep the wreath from bending and warping while in storage. Otherwise, when you get it out the next year it will not lie flat against the wall or door anymore.
The bag pictured above is made to hold most standard size 24 inch wreaths, but there is also a 30 inch sized bag available (see below). However, if you have an oversized wreath make sure it will fit in this bag before purchasing it since there are lots of wreaths that are larger than these sizes.
Here are both the 24 inch and 30 inch sizes of these bags, along with a Christmas tree storage container made by the same company, Household Essentials, as well as similar products.
Additional Wreath Storage Solutions
There are additional wreath storage solutions available, which are discussed on this site. Above, the Household Essentials brand of Christmas wreath storage bags is recommended if you're looking for a lower cost option.
However, if you need a larger sized bag for oversized wreaths, or are looking for something even more sturdy I also recommend the WreathKeeper bags seen below.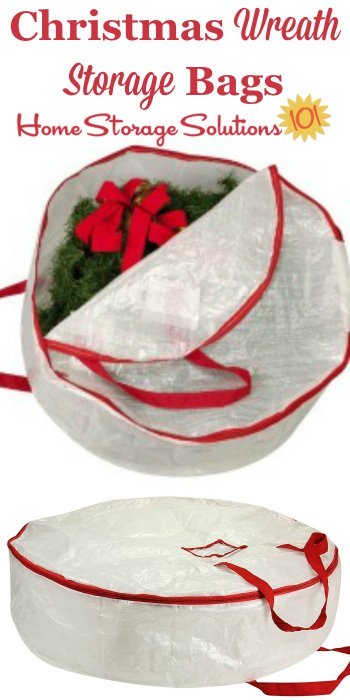 Some links on this page are affiliate links, meaning that if you purchase a product through them I receive a small commission which helps me provide this information to you for free, plus support my family. My integrity and your satisfaction are very important to me so I only recommend products I would purchase myself, and that I believe would benefit you. To learn more please see my disclosure statement.