Week #33 Organized Home Challenge:
Organizing Closet Space For Your Kids
Your challenge this week is to take steps toward decluttering and organizing closet space for your kids' clothes and possessions.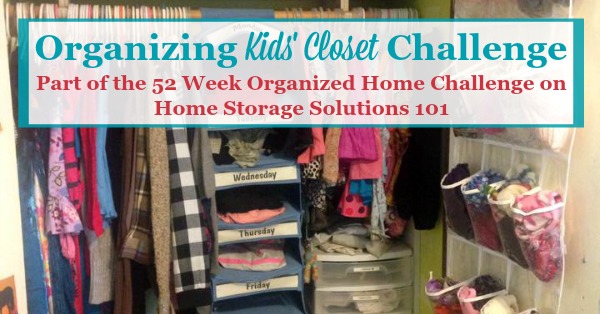 Figuring out how to organize kids' closets so they can find the things they need quickly and easily is important both for children too young to do it themselves, and for your older kids that need to learn some organization skills of their own.
Of course, exactly what you need to do differs depending on how old your kids are. Plus, if you have several children like me (I have three) than you may not be able to get all these closets organized in one week. That's no problem, just go at your own pace for the little ones' closets and get your older children to pitch in for their own.
Are you new here? This challenge about organizing closet space for your kids is part of the 52 Weeks To An Organized Home Challenge. (Click the link to learn how to join us for free for future and past challenges if you aren't already a regular reader).
Do These Steps Yourself Or Help Your Older Kids With Them
If you've got a baby or toddler, for example, the steps listed below are for you to take yourself. However, if you've got kids old enough to help I encourage you to have them assist you (or you assist them) in the steps below.
Make an effort to listen to your children's input about ideas, storage solutions, and ways to categorize items in their own closet. After all, they'll be the one using it, not you. As long as they can quickly and easily find what they need in there then it is organized, even if you'd do it differently.
Step 1: Declutter Your Kids' Closet Space
Before you can begin organizing closet space for your kids you need to get rid of all the stuff that doesn't actually belong in your children's closets. Some items listed below don't belong in the closet, but should go somewhere else in your home, and some of this stuff needs to be tossed or donated or otherwise removed from your home.
Some of the prime culprits in your kids' closets contributing to clutter include:
Depending on the space in your closet and in the rest of your house some or all of these things may deserve a space in your kids' closet. However, honestly assess what the main function of the space should be and make sure there is enough room to fulfill its primary function before adding more things to store in it.
The most common, and typical primary function for a closet is to hold your child's currently used clothing, shoes, and accessories. If that is the primary goal you choose for organzing closet space for your kids then don't, for example, try to cram toys in there too unless and until all the clothing, shoes, etc. fits in nicely, without feeling cramped.
In addition, although storing off season clothes in your own closet may make sense, kids grow so quickly that often something that fit last winter won't fit the next winter, for example. Therefore, if you are saving clothes and shoes for younger siblings (like I do) I encourage you to find another area to store those items in, if possible, to make room for the stuff which is currently in use. This is especially critical for shoes, which can take up lots of room.
You can check out this article all about hand me down kids clothes storage ideas and orgaizing tips for more ideas of the best ways to organize and store these smaller clothes.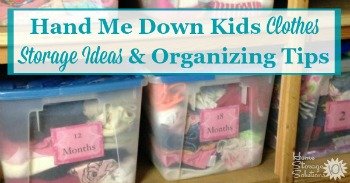 I've written an article that you can use which lists the questions to ask yourself when you declutter kids clothes. This can help you really focus on good reasons to keep or get rid of each item, so you can feel more confident about your choices of what should stay and what should go when working through your children's clothes.
In addition, I've provided even more instructions, as well as ideas for how to break down this large task of decluttering an entire closet into more manageable parts, in the Declutter 365 mission article all about getting rid of kids closet clutter.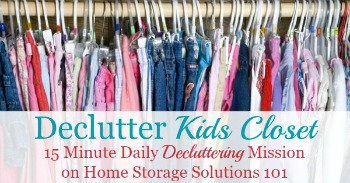 Finally, you can also check out my full list of bedroom and closet clutter to consider getting rid of here.
Step 2: Organizing Closet Space For Your Kids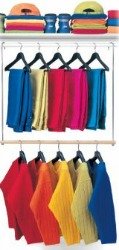 Double Hanging Rod
[Click here to purchase]
Hanging Clothes: How To Double Your Hanging Space For Kids' Clothes
One of the primary functions of a closet is to hold hanging clothes. If you have a lot of hanging clothes I suggest getting two closet rods for children's clothes (such as by using a double hanging rod, such as the one shown on the right), one upper and one lower, because the clothing is much smaller and you can generally accomodate two rods easily. This simple step can double the hanging space available.
The top rod can contain dressy clothing, uniforms, costumes and other items you don't want little hands to get hold of, while the lower rod can hold the items used for everyday wear. Although small children will reach for these items they like to assist in dressing themselves, and they can learn how to hang up clothes without assistance this way.
Closet Shelves & Drawers: Great Storage For Folded Clothing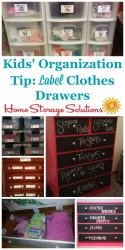 On the other hand, if you have more folded clothing than hanging clothes (that is the case in my home) I suggest one high clothing rod, and shelves or drawers underneath. This gives more room for the type of clothing your child has, and is easier for them to retrieve and put away themselves than stuff on hangers.
For shelves, consider installing a few closet shelf dividers to better able to compartmentalize various parts of the shelves, to store various types of items, and so everything in one stack doesn't topple into everything in another stack.
For drawers, you can use either plastic rolling drawers or storage cubbies to hold their clothing.
You can also store clothing in dresser drawers or wardrobes located either inside the closet (if it's large enough), or somewhere else in the bedroom, if not.
It can really help everyone to have these clothing drawers labeled with their contents. Here's my article on how to use clothing and dresser drawer labels to help organize your kids' folded clothes.
I've found that the way you fold clothes makes a huge difference in how many of them you can fit into a space. For more tips on how to fold clothes, check out this article on the site.
Laundry Baskets Or Hampers: Make Room For Dirty Clothes Too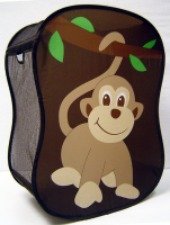 Monkey Laundry Hamper
[Click here to purchase]
While organizing closet space don't forget about the storing of dirty clothing too, along with the clean stuff. That's why I also recommend making room for a laundry basket or bag that either sits on the floor in the closet or hangs from the closet rod or on a hook so your child can easily put away dirty clothes.
For information about this, make sure to check out laundry organization challenge for more ideas.
In addition, you may also want to make a place for your kids lightly worn clothes that can be worn again, so you're not washing every single thing as soon as it touches your child's skin for a second, but instead, only stuff that needs to get washed after several wears. (Check the link for more details in the article!)
Closet Door: Don't Forget About This Underutilized Storage Area
If you've got sliding closet doors this won't work for you, but in many homes the closet door just opens up like any other door. If this is the case in your home don't forget to make use of this space by using an over the door hanging organizer to hold shoes or other small things like a child's hair bows and hair accessories, pairs of socks, or other small objects they use to get dressed daily.
Alternatively, you can hang some pegs or hooks on the back of the door to hang a robe or bath towel, or their winter coat for example.
Step 3: Utilize Kid Friendly Storage Solutions
Above I've given several ideas of ways for organizing closet space for your children, including some specific and general storage solutions. The beauty of organizing your home is that there is no one single right way to do it, so choose the method that fits your home's layout and the type of stuff you've got to store and organize.
However, no matter what storage solutions you use keep in mind the following criteria to make sure your choices are kid friendly and will stand up to tough kid uses:
Add storage and organizing solutions at your child's height, so they don't have to reach too high and to make sure they can see what the storage containers holds
Use pegs and hooks, when possible, since these are easier for young children to use than hangers
Use durable drawers and shelving units since kids can be rough on items
They won't be little forever, so try to choose products that can adjust or change function as your child gets older, so it can be used in a variety of ways
Listen To Taylor's Video Tips For This Week's Organized Home Challenge & Declutter 365 Missions
Do you want more in-depth tips and instructions for how to do this week's missions and challenge all about decluttering and organizing kids' closets? If so, I've got recorded video tips from me, Taylor, from the video archives in the Declutter 365 Premium group, all about this week's challenge and missions.
These video tips are available on demand in the archives, once you're a member of the group.
In Week #33's video I discussed the following topics, among others:
Setting a good example for kids, regarding decluttering
How to declutter other people's stuff, including kids' stuff
Tips for decluttering and organizing kids' closets
Declutter 365 missions for week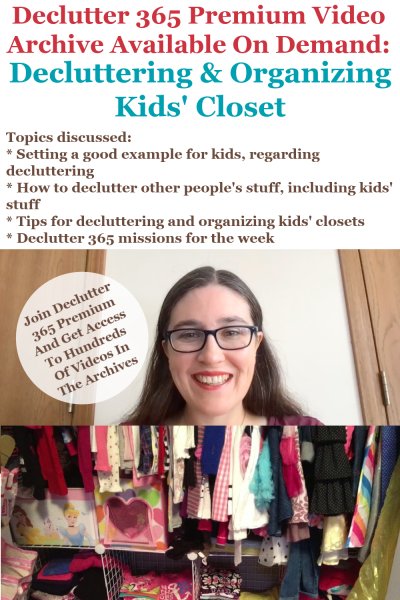 I suggest watching the video archive for the week, perhaps while you're doing some decluttering or cleaning around your home, before starting the week's missions and Challenge, and then you'll be able to breeze through this week's worth of decluttering missions, as well as organize what's necessary for the 52 Week Organized Home Challenge, based on the advice and instructions within those videos.
It really is like having me, Taylor, available, 24-7, as your decluttering and organizing coach, for every area of your home!
Plus, once you're a member of Declutter 365 Premium you get access to not only this video, but all the videos for the 52 weeks of the year, for 5 years (that's over 260 videos available in the archives!)

Tell Me How The Organizing Closet Space For Kids Challenge Is Going For You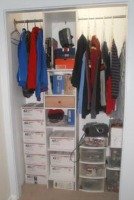 I would love to know how this week's challenge about decluttering and organizing closet space for your kids is going. You can tell me your progress or give me more ideas for how you've organized this area of your home below in the comments.
I also love before and after pictures, and would love to see some of yours. Submit your pictures (up to four per submission) and get featured in the Creative Storage Solutions Hall Of Fame. You've worked hard to get organized, so now here's your chance to show off!
You can also see how I've done on this week's challenge. I've posted my kids' closet organization before and after pictures here, plus some additional pictures from another reader who completed the challenge too.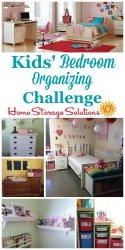 Sneak Peek For Next Week's Challenge
We're working on our homes slowly, one area at a time, so don't get too distracted from your task this week of organizing closet space for your kids. However, I want you to know we're working on our children's rooms for a couple more weeks to come so you don't think you have to tackle everything this week.
Next week we'll move on to organizing the kids' bedroom(s). That means you don't have to focus on anything else this week but closets. We'll get to the other stuff later on.
Make Sure You Make The Most Of These 52 Organizing Challenges
Get your copy of the printable one page 52 Week Organized Home Challenge schedule for the year here, so you can see all the challenges we're working on.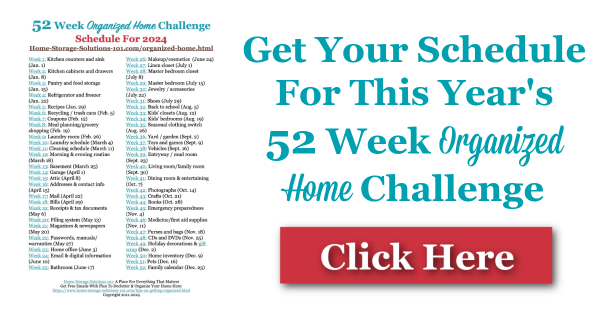 Further, if you'd like to join a community of others who are all commmitted to these organizing challenges and corresponding decluttering missions, and want more interaction with me, Taylor, video archives of Taylor providing more tips for each of these challenges and missions, as well as live monthly group coaching sessions focusing on the skills and habits necessary to maintain your home from now on, I'd urge you to join the private and exclusive Declutter 365 Premium Facebook group (you can learn more about it at the link).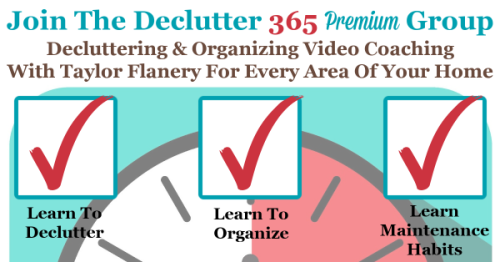 In addition, have you gotten your Declutter 365 Products yet, to make sure you can get even more assistance with decluttering and organizing your home this year? There are both free products (like the Declutter 365 calendar, a $20 value), as well as add-ons, such as daily text messages, planner stickers, and a Premium Facebook group, as well as a pack of printabe decluttering checklists.