Storage For Stuffed Animals: Ideas That Work!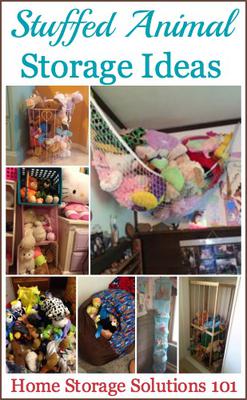 If you've got kids you've got stuffed toys, and they can take up a lot of space. Here's quite a few ideas for storage for stuffed animals that have been shared by readers to give you inspiration.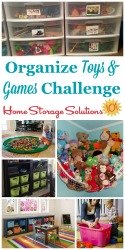 These ideas range from store bought items to do it yourself creations.
The solution that will work for you and your kids will be the one that fits the size of the collection you have. The larger the number of stuffies your family owns the more work and space it takes to store them, obviously.
Therefore, I strongly suggest that along with implementing one or more of the ideas below that you also declutter some of the ones that aren't as special to your child or children, so there is more room.
That's because you should only organize and store items you truly love and play with, and not clutter.
Here are tips for
how to declutter stuffed animals
if you need to do this preliminary step before beginning to organize what you have left.
This hall of fame is part of the
Organize Toys Challenge
on the site.
If you've implemented a good strategy for storing stuffed animals I'd love to see it, and I'll add it to the page. You can
submit your own ideas here
, and the best one will be featured on the site.
So without further ado scroll on down for all the ideas and solutions!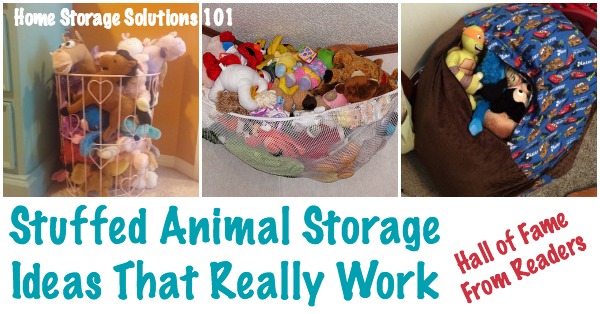 Join in and write your own page! It's easy to do. How? Simply click here to return to kids clutter.
Stuffed Animal Net Or Hammock Keeps Them Off The Floor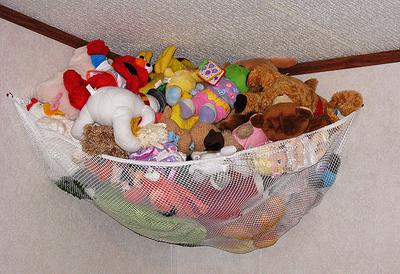 When I first think of stuffed animal storage the first thing I think of is a stuffed animal hammock, or pet net as they are sometimes called.

Perhaps that is because my children have one actually.

There are almost always advantages and disadvantages to everything you can choose to organize and store items and this net is no exception.

The big advantage of a net is that you can utilize wall space that would otherwise be unusable to store your child's little friends. That means you can free up space somewhere else!

In addition, it's easy for kids to add the toys back into the hammock at the end of playing. Just toss them up there.

The disadvantages, at least that I've noticed. First, kids can't always reach their stuffed animals when they want them, depending on how high up you place the net. (You might actually consider this an advantage, actually! LOL) But kids do try to climb sometimes to get them if you're not readily available to help, and can pull the whole thing down so you do have to consider safety, although we have ourselves not had any trouble.

The second disadvantage is that, as you can see from the photo, all the stuffed animals are just in a big jumble and the ones on the bottom just kind of get buried. If your child wants the one low down, you've got to move them all to get to it. It also makes your child sometimes forget about the buried ones, and then what is the point? If they aren't playing with them, why do you have them?

There are various sizes available, from smaller to jumbo. Make sure you choose the one that best fits your stuffed animal collection size.


Photo courtesy of Afroswede
Join in and write your own page! It's easy to do. How? Simply click here to return to kids clutter.
Stuffed Animal Zoo: Fun Way To Contain Them While Keeping Them Accessible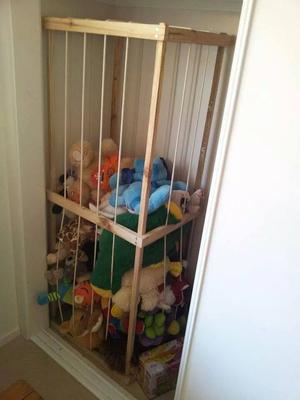 This picture was supplied by a reader, Hannah, who called this her child's "teddy zoo."

Recently this has become a very popular choice for containing these plush toys, and I can see why. It can contain a LOT of stuffies, yet since it is tall it doesn't take up too much space.

Often these zoos are also called "jails," because of the bars. These bars are bendable and movable though, to easily push toys in or pull them back out. Think of it kind of like stores have for those big ball displays.

There are both commercially available and DIY versions of these zoos (see below for some do it yourself examples). In fact, the picture from above from Hannah is I don't think from the most popular brand of these zoos, but may itself be a do it yourself version.


Little Zookeepers
(affiliate link).
With the Little Zookeepers brand the bars are not just exposed bungee cords. Instead, the bungee cords, which are used to allow the bars to be flexible, have been covered with a special bendable plastic tubing. This increases safety.
The Little Zookeepers Zoo is pretty big, with dimensions of 60" x 20" x 11", and fits approximately 90 medium sized stuffed animals in it. Yet, because of it being so tall, it has a small footprint, and takes up just two square feet of a room.
These zoos are rather pricey though, currently costing $157.
However, there are advantages to the premade version, which include obviously, that it is already designed for you, including not using staples or nails in construction, which could hurt small children. In addition, all exposed wood edges are rounded and sanded smooth to help prevent contact injuries. Assembly requires only an Allen wrench (which is included).
If you've got a lot of stuffed animals, and want better access to them than a pet net provides, this
stuffed animal zoo
(affiliate link) may be a good choice for you.
I've written a more detailed article about The Zoo here, so check it out: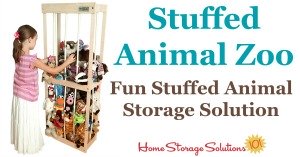 Click Here To Learn About The Zoo
Join in and write your own page! It's easy to do. How? Simply click here to return to kids clutter.
DIY Stuffed Animal Jail: Good Idea For Much Smaller Collection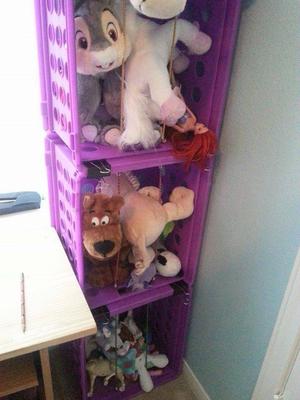 Tanya provided this picture of her DIY stuffed animal jail. She explained that she used milk crates, bungie cords, and clamps to make her own.
She explained: "I just started trying to come up with something cause I was tired of tripping over all her toys. The clamps are just extra large binder clamps, like you would clip on a stack of papers. The bungies are hooked on the holes where the handles meet. It will be easy to see once the crates are stacked."
This can work very well, especially for a much small collection that what was shown above.
There were some readers who saw this photo however, and were concerned about the safety of the bungee cords. I can understand that, because of these cords detach they can whip back easily and smack a child in the face or eye. Not good.
Therefore, another reader, April, decided to do something similar, but just left off the bungee cords (see her photo to the right). As she explained, "I was concerned about the bungees so I set it up without them and it's working just fine."
Join in and write your own page! It's easy to do. How? Simply click here to return to kids clutter.
Ikea Hanging Mesh Closet Organizer Turned Into Toy Storage
by Nicole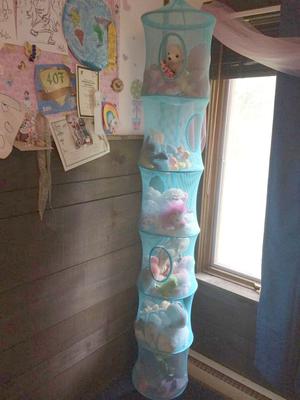 These pictures were sent in by a reader, Nicole. As you can see from the second picture Nicole uses a stuffed animal hammock for many of her children's stuffed toys.
But in addition, she used an Ikea hanging closet organizer to hold even more of them. (These organizers have become really popular now, and you can find them lots of places, not just Ikea, and you can see them down below.)
This hanging chute like organizer obviously can't hold as many plush toys as either a net or a zoo, but it is convenient, kids can easily reach inside to get the toys they want, and it hangs from the ceiling, meaning it utilizes otherwise unusable space for storage.
Because of its size only smaller sized toys will fit in it though.
Overall though I think it's a great idea!
Join in and write your own page! It's easy to do. How? Simply click here to return to kids clutter.
Stuffed Animal Bean Bag Storage: Make Them Kid Friendly Furniture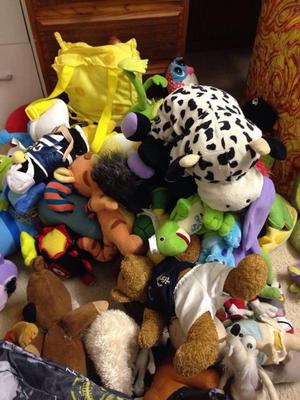 These top two pictures are from a reader, Kylee. She explained, "this is my son's bean bag solution. He can pull them out if he chooses but they must go back in" when he's done playing.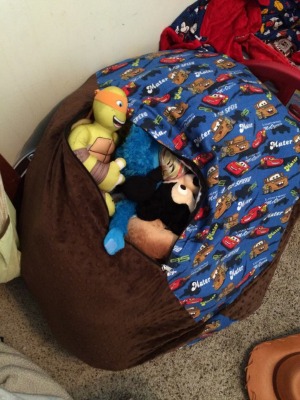 This is a popular suggestion, and in fact another reader, Scarlet, sent in her own picture (on the left) where she did something similar.
In fact, this is so popular that one company, Boon, actually makes a stuffed animal bag which serves a similar purpose (on the right).
The advantage of this method, in my opinion, is that it allows the stuffed animals to serve a dual purpose, as furniture, when your child isn't playing with them.
However, I think the big disadvantage of this method is that they can get really smashed and mishapen as your child lays on the bag, and also putting them all back away when done playing doesn't seem like it would be that simple.
I've not personally used this method though so I would love to hear from some of you that have telling me why you like, or don't, this method since it would really help others decide if it was something they'd like to try.
Join in and write your own page! It's easy to do. How? Simply click here to return to kids clutter.
Use A Small Wire Hamper Or Basket For Small Collection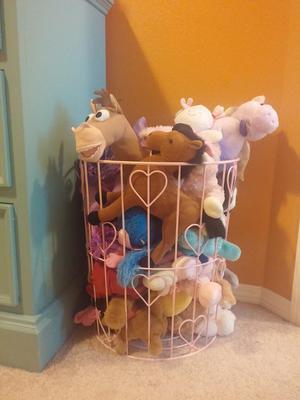 A reader, Sunny, sent in this picture of how she stored her child's stuffed toys. She said, "We use a wire hamper from Target. It's open so my daughter can see what's in there even at the very bottom."

I like this idea, since it is simple and works well for a small collection, and I do think it is helpful to let your child see their toys.

Kids are very visual, and seeing them often helps remind them they are available to play with. Having them in the basket still keeps them contained though, so it is really the best of both worlds!
Join in and write your own page! It's easy to do. How? Simply click here to return to kids clutter.
Think Outside The Box For Storage For Stuffed Animals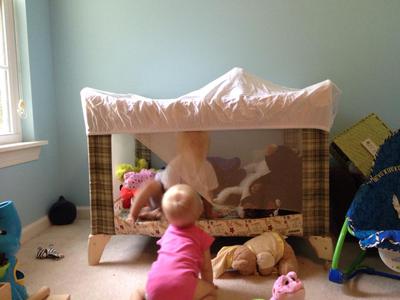 The sky is really the limit when it comes to ideas for storing your child's stuffed toys.

The picture above, for example, is from a reader Nikki. She says, "We throw them in old pak n play made into fort."

See, you can do just about anything!

Here's another idea, this one from another reader, Belinda, show says: "I stuffed them all into this picnic basket. She has more as it normally looks fuller than this. Just push them in. Lol."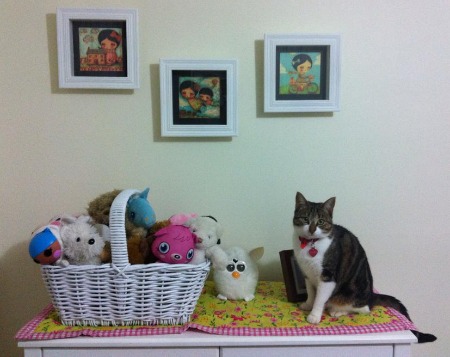 Are You Inspired To Get Organized Now?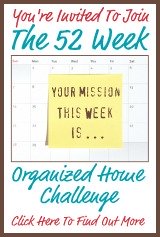 I hope these ideas have inspired you to get your own stuffed animals under control, organized and stored in a way that will work for your family and home.
I've found organizing is contagious. If you're excited now about getting your home back under control I would encourage you to
join the 52 Week Organized Home Challenge
. In this free challenge each week we tackle a different room or type of object around our home to declutter and get it all organized, so that over the course of the year you slowly organize your entire home.
In addition, once you begin dealing with your kids' toys you may want to tackle some other types of toys beside plush ones. Here's some other pages on the site which can give you more ideas about toy organization:
submit them here
and I'll add them to the appropriate hall of fame!
Some links on this page are affiliate links, meaning that if you purchase a product through them I receive a small commission which helps me provide this information to you for free, plus support my family. My integrity and your satisfaction are very important to me so I only recommend products I would purchase myself, and that I believe would benefit you. To learn more please see my disclosure statement.
Related Pages You May Enjoy
Getting Clutter Free Hall of Fame
Declutter Your Home: Finding Your Path To Peace {Series}
Go From Ideas For Storage For Stuffed Animals To Home Page