Use A Stuffed Animal Zoo To Store Your Child's Stuffed Animals
FTC Disclosure: The Little Zookeepers Stuffed Animal Zoo and I have partnered to tell you about this stuffed animal storage solution. As an affiliate I receive a small commission if you purchase one of these Zoos through my links below, at no additional cost to you.
The Stuffed Animal Zoo is a fun way to store your child's stuffed animals right in their bedroom or playroom, to keep these toys contained while also allowing your child to access the stuffies to play with when they want.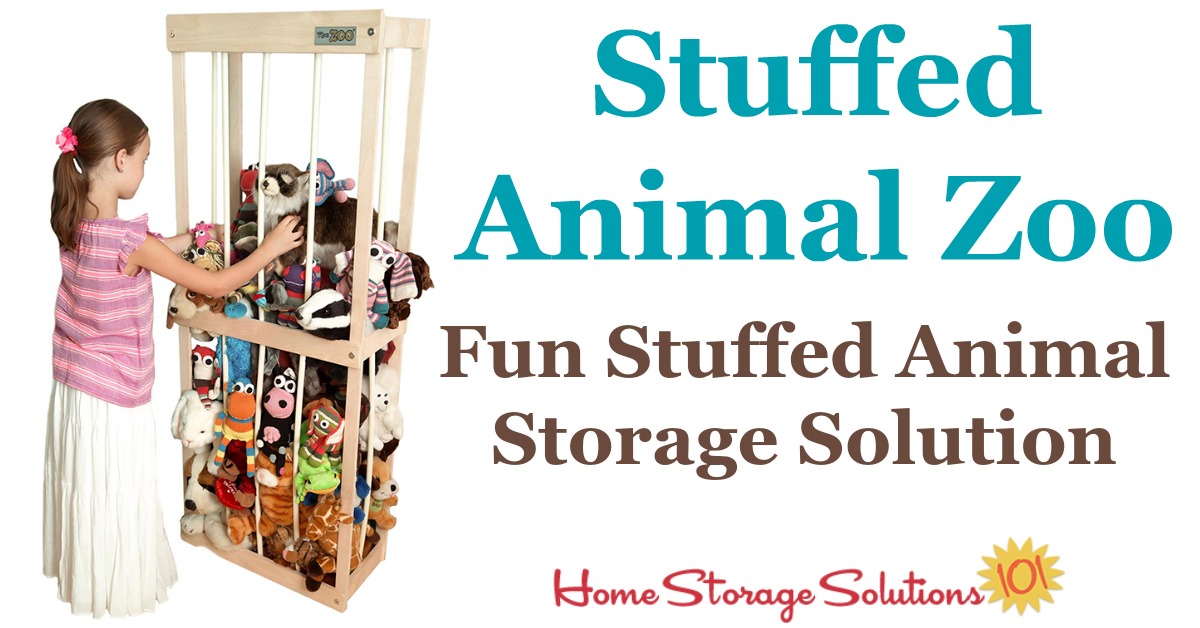 If you have a child that loves stuffed animals (and two out of my three adore them), you know how difficult it can be to contain these little friends in your home.
The thing about stuffed animals that makes them so loveable, which includes their size and unusual shapes, also makes them difficult to fit into a lot of different storage containers.
These storage problems are only heightened by the fact that your child wants to access some of their favorites (which often can change at a moment's notice) quickly and easily, and so storage methods like hanging nets, shoving them inside a bean bag, or taking some of the less used ones down to the basement, don't always work that well.
What I Like About The Zoo
The Zoo can solve several storage problems with stuffed animals simultaneously, while also being a fun way for your kids to keep their animal friends together that they'll enjoy. Here's some of the reasons why I like it:
It holds a lot of stuffed animals (90 or more medium sized animal friends will fit, but it will also accomodate larger sized stuffed animals that are often the most difficult ones to find a place for in your home);
Kids can easily access their stuffed animals by simply reaching between the flexible bars to pull out their favorites, or the special one needed for the specific game or activity your child has in mind without needing your assistance;
The easy access that results from the flexible bars also makes putting the animals back away at the end of play time a breeze. You and your kids will both find it easy to place animals through the bars, or since the top opens you can throw them up and into the "basket" like a game as well;
Since The Zoo uses vertical space for storage these stuffed animals take up a lot less floor space using this storage method (it uses under 2 square feet of floorspace)

What About Just Making Your Own? Consider Both Convenience & Safety First
While the Zoo works really well for stuffed animal lovers, the price of $157 can cause some people to at least contemplate making their own.
That can definitely be done (if you're handy enough), especially with all the DIY stuffed animal storage ideas other readers have shown me on the site.
For example, a reader, Brittany, sent in this photo of a stuffed animal zoo that she found at a thrift store, and then decorated for her kids.
While this method may work for some crafty and handy individuals, I believe purchasing directly from The Zoo makes a lot of sense for most people instead, even if they are typically handy themselves for two big reasons, convenience and safety.
The Zoo Is Easily Assembled & Ready For Use
Instead of having to plan the project yourself The Zoo is ready for use with just a little bit of assembly. It comes with full color illustrated instructions and it is assembled with an Allen Wrench (that is supplied). The only other equipment required is for you to use an electric drill to attach The Zoo to the wall, using hardware that is also supplied.
Safety Is Paramount With Any Storage Solution For Kids
The fact that you should attach The Zoo to the wall brings me to another point about why I really think The Zoo is a better alternative than making your own stuffed animal zoo.
Not only has The Zoo already considered that all tall storage objects used around kids need to be bolted to the wall to prevent injuries from tipping if a child climbs on it, but in addition, the flexible bars of The Zoo are designed with child safety in mind.
Many do it yourself zoos use plain bungee cords as their "bars," but these can snap back causing eye injuries, and there is always the concern about kids putting their head between the bars and getting injured.
The bars of The Zoo are thicker than many do it yourself models because they are covered in custom extruded HDPE tubing to cover the elastic bungee cords, making the whole design much safer for kids.
Since we all have experienced a child doing something we never expected, even when we are very vigilant, the built in safety considerations are really important to me. There's a reason many stories about kids doing things start with, "I'd just turned away for a moment."
Because of the safety and convenience, and the great design of this product that works well in real life to allow kids to play with and put away their stuffed animals without too much assistance, this is a great stuffed animal storage solution for your child's playroom or bedroom.
There is also a 100% money back guarantee, plus the parts are warranted for life, so it's a product the company stands by. So what are you waiting for? If your child loves stuffed animals make sure to check out The Zoo today!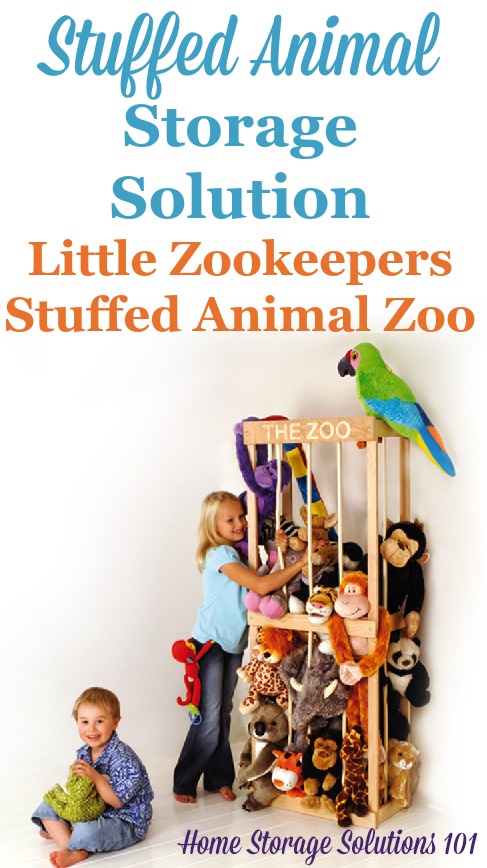 Some links on this page are affiliate links, meaning that if you purchase a product through them I receive a small commission which helps me provide this information to you for free, plus support my family. My integrity and your satisfaction are very important to me so I only recommend products I would purchase myself, and that I believe would benefit you. To learn more please see my disclosure statement.