How To Fold T-Shirts: Simple Trick For Organizing Your Shirt Drawer
Do you feel like your shirt drawers are out of control, with lots of messy t-shirts just shoved and stuffed in there?


It is easy for these drawers to get out of control, but here's a simple trick to get your shirts organized and make it easy for you to find the one you want when you're getting dressed in the morning.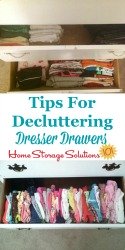 It all has to do with the way you fold your shirts and put them in the drawer.
(Please note, that as always I also suggest
decluttering your dresser or other clothing drawers
, and you can read my tips about that decluttering mission in the linked article. However, even with decluttered drawers, this folding technique can still really improve the overall organization of your drawers!)
Instead of just folding them haphazardly and then placing one on top of the next you can instead fold your t-shirts into a rectangle or square shape and then file them on their side, almost like file folders, to get the result above.
The picture was sent in by a reader, Jennifer, who obviously achieved a dramatic result with just this little trick.
Below is a video which gives you detailed instructions on how to fold t-shirts this way.
Now you may be wondering, now that you've watched the video, whether this method actually works in the long run. See below for how this method for folding has worked for another reader, for her child's t-shirt drawer, for several months now.
*** Update: Several commenters below said they thought that using a flip and fold board, or some similar product was faster than the folding method shown in the video. Yeah, it just might be. Just depends on your preference. You can use one and still place the shirts in the drawers using the method shown if you'd like! Hey, if it works for you, great! *** End Update
Photo courtesy of Jennifer Malonzo-Rocero
Join in and write your own page! It's easy to do. How? Simply click here to return to closets and bedroom clutter.
My Daughter's T-Shirt Drawer Has Stayed Organized & Neat!
by Carolina
Carolina says:
When I saw this idea I just had to try it.
It's been about 6 months since I first started putting my daughters clothes away like this. Not once have I had to take everything out and reorganize. It's been such a big help.
It's easier to put clothes away and organize them and easier to find clothes if we're ever running late.
Taylor says: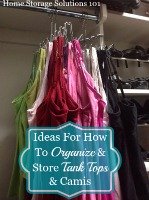 Thanks so much for sharing this photo Carolina, it looks great.
This just shows that this method for organizing and storing t-shirts works well not just for adults, but for kids as well.
Have you done this with your t-shirts? I'd love to hear how it has worked for you, or even to see pictures of the results you've achieved using this method.
You can
click here to submit your own photos
of this or any other organizing trick you've got for clothes. I'll add the best ones to the site and show off your organizing genius!
***Update: By popular demand when people read this page they wanted to know
how to organize and store their tank tops and camis
as well. I have several ideas at the link that you can use if you're interested! *** End update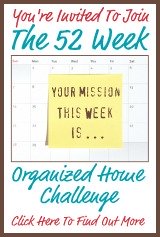 Are You Inspired To Get Organized Now?
Once you tackle one organizing project I've found that organizing can get addicting. If you're all fired up now I'd love it if you joined us to get your whole home organized.
You can
join the 52 Week Organized Home Challenge today
, where over the course of the year we slowly tackle each major area and room in your home and get it all decluttered and organized.
Are you ready for the challenge?
Related Idea: How To Fold Kitchen Towels For Better Organization
The way you fold clothes or other items in your home really can make a difference in organizing!
Here's another example, showing
how to fold kitchen towels and dish cloths
, here on the site. Check out the article!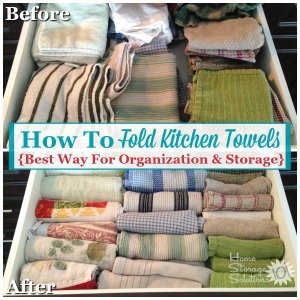 Some links on this page are affiliate links, meaning that if you purchase a product through them I receive a small commission which helps me provide this information to you for free, plus support my family. My integrity and your satisfaction are very important to me so I only recommend products I would purchase myself, and that I believe would benefit you. To learn more please see my disclosure statement.
Related Pages You May Enjoy
How To Organize Closet:
Step By Step Instructions
Get Rid Of Clothing & Closet Clutter Hall Of Fame
Kids Organization Tip: Use Dresser Drawer Labels To Keep Clothes Organized
Go From How To Fold T-Shirts To Organize Drawer To Home Page