Books On Organizing & Decluttering
Reviews & Recommendations
I love to read books on organizing and decluttering, and have read lots of them. Here are reviews and recommendations of some of my favorites that you should read too.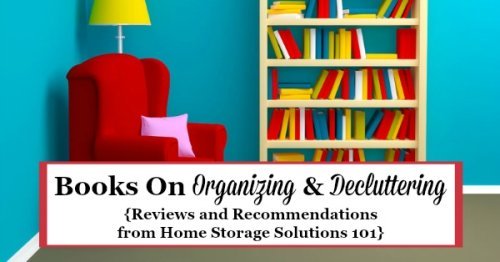 This series is new here on the site, so as you can see I haven't reviewed too many books yet, but that will change! My plan is to review at least one book per month, perhaps more if the mood strikes.
That way you can always be discovering some new cool home organization books that just came out, as well as learning about some classics that have stood the test of time.
I still like the feel of a good book in my hand, but these days there are also quite a few exceptional ebooks, and also books available for e-readers, like the Kindle or Nook that you definitely will enjoy reading so the list below contains all kinds.
Recommended Books On Organizing
Here are some home organization books that I recommend. All these links below go to my reviews so you can learn more about what I like about the book, and why I recommend it.
Some of these books deal with organizing your home, while others deal with organizing aspects of your life. Both are important!
Recommended Books On Decluttering
Similarly, here are some decluttering books I've read and reviewed, and which I think you may enjoy. Again, each of these links below goes to my review of the book explaining why I liked it, and what you can learn from it.
Further, we may need to remove clutter from our home, or from our schedules. That's why you'll find recommendations for both types of books here.
Do you know of other books that you think I might enjoy reading, or that I should write a review about? Please tell me below in the comments and I'll get them on my list depending how many "votes" they get from other readers.
What If You Don't Have A Kindle?
Several, although not all of the books listed above are Kindle books, and I know that sometimes when people see this, and don't have a Kindle, they think they can't read them. But that's not true! You can get a free app which allows you to read Kindle books you've purchased on many different electronic devices, including your computer, laptop, smart phone or tablet. You can find out more about the app, and how to get it, in this article: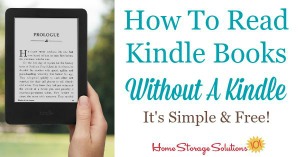 How To Read Kindle Books Without A Kindle
Kindle Unlimited Subscription: Lots To Read Without The Physical Or Digital Clutter
The Kindle Unlimited subscription service is perfect for anyone who enjoys reading a lot, wants to save money while maintaining their reading habit, and wants less physical book clutter, as well as less digital clutter.
Oh, and did I mention that selected audiobooks and magazines are also included within Kindle Unlimited as well?
Check out my Kindle Unlimited review here.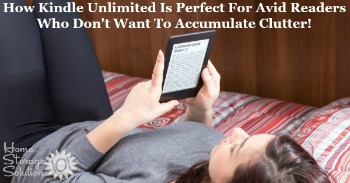 Additional Resources You May Find Helpful
If you're looking for help with organizing and decluttering, or with overall home management, you may also like these additional articles and resources on the site: