Decluttering At The Speed Of Life: My Book Review
FTC Disclosure: I was provided a copy of this book for review (and purchased with my money the audio version), but all opinions and thoughts expressed within this review are my own. I've also provided referral links for you to get a copy of the book for yourself, if you're interested, below.
Here's my review of the book, Decluttering At The Speed Of Life, by my friend Dana White. It's practical, non-judgmental, real world advice to help you declutter your home.

I talk about decluttering a lot here on the site, since one of the main things we do here is work through the daily Declutter 365 missions, so I know I'm talking to the right people about this book. You guys are interested in this topic!
As a person who focuses on decluttering, and gasp, may even be considered a "decluttering expert," I can also say that I've read more than my fair share of books about decluttering, so I know a good book when I read it, and THIS is a great book!
Decluttering At The Speed Of Life is very practical and hands-on, first discussing the mind-set of decluttering, and then using that basic strategy to focus on decluttering the house, room by room.
As I read it (confession, although I was provided a free copy for review I am so addicted to audio books that I purchased the audio version for myself and listened instead) I kept thinking how much this book, and the mind-set of it, really complements what we do here in the Declutter 365 missions.
What I mean by that is that Dana's approach is very much about decluttering in the real world. We all know that the real world is different than those blog posts where someone tells you how they decluttered their whole house in a weekend. Yeah right, like that could have happened in my house (or most people's).
In the real world you have to sometimes start even when you're overwhelmed and don't know where to start, and also you don't have loads of hours at a time to work on your house, even though you perhaps need to.
Both Dana's book and my daily Declutter 365 missions are designed to give you practical tips to get started, and also strategies that don't involve you taking a whole week (or month) away from the rest of your life to get your house less cluttered.
Things I Really Liked About This Book
I liked this book for many reasons, but the biggest one of all is that as I listened I felt Dana was my good, non-judgmental friend.
She's there to help, and she's also been there, done that, and she understands no matter how cluttered your house currently is, (1) it's something you can improve and (2) that it doesn't mean you're a bad person because your house is currently not perfect.
I also liked that this book gave a different suggested order to attack your clutter than I provide, because it made me think a bit and consider yet again how different strategies work for different people.
I don't want to spoil too much of the book, but Dana suggests starting to declutter first in the areas where company can see your home. I listened to her reasons why, and although I still like my suggestion better to start in the kitchen (see January's calendar) since it will have a practical effect on your day to day life more quickly, I can also see her point about why she chooses to start her decluttering at another place in the house.
One of my philosophies of decluttering is that I provide a plan, because that helps people to get started when they don't know where to start, but that ultimately there are lots of paths that can get you to the end destination you want. That means you've got to find the one that works for you. (It's why, for example, I have a suggested calendar but make all the missions available, year round, so you can do them in whatever order you wish).
Dana is a girl after my own heart, and she believes there are lots of paths to a decluttered home too, and that you should embrace progress in whatever form it works for you. Therefore, her suggestions provide an alternate way to start and if that's what works for you I think we'd both say, "you do it girl!"
Finally, I've mentioned that I actually listened to this book, and if you're a fan of Dana's podcast I recommend you do the same, if you can. The reason is that it feels like a friend talking to you (of course, Dana and I are real-life friends, and I usually talk to her weekly, so hearing her voice was especially enjoyable for me). Listening also allows you to both hear the book's contents and begin to take some of the actions recommended in the book at the same time.
If you haven't ever listened to one of Dana's podcasts, I'd recommend them as well. Here's the one where she and I discuss paper clutter, which will introduce you to both of us, if you haven't heard us speak, as well as to give you a bit more guidance about decluttering paper, because that's the one area the book really doesn't delve into. The book is focused on lots of other physical clutter, but not particularly paper.
Where To Get The Book
You can find the book in bookstores across the country, as well as online, at places like Amazon. It also comes in several formats, including soft cover, Kindle, and as an audio book (read by Dana herself!). I've provided a link to several of the formats below, and I'd encourage you to get yourself a copy today!
Dana has also written another book, so here's my review of How To Manage Your Home Without Losing Your Mind.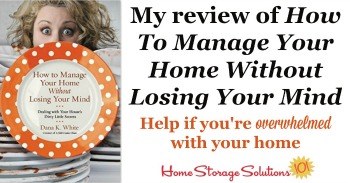 In addition, here is my round up of my reviews of books about organizing and decluttering in case you're looking for more things to read!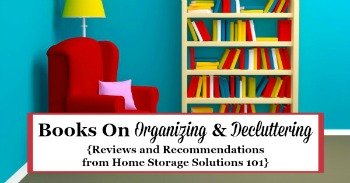 Some links on this page are affiliate links, meaning that if you purchase a product through them I receive a small commission which helps me provide this information to you for free, plus support my family. My integrity and your satisfaction are very important to me so I only recommend products I would purchase myself, and that I believe would benefit you. To learn more please see my disclosure statement.