How To Simplify Your Life
7 Guiding Principles To Help Anyone Declutter Their Home and Life
FTC Disclosure: I was provided a free copy of this ebook for review but the opinions and statements within this review are my own. I have provided referral links throughout this post to allow you to purchase this book if you so choose.
Learning how to simplify your life is a goal many of us have, but we get overwhelmed trying to figure out how to start and move forward.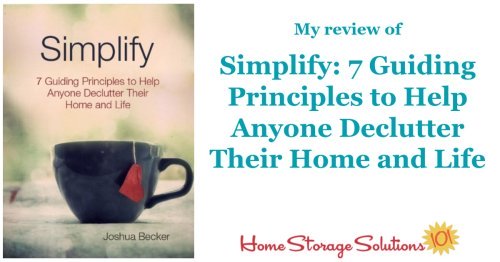 That's why I enjoyed this Kindle ebook from Joshua Becker titled "Simplify: 7 Guiding Principles To Help Anyone Declutter Their Home and Life."
Simplify is a book that celebrates that you can live more by owning less. This is a powerful message for anyone looking to organize their home and life, such as all of us participating in the 52 Weeks to an Organized Home Challenge.
Joshua Becker, who wrote the 78 page ebook, is the man behind the blog Becoming Minimalist. The blog explores the topics of simple living and minimalism, and the transformational journey he and his family have been on since deciding to live life with less possessions.
Further, Simplify has been described as a "must read" by Leo Babauta of Zen Habits, and I would agree it can help you clarify more about what you want to keep versus get rid of as you go along your decluttering journey.
How To Purchase This Book
You can purchase this Kindle book here:
What If You Don't Have A Kindle?
This is a Kindle book, and I know that sometimes when people see this, and don't have a Kindle, they think they can't read that book, but that's not true! You can get a free app which allows you to read Kindle books you've purchased on many different electronic devices, including your computer, laptop, smart phone or tablet. You can find out more about the app, and how to get it, in this article: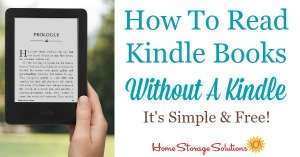 How To Read Kindle Books Without A Kindle
Additional Decluttering & Organizing Resources On The Site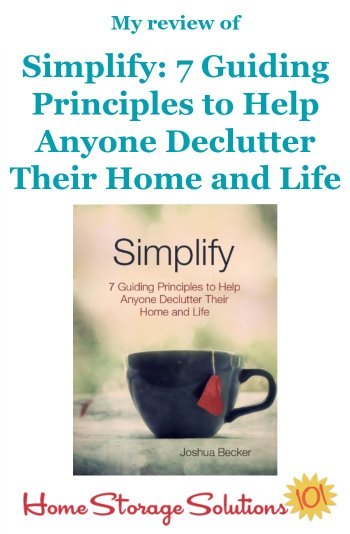 Some links on this page are affiliate links, meaning that if you purchase a product through them I receive a small commission which helps me provide this information to you for free, plus support my family. My integrity and your satisfaction are very important to me so I only recommend products I would purchase myself, and that I believe would benefit you. To learn more please see my disclosure statement.