How To Declutter Cookbooks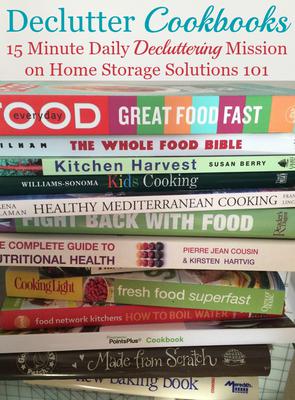 Today's mission is to declutter cookbooks and cooking magazines.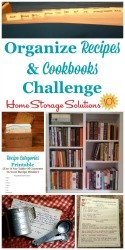 It corresponds with a similar mission we did just a few days ago, which was to
declutter recipes
.
Both of these missions are designed to be done while we're working through the
Organize Recipes & Cookbooks Challenge
, which is one of the 52 Organized Home Challenges here on the site.
So the first question you might be asking yourself is why did I separate out cookbooks from recipes when deciding how to do these missions?
The simple reason is that I like to break things down into smaller more bite sized chunks to make the overall task less overwhelming, and so this seemed like an easy way to separate the task out.
But in addition, the reason is that while the thought process when decluttering recipes and cookbooks definitely overlaps, cookbooks also have their own thoughts and considerations to take into account and so your criteria for which book you'll declutter may be different than which individual recipes you'll keep or discard.
Before we begin with the discussion though, I know for some of you, who have only a few cookbooks, this mission will be a breeze.
But others, who are cookbook collectors, this can be seem daunting.
Like with all of these missions that for some take more than 15 minutes, no worries. Instead, do these steps listed below in 15 minute increments, and you will get it all accomplished even if it takes you a bit longer because of the size of your collection.
Gather All Your Cookbooks & Cooking Magazines Into One Place
The first step in the process is to get all of these items together in one place, so you can see what you really have.
And although we'll focus on
decluttering magazines
in a later mission, today you'll also focus on any cooking magazines you've got, because I've found the thought process for deciding which ones of these magazines to keep versus get rid of is more similar to cookbooks than other types of magazines.
Distinguish Between Cookbooks You Enjoy Collecting Versus Actually Cooking From
One of the things I've noticed is that there are many cookbook collectors amongst us. And I completely understand why. There are some truly gorgeous cookbooks out there, with beautiful pictures and awesome looking food that makes your mouth water.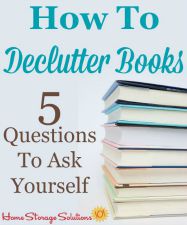 However, for just a moment, put on your practical hat. You need to think about cookbook collections, that you don't actually really cook from, in a different light than those which contain recipes you actually like to cook for your family.
For all the cookbooks that you haven't actually opened in a year or more and cooked a recipe from, you need a separate set of criteria than what I'm discussing below, because these are just part of your book collection. In that case check out my article on
5 questions to ask yourself when decluttering books
.
For all books that you do actually, sometimes, cook from, or think you might want to cook from in the future, keep reading for how to declutter these cookbooks.
Assess How Much Storage Space You've Got To Hold Cookbooks
One practical way to determine how many
of a kind of item you can reasonably keep in your home is to decide how much space you've got to devote to storing these items.
You will need to keep reducing your collection until you can fit the books into the space in your kitchen, living room, or wherever you store your cookbooks, that they fit in.
In the future, if you make a rule for yourself now about how much space you have to devote to them, as you acquire a new cookbook it will help you keep from again accumulating cookbook clutter, because you'll have to get rid of enough books to make room for the new ones.
You can quickly identify which ones you don't really care about, or that don't fit your tastes anymore, or your nutritional needs, and feel less guilt about getting rid of them. After all, you want to keep only the best of the best in the limited space you've got.
How Many Of The Recipes In This Book Do You Actually Use?
Next, go through each book and assess how much you actually use it.
With recipes you can look at each recipe individually and decide, does my family like this enough to keep it? But with a cookbook it isn't just one recipe, but a whole collection of them.
There are some cookbooks that become your go to, or have basic instructions for all kinds of things and end up getting referenced frequently, for many different recipes and cooking techniques.
And then there is a cookbook that does have one or two really good recipes, but the rest are duds, or don't fit your taste, or for whatever reason you don't cook any of the other recipes.
Those books that have only one or two good recipes are prime candidates for decluttering. For books like this I suggest making a photocopy of the recipe you do love, or handwriting it on a recipe card, or whatever method works with
the way you've decided to organize recipes
in your kitchen. Then, after you've saved the gem you can get rid of the book and free up a lot of space.
What To Do With Cookbooks You Decide To Get Rid Of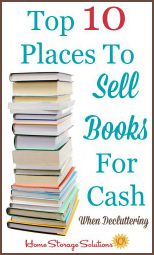 Once you've decided to get rid of some of your cookbooks the next question is, what do I do with them?
The two main ways to get rid of books is to donate them or sell them. Here's my
article on the top 10 places to sell books for cash
.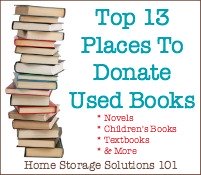 In addition, you can donate your books. I personally favor this method, at least for books that aren't very valuable, so that I can just drop them off and get them into the hands of someone who will appreciate and read them.
If you don't know where to donate your books please check out my
article of the Top 13 places to donate used books
for ideas.
Below you can find photos from readers who've done this mission to let you understand their thought process and plans for tackling this challenge, and to get you inspired and excited to do it too. You can get rid of your cookbook clutter!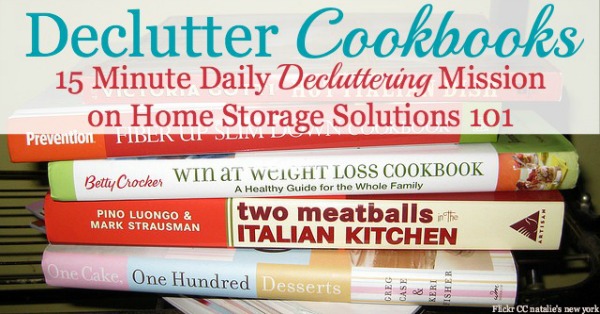 Top photo courtesy of a reader, Kelly, bottom photo courtesy of natalie's new york
Are You Ready To Get Rid Of Your Cookbook Clutter?
The photo above is from a reader, Earlene. She said, "This is not really a before. It's a here-we-go-to yard-sale- and an after. There used to books on both shelves and a jillion papers!"

So are you ready to do exactly what Earlene did in this Declutter 365 mission, and get rid of your excess cookbook clutter?

Once you've gotten rid of what you no longer want to keep, make sure to check out the companion article for this mission which is all about ideas for organizing the cookbooks you've got left.


Want To Do More Decluttering Missions? Get Started With Declutter 365 Today!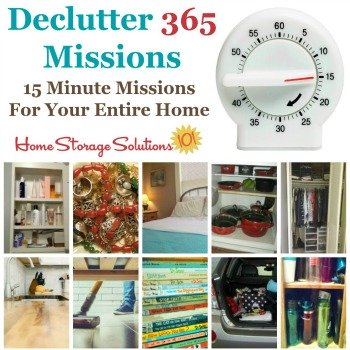 Once you declutter one type of item in your home I bet you'll want to declutter some more. After all, decluttering gives you a great reward for even a small investment of time and energy.
The Declutter 365 system is designed to help you declutter, over the course of a year, your entire house, with just 15 minutes of decluttering each day!
Hundreds of thousands of people use this proven system to get rid of their clutter, and bring peace and calm back to their homes.
Declutter 365 works to guide you to clear the clutter without overwhelm, focusing on just one small area at a time, and without making a huge mess in the process, so you see consistent forward progress without all that "messy middle" that makes it even harder to function in your home than before you started.
In addition to building a daily decluttering habit, the Declutter 365 program, along with the accompanying 52 Week Organized Home Challenge, teaches you the skills, habits, routines, and mindsets necessary to maintain the clutter free and organized state of your home from now on, so it'll never be as messy and cluttered as it is right now, ever again.
If you haven't already, make sure to get your copy of this year's Declutter 365 annual calendar here (it's FREE!), find today's date, and do 15 minutes of decluttering on the day's mission. Then, repeat again tomorrow, and again and again. Over the course of the next year, if you do this 15 minutes per day, you'll declutter your whole house!

Related Pages You May Enjoy
Getting Clutter Free 15 Minutes At A Time Hall Of Fame
Getting Rid Of Kitchen Clutter Hall Of Fame
Go From How To Declutter Cookbooks To Home Page