Top 10 Places To Sell Books For Cash
Here are the top 10 places to sell books for cash, while decluttering or just to make a little extra money for something you want or need.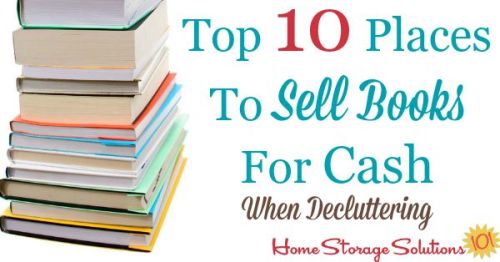 Before I begin the list though you need to understand that not all places you can sell your books are equal.
You've got to find the place which will take the types of books you're selling, in the condition you've got them in.
That is why, below, I've separated out this list (which is in no particular order) to discuss first general books, and then specifically textbooks.
Further, when comparing prices for how much places will pay for your book it isn't always easy to compare apples to apples.
That's because you need to consider the payment method, how much the fees are, and even things like convenience of being able to print out a shipping label or paying for postage.
If you've got to pay postage, for example, it will effect how much you have in your pocket at the end of the transaction.
Similarly, the more convenient it is to sell your books, typically the less you'll get paid for them. The harder you've got to hustle to get the best price the more you can, in theory, profit. But you have to know if it is worth your time.
Know Your Book's ISBN Number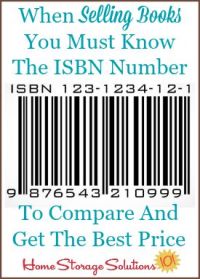 To sell your books at many of the websites or locations I've suggested below you'll need to know your book's ISBN number.
The ISBN number is a 10 to 13 digit number usually displayed above or below the bar code that is on the back of the book (most of the time).
Sometimes you have to hunt for it a bit more, such as inside the front cover or even a couple pages in, but typically not.
Typing in one of these codes isn't much of a hassle, but if you've got LOTS of books to sell it may become so. If you've got a lot of books to sell I suggest using one of the places below which has an app which is designed to scan the books bar codse. This will help you when you've got lots of books, just to save time and sanity, at least when possible.
General Books
1. Bookscouter.com
Bookscouter.com is a website that helps you streamline the process of finding the best price, online, for your book.
In fact, when you type in the ISBN of your book it compare prices from over 35 book-buying websites making it easy for you to find the site which is paying the most for your books. This price comparison will save you a lot of time.
In addition, they have an app for your iPhone or Android that allows you to use a barcode app with their program and look up books without even having to type in the full ISBN.
If you are short on time and don't want to have to compare prices yourself, Bookscouter is a good one to try first.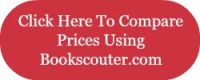 2. Amazon.com (as Third-Party Seller)
There are two ways to sell books on Amazon. The first is to sell your books as a third party seller
(The second way is for textbooks, and is mentioned lower on the page).
The link I've provided is to Amazon itself and explains in greater detail the process, but basically you need to set up a sellers account and then list your books for sale.
Once the book you've listed is sold you will then need to ship it to the customer who has purchased it, and then Amazon will pay you, after collecting a fee for facilitating the transaction.
Just as with Half.com you must provide good customer service and fully disclose the condition of the books so you can keep a good sellers rating, so people will buy from you.
3. Sell Back Your Book
Sell Back Your Book is a website where you can enter the ISBN number of the books you want to sell, and it will tell you how much it will pay for them.
They do have apps available for both Android and iPhone to help you scan books more quickly to determine which ones they're willing to buy and how much they will offer for them.
They will also pay for shipping, which makes it easier for you to figure out your profit for any books you sell with them.
4. Bookstores.com
Bookstores.com is one more place that will pay you for your books and has free shipping.
Many of these Internet sites are similar in their method for buying books, but they don't all pay the same price, and are not all accepting the same type of books.
You may need to use more than one to be able to sell them all for the highest price.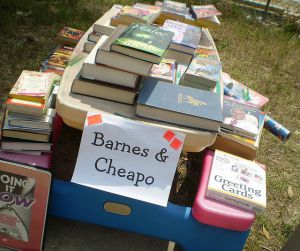 5. Half Price Books Stores
Half Price Books is a chain of book stores currently in 16 states, and I've personally sold books to them. They require you to bring in your books in person to one of their stores. They'll review your books while you wait, and then make you a cash offer for all of them.
They pay the most for more recent publications and those that are in high demand, but will buy all your books, not making you haul some of them away that don't meet their standards. But the ones that they decide not to sell won't of course, give you much if any cash and they'll donate them or recycle them. But you don't have to deal with disposal for any not worth anything!
6. Yard Sales & Garage Sales
If you are having a yard or garage sale and would like to put your books out, try to sell them in bulk or price them for $.25 to $1 each.
Don't expect to make a large amount on books as they are generally weaker garage sale items.
7. Half.com
Half.com is a company owned by eBay but where eBay specializes in auctions, half.com lists books to sell for a set price.
They will sell both general books as well as textbooks.
You will need to create a seller's account to start listing books (by ISBN).
Full disclosure of the condition of the book is important to keep your seller ratings high (which encourages more people to buy from you).
When you sell a book, half.com will take a percentage of the final pay for their fees. The payments you receive from sales of your books go into a PayPal account.
Textbooks
Textbooks quickly get out of date, so be prepared to only sell relatively new ones, typically within the last 3-5 years. If your textbooks are very old then it is highly unlikely you'll find a willing buyer amongst this list because a new edition will most likely have come out making your textbooks obsolete.
If you're lucky enough to have a book or books though that these companies want, they'll pay you pretty well for them. I suggest putting the ISBN number for your books into several of these sites below to see which one will give you the best price. Since it just takes a couple keystrokes to get quotes it's worth the time investment.
8. ECampus.com
ECampus.com. ECampus.com claims to pay top dollar for your used textbooks. Enter your ISBN number, receive a quote and get a free shipping label to mail your books in. You can receive your payment in a direct deposit, check or store credit.
9. Cash4Books.net
Cash4books.net buys mainly textbooks, although they also buy a few other books as well. The website is also available as an app, and it allows you to put in the ISBN of a book and will tell you what they will pay for that title.
If you are using the smart phone app then you can scan barcodes with your phone instead of typing each one in.
They pay by either PayPal (they even pay the PayPal fees!) or by check and they offer free shipping.
10. Textbook Rush
Textbook Rush is yet another website where you can sell college textbooks. Enter in the ISBN of your text book and they'll give you a price they will pay you for it. They will even give you a prepaid label to ship your books back. Money will be sent to you by check or PayPal.
Honorable Mention For Textbooks: Amazon Trade-In Program
Above I discussed how to sell general books on Amazon, as a third party seller. However, there is another way to sell certain books, typically textbooks, through Amazon.
This method only gets honorable mention because you get Amazon gift cards for this method, not actual cash.
Thing is, if you want to use Amazon to get rid of some of your textbooks this way is frankly simpler than being a third party seller, that is if Amazon is accepting the books you have for sale.
The Amazon program is called the Amazon Trade-In program
.
As part of the trade-in program you can search on Amazon.com by title, keyword or ISBN (displayed near the barcode) for your book but they will only accept certain titles. If your book is listed, you will get a free shipping label and Amazon will pay in the form of an Amazon gift card for books that they accept.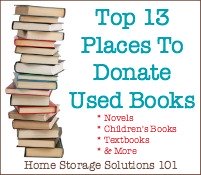 I'd like to hear from you! Where have you had success selling your books? Tell me in the comments below.
In addition, if you decide it is just too much work to sell your books while you're decluttering, you can also check out my article on the top 13 places to donate used books so they still get out of your home and to someone who can appreciate and use them.
Photo of books sold at yard sale courtesy of EvelynGiggles
Some links on this page are affiliate links, meaning that if you purchase a product through them I receive a small commission which helps me provide this information to you for free, plus support my family. My integrity and your satisfaction are very important to me so I only recommend products I would purchase myself, and that I believe would benefit you. To learn more please see my disclosure statement.