How To Declutter Recipes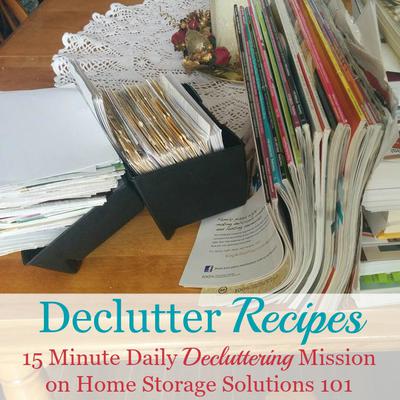 Today's mission is to declutter recipes, starting with loose recipes and cards, and those in recipe binders, and eventually expanding into decluttering even electronic and digital recipe clutter.
If you are a recipe collector of any sort this may sound like a daunting task, plus you may be thinking, "this will take me a lot longer than 15 minutes."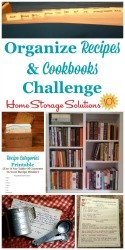 Well, it sure might depending on how many recipes you've got to sort through. But don't panic. When things take longer than 15 minutes, instead make it a 15 minute at a time kind of task.
This mission is designed to be done while working on the
Organize Recipes & Cookbooks Challenge
here on the site.
We specifically have a different mission coming up for
decluttering cookbooks and cooking magazines
, which have their own set of decluttering hurdles, so in this article I'll focus instead mainly on paper recipes, with some quick focus on digital recipes as well.
In this week's challenge article I discussed the 4 main types of recipes: (1) practical; (2) sentimental; (3) aspirational; and (4) fantasy. As I mentioned in that article I've found the hardest recipe items to declutter are the aspirational and fantasy recipes, so again, I'm mainly focusing on them in this how to article.
You don't want to declutter your tried and true recipes. After all, they're tried and true. And the sentimental ones, well, you don't necessarily need them in your kitchen, especially if they might get ruined with splatters and spills, but again I know recipes can hold memories, so I'm not really focused on decluttering those either.
What People Have Trouble Decluttering: Recipes They Want To Try But Haven't Yet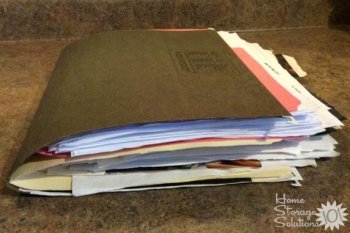 Photo courtesy of a reader, Jessica
Many times when you collect recipes to try for later you're basically making yourself a big to do list.
But taking things off your to do list can be liberating, and makes you feel like a weight has been lifted from your shoulders. If you think of decluttering recipes in this manner while you're doing this mission you'll feel really good about the results you get as you work through the process.
Simple Steps When Decluttering Paper Recipes
Here are the steps to take when doing this mission.
Gather All Your Recipes Into One Place
First, gather all of your recipes into one place. This includes loose recipes, and those shoved into recipe binders or file folders.
When you do this it can be eye opening, because as you see the huge pile of recipes you'll realize with certainty there is no way you'll be able to try all those recipes within a reasonable time. But that can also be a good thing, since you're going to winnow it down to only the best ones to try.
Separate Out The Tried & True Recipes & Sentimental Recipes To Deal With Later
Similarly, separate out any sentimental recipes, such as handwritten recipe cards from your mother or grandmother to deal with at a later time, using different criteria than I'm going to discuss below.
Get Rid Of Recipes That You Don't Find Appetizing Anymore
Once you've done that you should be looking at a pile of recipes you've never actually tried before (or that you tried and hated).
Start by getting rid of any recipes that contain ingredients you know you or your family won't actually like to eat, or don't fit with the way you eat anymore.
Often, if you've been collecting recipes for years, you'll find as you finally go through the recipes you collected years ago that they don't actually appeal
to you anymore. Your tastes or nutritional requirements have changed. Don't feel guilty to toss (or recycle) anything that makes you crinkle your nose a bit, and think yuck.
Get Rid Of "Fantasy" Recipes
Similarly, also remove from the pile really awesome recipes that you know, realistically, that you will never actually attempt to cook.
I have defined these in my main article as "fantasy" recipes. What fantasy recipes are for you is very personal. I'll tell you that for me I love to find pictures of beautifully decorated cakes. I find them gorgeous and genuinely like looking at them. I also am honest enough with myself to know that if I ever attempted to make these gorgeous cakes the only place you'd see the picture of my cake would be on CakeWrecks, or a Pinterest fail website. Cake decorating isn't my talent, and while I like looking at the photos I have neither time nor actual desire to put in the effort to get good at it. It is just a fun thing to think about for me.
When working on decluttering your recipes you need to come out at the end with a functional, practical system for trying new recipes without getting overwhelmed with lots of excess papers. Fantasy recipes may have their place in your home (they are more like a hobby or craft honestly) but don't clutter your recipe organizational system with them. So remove them from your piles now.
Loosely Categorize What's Left & Then Declutter Until Reach Reasonable Amount To Try
Once all those recipes are gone, next loosely categorize the recipes you've got left. Five to seven categories are best, that are quite broad, like breakfast, lunch, dinner, drinks, snacks, etc.
Once you see how many recipes you've got in each category have a little heart to heart discussion with yourself, asking yourself how many recipes from that category you can actually try, and within what time frame.
If you decide you have room in your meal plan for one new breakfast recipe each week, for example, you know, realistically you shouldn't keep more than 52 untried breakfast recipes in that category if you want to save recipes for a year. (Honestly, I think 52 is still a bit much, myself, since you'll continue to gather more recipes as time passes, but this example is for illustration purposes only.)
Winnow it down to the best of the best in that category within the number you've chosen. If you only want to try 3 new punch recipes this year don't keep 10 punch recipes. Get rid of the less appealing ones.
Remember too, we live in the age of information. Almost every recipe, or a variation of it, can be found on the Internet. You do not need to keep every recipe. You can come across it again, trust me!
Once you've winnowed down your recipes into reasonable amounts for each category you can follow the steps in the main Organize Recipes challenge article (linked above) to organize those remaining recipes into a workable system.
Decluttering Digital Recipes
A quick note about digital recipes. You can accumulate digital recipe clutter almost more easily than paper recipe clutter because it seems you have endless space to store things digitally.
But you can follow a similar procedure as listed above for paper recipes when decluttering digital recipes. First, separate out all the tried and true recipes, and also move all the fantasy recipes into a different space. Then, categorize in a similar manner, and liberally hit the delete button to keep only the best of the best from each category!
I know that getting rid of excess recipes can feel overwhelming. I hope these instructions help make it easier for you. But in addition get inspired by seeing the results below of others who've already done this Declutter 365 mission to get you ready to tackle this task for yourself.
Top photo courtesy of Katrina, and collage mission, top image from Julli
Are You Ready To Declutter Your Recipes Now?
Here's a photo above, from a reader, Melissa, who said, "Recipe binder organized once again. That pile is only half of what I tossed."

I hope this article has inspired you to toss your excess and clutter recipes too!

Once you have only recipes you truly want to keep then you're ready for the next phase of this process, which is to organize your recipes. Remember you can check out the how to organize recipes article here on the site to get more ideas on that next step.


Want To Do More Decluttering Missions? Get Started With Declutter 365 Today!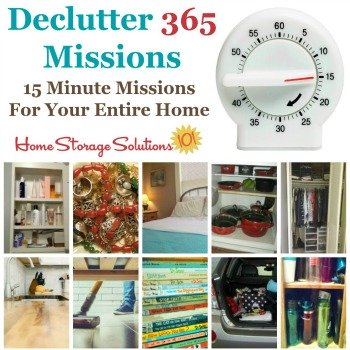 Once you declutter one type of item in your home I bet you'll want to declutter some more. After all, decluttering gives you a great reward for even a small investment of time and energy.
The Declutter 365 system is designed to help you declutter, over the course of a year, your entire house, with just 15 minutes of decluttering each day!
Hundreds of thousands of people use this proven system to get rid of their clutter, and bring peace and calm back to their homes.
Declutter 365 works to guide you to clear the clutter without overwhelm, focusing on just one small area at a time, and without making a huge mess in the process, so you see consistent forward progress without all that "messy middle" that makes it even harder to function in your home than before you started.
In addition to building a daily decluttering habit, the Declutter 365 program, along with the accompanying 52 Week Organized Home Challenge, teaches you the skills, habits, routines, and mindsets necessary to maintain the clutter free and organized state of your home from now on, so it'll never be as messy and cluttered as it is right now, ever again.
If you haven't already, make sure to get your copy of this year's Declutter 365 annual calendar here (it's FREE!), find today's date, and do 15 minutes of decluttering on the day's mission. Then, repeat again tomorrow, and again and again. Over the course of the next year, if you do this 15 minutes per day, you'll declutter your whole house!

Related Pages You May Enjoy
Getting Clutter Free 15 Minutes At A Time Hall Of Fame
Getting Rid Of Kitchen Clutter Hall Of Fame
How To Get Rid Of Paper Clutter {Hall Of Fame}
Go From How To Declutter Recipes To Home Page