Declutter Pots & Pans {15 Minute Mission}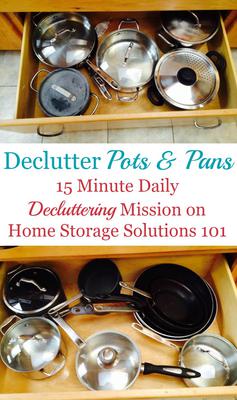 Today's mission is to declutter your pots and pans, and other cookware to keep only the best, and to ditch the rest. (We'll
declutter bakeware
in a later mission.)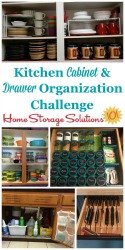 This mission is designed to be done while working on the
Kitchen Cabinet & Drawer Organization Challenge
here on the site.
At first glance some participants of the Declutter 365 missions who've done this task thought they didn't have much to get rid of, and that may really be the case, but stop and really think before you just assume you're fine with this mission.
Pots and pans tend to accumulate, because we buy a new one, but don't get rid of the older one, or you get a set for a present and don't use a few of the items in the set, and they get shoved back into the back of the cabinet, forgotten.
Today's the day to pull out all of your cookware from wherever you currently store it, and take a good hard look at everything, to make sure you want to keep it.
Pots and pans take up a lot of room and space, so getting rid of just one or two bulky pots can make a huge difference in the amount of space you can open up in your kitchen.
Questions To Ask Yourself When Deciding What Cookware To Declutter
1. How often do I use this? Frequently, occasionally, or never?
If you never use a particular pot or pan, it should not be taking up space in your kitchen.
If you use a pan only occasionally, ask yourself whether you need to keep it. Would another pot or pan you're already keeping be able to serve the same purpose? If not, but you do occasionally use something, perhaps your turkey roaster for example, which you use on holidays, make sure to move it from the prime storage locations in your kitchen and put it somewhere a bit less convenient to reach, just so you can make room for the frequently used items in the most convenient locations.
2. Do I like to use this piece of cookware?
We all have our favorite pots or pans, the ones that cook beautifully, or clean up like a
dream. And then we all have that one pot that we absolutely detest using -- it wobbles, or everything burns when you use it, or everything sticks and it is a huge pain to clean up. Do yourself a favor and get rid of the ones you don't like to use, life's too short to mess with annoying cookware.
3. Is this too damaged or worn for use?
Also seriously consider decluttering any cookware that is deeply scratched, scorched beyond your ability to clean it up again, and definitely get rid of any non-stick cookware that has flaking or peeling coating.
4. Do I have duplicates of this pot or pan?
How many saucepans do you really need? Think about this question seriously. How many pots or pans can you actually cook with at one time? If you have four burners on your stovetop keeping six saucepans seems a bit excessive.
Even if you like each of the duplicate items you don't need and actually can't use them all at once. Clear out excess space, keeping the best, and then letting someone else use the ones that practically you can't use.
5. Does this cookware have its matching lid?
I have no idea how this happens, but it does. We somehow keep a lid without a pot, or vice versa. These are prime items to declutter, when you don't have all the parts of the pan or pot that are needed (assuming it needs a lid).
6. How much space do you have to store your cookware?
Finally, ask yourself have much space you've got available for storing pots and pans. Practically you can only keep as many as you've got space for, so you may need to get choosy. Of course, if you don't use something frequently there is no reason you can't store some of those items in a different location outside your kitchen to make room for the more frequently used items, as mentioned before.
With those questions in mind you're ready to begin this mission. Below I've added photos from readers who've already taken on this mission, showing their results, to get you inspired and motivated to tackle your own cookware today.
In addition, after you've finished decluttering, make sure to check out my companion article all about
organizing pots and pans
to get ideas for storing and organizing the cookware you decided were keepers.
Top photos courtesy of a reader, Kerry
Are You Ready To Get Rid Of Your Cookware Clutter?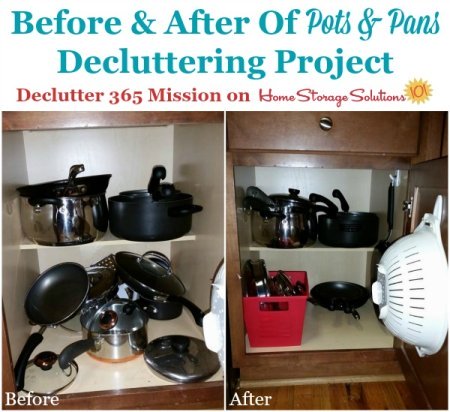 I hope this has inspired you to get rid of your own pots and pans clutter, and given you ideas for which ones to get rid of versus to keep.
(And thanks to a reader, Erica, who shared these before and after photos of her results when she took on this mission!)
Once you've gotten rid of the excess remember to read the
pots and pans storage and organization ideas article
to get ideas for how to store what you've got left.
Want To Do More Decluttering Missions? Get Started With Declutter 365 Today!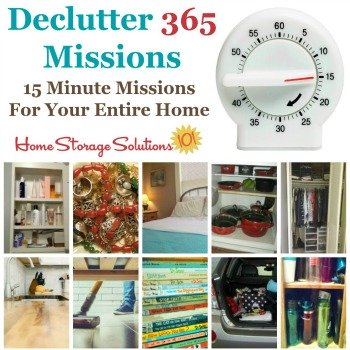 Once you declutter one type of item in your home I bet you'll want to declutter some more. After all, decluttering gives you a great reward for even a small investment of time and energy.
The Declutter 365 system is designed to help you declutter, over the course of a year, your entire house, with just 15 minutes of decluttering each day!
Hundreds of thousands of people use this proven system to get rid of their clutter, and bring peace and calm back to their homes.
Declutter 365 works to guide you to clear the clutter without overwhelm, focusing on just one small area at a time, and without making a huge mess in the process, so you see consistent forward progress without all that "messy middle" that makes it even harder to function in your home than before you started.
In addition to building a daily decluttering habit, the Declutter 365 program, along with the accompanying 52 Week Organized Home Challenge, teaches you the skills, habits, routines, and mindsets necessary to maintain the clutter free and organized state of your home from now on, so it'll never be as messy and cluttered as it is right now, ever again.
If you haven't already, make sure to get your copy of this year's Declutter 365 annual calendar here (it's FREE!), find today's date, and do 15 minutes of decluttering on the day's mission. Then, repeat again tomorrow, and again and again. Over the course of the next year, if you do this 15 minutes per day, you'll declutter your whole house!

Related Pages You May Enjoy
Getting Clutter Free 15 Minutes At A Time Hall Of Fame
Getting Rid Of Kitchen Clutter Hall Of Fame
Go From Declutter Pots & Pans To Home Page