How To Declutter Kitchen Drawers

Today's mission is to declutter kitchen drawers, or specifically any drawer we haven't already dealt with as part of the Declutter 365 missions.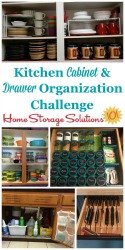 This is mission is designed to be done while working on the
Kitchen Cabinet & Drawer Organization Challenge
on this site, which is part of the 52 Week Organized Home Challenge.
Already as part of these daily missions we've specifically dealt with decluttering three common types of kitchen drawers:
potholders
,
kitchen towels
,
kitchen wrap
, and
take out supplies
may have allowed you to clean out drawers.
But everyone's kitchen is set up a bit different, based on both preferences and what you have to work with, so that's why I also have this catch all mission.
Depending on the number of kitchen drawers you have in your home that haven't been addressed yet this may be a 15 minute mission for you, or a 15 minutes at a time kind of mission.
Here's instructions, generally, for how to do this mission to get you going.
Steps For Decluttering Kitchen Drawers
Decluttering drawers of any kind is actually pretty simple, as far as decluttering projects go, because they're smaller compact spaces.
To keep you from getting distracted focus on only one drawer at a time.
Because the drawers are smaller empty out all of the contents from the drawer, and then make each item "earn" its spot back into your drawer.
Ask yourself these types of questions about each item you evaluate:
When is the last time I used this?


How often do I use it?


Do I have duplicates of this? If yes, how many do I really need?


Is this broken or damaged? Does it have all its parts?


Do I have anything else that will do the same function as whatever I am evaluating right now?


Do I even like this and want it?
Once you've gone through this first pass just
add the stuff back to your drawer that you've decided to keep at this time and then donate/sell/trash any clutter you've encountered.
The only exception to returning items to drawers that you've decided to keep is that you should move things that do not belong in your kitchen drawers, but that you've decided to keep, into their more logical place somewhere else in your home. So if, for example, you find your child's Lego in a kitchen drawer return it to the toy area.
Keep doing this, one drawer at a time, until you've done a first decluttering pass for each drawer.
Once you've gone through each of your kitchen drawers, and are now only left with items you want to keep, now is the time to begin another brief round of decluttering. Putting everything together that you thought you might keep may reveal even more duplicates, or excess of certain items.
Once you've decluttered everything that needs to be decluttered then, and only then, should you begin organizing your drawers.
Doing this organization step later allows you to group all like items together, and then potentially rearrange what drawer you are keeping what items in, to make sure it makes the most sense.
For example, if you had kitchen towels in three different drawers, perhaps now you could combine them all into one or two drawers, and also move the kitchen towels to the drawers closer to your kitchen sink, and switch the stuff in that kitchen sink drawer somewhere else that makes more sense, so everything is in its most logical space.
If you had tried to do all that switching at the beginning of the process though, before you'd decluttered all the drawers, it would quickly becoming overwhelming. However, once you're dealing with less stuff moving things around to make the most sense won't be as difficult.
So go ahead now and begin tackling just one drawer at a time, decluttering as needed!
Below you can see the results of doing all these 15 minute sessions, as shown by readers who've already taken on this mission.
Photo courtesy of donaleen
After You're Done With This Mission You May Have Empty Drawers!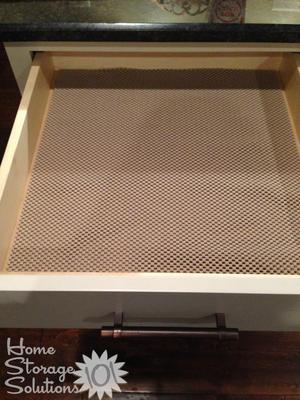 You may just be surprised how much you can declutter from your kitchen drawers. I know a lot of readers who've already done it have remarked on this once unheard of in their household phenomenon -- an empty drawer!

That's exactly what happened to a Dee Dee, who shared this photo above, saying, "I have an unexpected issue. This large drawer has been EMPTY since junk drawer day. I cannot decide what to do with it! It is beside the dishwasher and under the plates and bowls but my silverware is in a different drawer in the island! Is it possible to have too many drawers???"

Wouldn't it be great to not have to stuff and shove things into drawers anymore, or have to rifle and move through everything in there to find the thing you need? Getting rid of the clutter will do that for you!


Want To Do More Decluttering Missions? Get Started With Declutter 365 Today!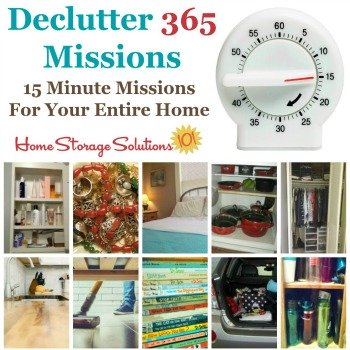 Once you declutter one type of item in your home I bet you'll want to declutter some more. After all, decluttering gives you a great reward for even a small investment of time and energy.
The Declutter 365 system is designed to help you declutter, over the course of a year, your entire house, with just 15 minutes of decluttering each day!
Hundreds of thousands of people use this proven system to get rid of their clutter, and bring peace and calm back to their homes.
Declutter 365 works to guide you to clear the clutter without overwhelm, focusing on just one small area at a time, and without making a huge mess in the process, so you see consistent forward progress without all that "messy middle" that makes it even harder to function in your home than before you started.
In addition to building a daily decluttering habit, the Declutter 365 program, along with the accompanying 52 Week Organized Home Challenge, teaches you the skills, habits, routines, and mindsets necessary to maintain the clutter free and organized state of your home from now on, so it'll never be as messy and cluttered as it is right now, ever again.
If you haven't already, make sure to get your copy of this year's Declutter 365 annual calendar here (it's FREE!), find today's date, and do 15 minutes of decluttering on the day's mission. Then, repeat again tomorrow, and again and again. Over the course of the next year, if you do this 15 minutes per day, you'll declutter your whole house!


Related Pages You May Enjoy
Getting Clutter Free 15 Minutes At A Time Hall Of Fame
Getting Rid Of Kitchen Clutter Hall Of Fame
Go From How To Declutter Kitchen Drawers To Home Page