Declutter Potholders & Oven Mitts: 15 Minute Mission

Today your decluttering mission is to declutter potholders and oven mitts.
Only keep a reasonable amount of them. I mean, really, practically how many do you really need?
Prime ones to declutter are any that are excessively stained, have holes in them (because then they really can't protect your fingers -- which is their job), or those you just don't find very attractive (assuming you have enough you do find pretty).
For those that you decide to keep throw them in the washer, or otherwise get them cleaned up a bit because they tend to get dirty with use. Ready, set, go!
Don't Forget About Seasonal Ones & Kids Crafts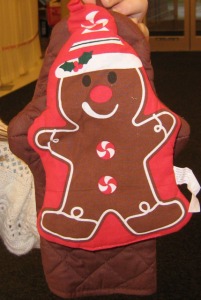 When you're doing this mission don't forget about the ones your kids or grandkids have made for you as crafts.
Unless you actually use them they're clutter, at least in your kitchen. If you don't want to throw away a keepsake at least acknowledge what it really is, and put it somewhere else beside your kitchen, such as in a box with other keepsakes instead of taking up valuable real estate in your drawers or wherever else you've got it.
Or for kids crafts you can also choose to display them. But again, then its a decoration, not something you use functionally.
Same thing goes for seasonal kitchen mitts and holders. When it's not that season they don't need to be in the kitchen. Instead, store them with the rest of that season's decorations so when you get those items out you remember these as well and actually use them!
Then, when the season is over wash and then put them away until the next time.
If you don't actually use your seasonal decorations during that season then they're just clutter and shouldn't stay in your home.
Below you'll find some pictures from reader sharing their results from this mission. Hopefully they'll inspire you!

First photo courtesy of Denise Krebs, second photo courtesy of Endomental Artistry, also known as boliyou, from Flickr CC
Join in and write your own page! It's easy to do. How? Simply click here to return to kitchen clutter.
Got Rid Of Stained, Ripped & Gross Ones & Organized The Rest
by mrs_zoo2901
@mrs_zoo2901 showed off how she accomplished this mission on Instagram. She stated: "I had to change the order of the missions a bit since I can't consider my counters clear until the Christmas stuff is off the breakfast bar and I won't tackle that until this weekend.

So instead I decluttered my potholders and kitchen towels (Saturday's mission). Anything stained, ripped, or generally gross went into the trash. I folded everything else and put it in its own drawer, a much better system than having everything mixed together."

Looks great doesn't it? And make sure to follow the #Declutter365 missions on Instagram here, from my @TaylorFlanery account!
Join in and write your own page! It's easy to do. How? Simply click here to return to kitchen clutter.
The Cup Towel & Hot Pad Drawer Is Less Cluttered Now
by Reecea
After
Reecea from Fresh Juniper decluttered and reorganized the drawer she stored all these items in.

I think it makes a big difference, don't you?

She said of the after picture, "The Cup Towel and Hot Pad Drawer needed help. It was in the right spot, but had too much clutter. Here it is with less junk and new Contact Paper liner."
Join in and write your own page! It's easy to do. How? Simply click here to return to kitchen clutter.
I Don't Keep Many So An Easy Mission!
by Rosanne
I only have a pair of pot holder and a few towels. Easy day.
Join in and write your own page! It's easy to do. How? Simply click here to return to kitchen clutter.
Possible Storage Solution: Hang Your Potholders Or Oven Mitts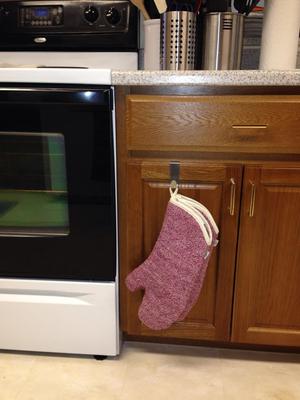 One possible way to store your oven mitts and potholders, beside in a drawer, especially if you only decide to keep one or two of them after doing this decluttering mission, is to hang them on a hook.

You could choose to hang them where they're visible, like a reader, Stephanie, did. She explained that she only have 2 oven mitts in her house, so this storage and organization method works well for her.

You could also hang them up, but inside a cabinet door for example, so they're not always visible.
Join in and write your own page! It's easy to do. How? Simply click here to return to kitchen clutter.
I Decluttered My Dish Cloths & Potholder Drawer
by Bec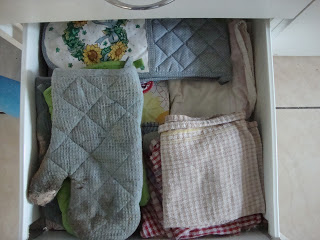 After
Bec from 2012 - The Year of Challenges shared the pictures of her dishcloth and potholder drawer, before and after decluttering.

Great job Bec!


Are You Ready To Declutter Your Home?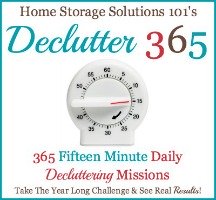 I hope seeing these pictures has inspired you to reduce your collection of oven and kitchen mitts.
When you begin to declutter the feeling you get is contagious, so if you're loving the results you're getting I would encourage you to keep going.
I've got a whole series of
15 minute decluttering missions
(eventually 365 of them!) that you can do.
Just pick and choose the ones you want to do, that will make a big impact in your home. But if you want someone else to tell you the order you can also grab the
15 minute daily decluttering mission calendars
and follow along as we all get our homes clutter free together!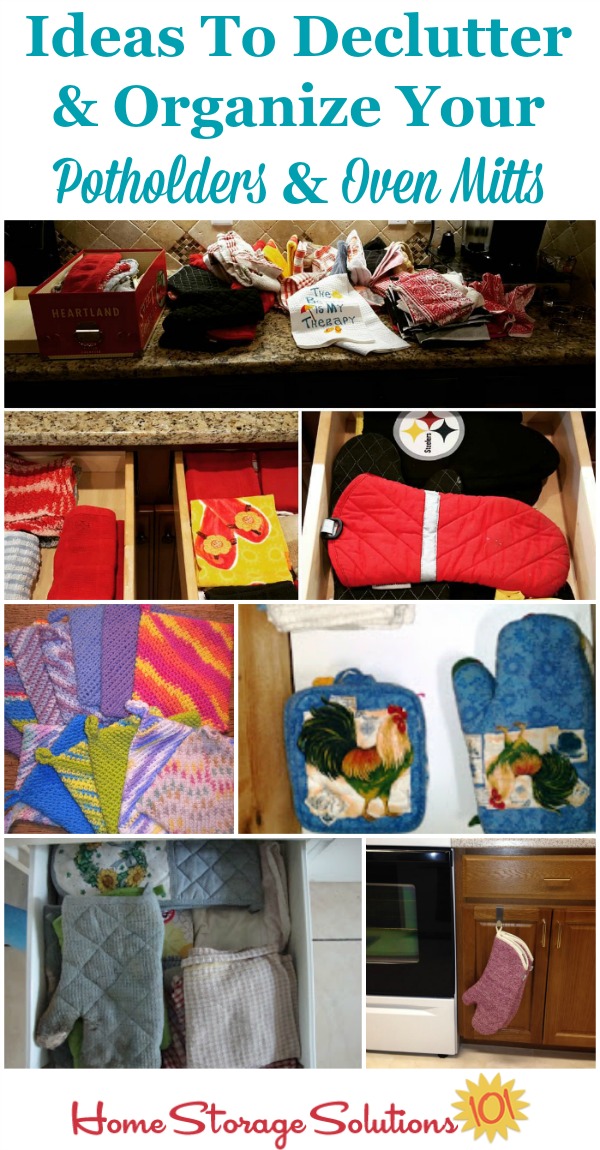 Related Pages You May Enjoy
Getting Clutter Free 15 Minutes At A Time Hall Of Fame
Getting Rid Of Kitchen Clutter Hall Of Fame
Go From Declutter Potholders & Oven Mitts To Home Page